Bernal Heights
No offense meatloaf (and Blue Plate's meatloaf is actually FANTASTIC), but you're gonna want to skip it in favor of this comfort food classic's Mac & C. I like to call this place's version the croque monsieur of mac & cheese, with a creamy béchamel crowned by a crisp bronze top. Eyes open on the first bite (thank you, Tabasco) and open even more when you taste a Spanish goat cheese called Murcia al vino. Note: this is a Heavy (note the capital H) dish, but worth every extra belt loop it's gonna require.
SOMA
WTF? That's really all you can say when presented with this version from Citizen's Band. It's a trip and really two dishes in one -- a baked macaroni and cheddar gratin for the base, topped with an orderly pile of onion rings (so good and nicely crisped you'll wish you got more than just three of them). It takes mega effort for the poutine with pork belly to not be the most over-the-top dish on this menu, but, yes, it has been done. Make sure to add the ham to your mac & cheese & rings, because pork.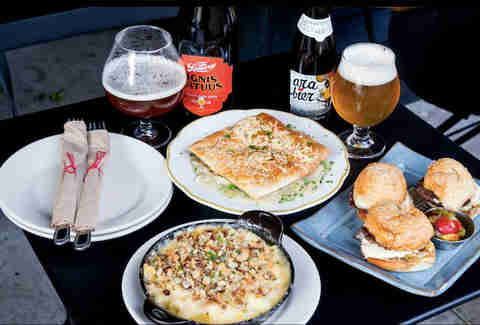 The Fillmore/Western Addition
Also known as the de-facto waiting room for State Bird, Fat Angel is that quaint "gastropub" that really sums up the word: a smartly curated lineup of brews and wines and food that is thoughtful (and all $13!). The flatbreads and salads are worth an order, but it's the cast iron full of mac & cheese that's always the man of the hour. Gruyère. Cheddar. Parmesan. Cayenne and breadcrumbs for the finish.
Nopa
Adding the best sausage company in the city's bacon-studded hot dog to fried macaroni? Geen. Yus. Honestly though, you could make chocolate cake with 4505's sausages and there'd be lines. Despite its description, the Frankaroni isn't a sensory overload. 4505 found that perfect balance of hot dog bites and cheese with pockets of pillowy 'roni and crisp 'roni that make for good hide-and-seek.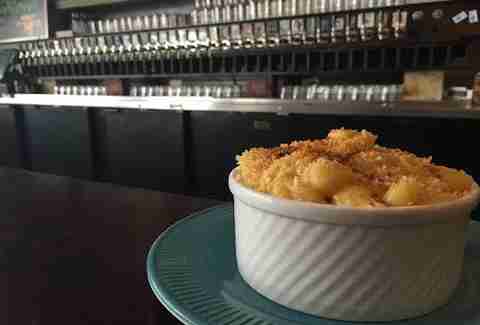 SOMA
The menu description says it all: "Yes." In case you want more though, the mac features a mad-crazy cheddar-bleu-Parmesan cheese ale sauce punctuated with a splash of Rustic Horizon Red Ale by Twisted Manzanita Brewing. As owner Jess Voss told us, the real secret ingredient is "unicorns who live in the shell-shaped pasta." Yes.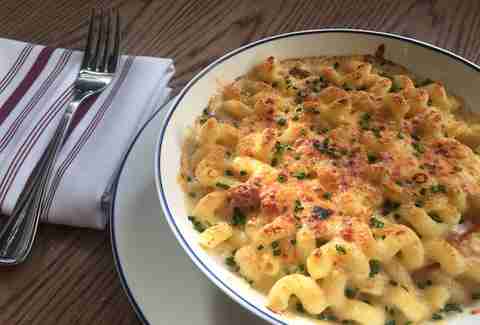 Union Square
Klyde's macaroni & cheese is a spruced up gratin-style joint with béchamel and ham. Use it for fortification before re-entering the Macy's and cable car-filled wilds.
 
The Mission
Luna Park closed in December. Wait, what? Have no fear SF, Luna Park is still here and that means one of our city's best mac & cheese creations hasn't packed up. Make sure you add the broccoli, which we know goes against everything we've ever told you, but just do it.
Multiple locations
Grilled cheese and mac & cheese, together at last. The Melt brings it with the "Mac Daddy" -- macaroni and aged sharp cheddar between two slices of white bread with some bacon thrown in for good measure. Over the top? Eh, yes. Carb on carb beauty? Also yes. Oh, and don't sleep on the "T-Mac" either: truffle mac & cheese, but without bread.
Lower Haight
Lobster. And dense, creamy mac & cheese. There is no need for further conversation.
Inner Sunset
Truffle oil can either make your dish taste like your boss's cologne, or lift it into the umami stratosphere. SK&B? Totally does the latter with its mac & cheese.
 
Dogpatch
On the other side of town in the Dogpatch, Dennis Lee's side dish version at Magnolia Brewery's Smokestack has the exact right sharpness/cheese-to-macaroni ratio. It just might be the lightest of our troupe today, which is great because more room for beer and sausages.
Tenderloin
When you find a restaurant with a URL like "chickenandwafflesandwich.com," you're doing something right. And when it's got a mac & cheese that you can add into the sandwiches, you're doing something EXTRA right. Slide it into the Chicken Fried Soul, which already shoves bacon-wrapped fried chicken between between maple waffles. The kicker for this mac & cheese is the house-made pimento cheese used. You just can't not love pimento cheese.
Sign up here for our daily San Francisco email and be the first to get all the food/drink/fun SF has to offer.
Trevor Felch is a restaurants writer for SF Weekly and contributing editor for Vino 24/7. He is an avid collector of the 50 states quarters and proudly has one of each quarter from the Philadelphia and Denver mints because... that's cool, right? Follow him on Twitter @TrevorFelch.