Upgrade Your Quarantine Cooking With These SF Restaurant Meal Kits
You deserve it.
We aren't sure what day of the week it is (also, it's still January, right?), but we are sure that we're sick of eating whatever bizarre Trader Joe's frozen foods we desperately threw into our carts when we were first ordered to shelter-in-place. Thankfully, delivery and takeout have provided some variety, but it turns out that you can't (or probably shouldn't) solely exist on pizza delivery. The happy medium here is getting one of the incredible meal kits available for pickup and delivery from San Francisco's best restaurants -- like a spot with three Michelin stars, SF's hottest bagel spot, a tasty Mexcian spot, and more.
Cow Hollow
Just because we're all cooped up in our homes doesn't mean we need to suffer from a dearth of three Michelin-starred meals. You can't have Eggos and martinis every night. If you need to satisfy your craving for cuisine from one of the world's top chefs, you can order "Crenn Kits" from Atelier Crenn, which "bring comforting meals from Dominique Crenn's kitchen straight to your home." Best of all, while it would cost you around $350 per person (before wine) to enjoy dinner at the restaurant, a Crenn Kit, which includes Blue Belle Farm vegetable soup, vegetable parmentier gratiné, sliced brioche, and a dessert is only $38 for one. If you want to feel extra fancy, you can upgrade to a "plus" meal for $55.
How to order: You can order online, but be warned: There's already a waitlist. Of course.
Fillmore
You'll have to wait until we're allowed back out in the world again to enjoy Avery's Cal-Asian nine-course tasting menu, but in the meantime, you can order a dinner meal kit featuring some classic dishes. There is a cook-at-home component to the meal since that allows the dishes to be enjoyed the way they were meant to be (ambiance and service aside), but that only adds to the fun (hopefully). The $45 per person menu includes a farm salad, tortellini in broth, a super-sized cheese tart, and cookies. There's also a weekend-only menu ($55), which is a little more indulgent and has some amazing add-ons, like a wagyu katsu sandwich and caviar and tater tots. If not now, when?
How to order: Dinners are available from 4pm to 7pm and Friday and Saturday "after dark" orders are available until 8pm. Delivery is available for an additional $20 "white-glove delivery service" fee, or you can pick it up at the restaurant. Order both online.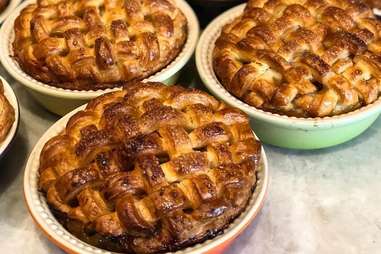 SoMa
Birdsong consistently puts out innovative dishes inspired by a time long ago when meals were cooked around an open fire, albeit with a high-end modern twist (this is still San Francisco, after all). But, for a moment anyway, the restaurant is getting a little more homey and Southern with its "Birdbox" for one or two ($35 and $50), a dinner that includes fried chicken, cornbread, and cookies. Add on a decadent apple pie and some wine because... well we don't need to explain why. If you're able to, please add on staff gratuity, which goes directly to the people helping to keep things running.
How to order: Delivery orders can be made on Caviar and pickup orders can be made on Resy.
Castro
The Spanish restaurant known for its tapas and retail selection of gourmet imported goods is offering a selection of kits and boxes, including DIY paella kits for two or four ($25 to $52), a brunch kit with fresh cut fruit, eggs, scramble toppings, buttermilk pancake batter, thick-cut bacon, coffee or tea, bread with butter and homemade jam, and recipes ($49), and Golden Gate Meat and Canela butcher box ($89), a fruit and veggie box for two ($49), a provisions box ($85), and a Spanish cheese and wine experience ($59). The boxes come with recipes and you can also add a selection of wine.
How to order: All kits are pick-up only (until 9pm every day) and can be ordered online here. Just want some paella and tapas that's hot and ready-to-eat? Canela is also offering its regular menu for delivery via Caviar.
Dogpatch
Daily Driver's organic wood-fired bagels, house-churned butter, and cream cheese were likely curing many-a-hangover before this whole virus sent us all home. There's a small (big) chance you may still need a satisfying breakfast to recover from last night's "fun," which is why the bagelry is offering meal kits, including a "pantry package" ($45) with bagels, eggs, pickled veggies, and coffee (and a chance to add spreads), and an artisan cheese board kit ($35). You can also order brioche buns, a half-dozen bagels, a variety of cream cheese and goat milk cheese, as well as a few other things, including wine. Use the code STAYWELL10 to get 10% off of your order of $50 or more. (Be sure to also check for weekend DIY pizza kits.)
How to order: Order online via Tock for pickup or delivery.
Jackson Square
It's not a great time to have been handed the reins of a restaurant for one year only, but chef Jordan Guevara is taking things in stride and has converted Gap Year at Nico to a French comfort food take-away and delivery operation, complete with at-home meal kits. There are two meal kits each week, a protein kit ($49 per person) and a plant-based kit ($38 per person), each of which contains a starter, main course, and dessert, and comes with reheating instructions. There are also add-ons available, like a grilled cheese with black trumpet, a cheese plate, as well as wine and cocktails. Celebrating something special? Gap Year at Nico also has special packages that will get you in the mood... or at least inspire you to settle in and finally watch that one movie that's been on your list for years.
How to order: To-go orders are available via Tock from 4pm to 7pm, Tuesday through Saturday.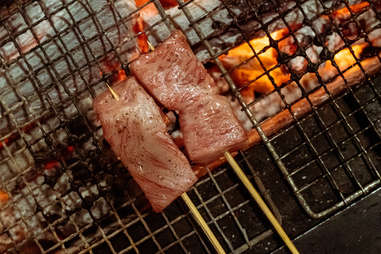 Embarcadero
You can get so much meat from the A-Five Meats Pop-Up Butcher Shop at Gozu. And when we say "meat," we mean meat that is fancy as f*ck and so mouthwatering that no words would suffice. How to make this happen? Well, first, you're going to need $600. (If you don't have $600 skip to the end; there is an option for you as well.) Sounds like a lot, but it's actually HALF of what you would normally pay to be the recipient of 31 pieces of fresh, never-frozen meat that includes: four 8oz Japanese wagyu strips, two 8oz Sher Family wagyu tenderloins, 20 6oz Angus skirt steaks, four 16-18oz dry-aged bone-in angus ribeyes, and six 8oz cubed wagyu (ideal for skewers). Worried about how to eat all of that meat before it goes bad? Don't. The product will last for three weeks in the fridge and (like you won't have finished it by then) can also be frozen for up to two months. You can also order meat, salt, and spices a la carte for pickup if dropping 600 bucks feels a little spendy right now.
How to order: Order online for delivery and allow three to six days from selected order date for arrival, or pickup at Gozu from 2pm to 6pm on select dates.
Union Square
Fact: There is nothing in the whole world that will take your mind off of contagious viruses quite like Mastro's famous butter cake. Of course, in order to enjoy that famous butter cake, in the best way possible, you're going to have to order a whole "Dine at Home Steak Kit," but somehow we think you can suffer through that. Each kit ($82.50 for two and $132 for four) includes a Caesar salad, raw 8-ounce filet for each person (to be cooked at home), choice of two sides, and the butter cake. "Enhance" things ($121 for two and $242 for four) by adding the lobster mashed potatoes or lobster mac and cheese, and a choice of steak. Mastro's is also offering a bunch of its meat to be picked up if you prefer to skip all of the sides and dessert. Get 10% off if you pick it up yourself and check to see which wines are being offered for 50% off because you really can't have steak without wine.
How to order: Order online for pickup or delivery between 4pm and 8pm.
Divisadero Corridor
You can still order the famous Nopa burger (and a couple of other items) for takeout, but Nopa is really focused on selling kits that you can make at home (cooking instructions are included). Choose from a country pork chop ($16), vegetarian or bolognese pasta kit ($18), or an organic grocery box ($40), as well as a couple of other options. Add on wine, beer, or a whiskey sour for three. Want to pay-it-forward? While you're placing your order, you can sponsor a meal for staff who were laid off ($10 to $100).
How to order: Nopa is only offering pickup, which can be ordered online and is available Tuesday through Sunday from 4pm to 8pm.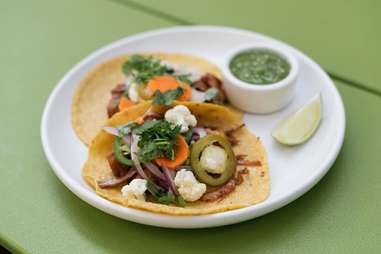 Western Addition
What we all need now more than ever is Mexican food, so thank goodness Nopalito is open for pick-up and delivery, including heat and serve meal kits (pick-up only) which are $40 and feed two. Every kit includes a choice of four entrees, including carnitas con salsa cruda and curtido and chicken pibil con salsa habanero, as well as Mexican rice, whole Rancho Gordo beans, and corn tortillas. You can also add on chips and guac, ceviche, pozole, and a few other dishes and sides. Want to help a member of the Nopalito family? Add $20 to buy them a box of groceries.
How to order: Meal kits are available for pickup Thursday through Saturday from 2pm to 7pm and Sunday from 11am to 3pm and can be ordered online.
Mission
Chef Anthony Strong was one of the first chef/owners to realize he needed to pivot his business ASAP to not only survive in this new world, but to keep his staff employed. Prairie is now a temporary general store with all of the pantry items you could want, as well as tons of prepped items and meal kits. Stock up on staples and get a tasty meal (and a house cocktail) to enjoy at the same time.
How to order: Order online for curbside pickup or delivery.
Sign up here for our daily San Francisco email and be the first to get all the food/drink/fun SF has to offer.
Daisy Barringer is a writer who grew up in SF and is secretly enjoying her allotted exercise time as a way to explore Golden Gate Park and earn her food delivery. Follow her on Twitter @daisy for suggestions of how to stay sane during these bizarre times.