The 10 Best Mission-Style Burritos in San Francisco
It's a local rite of passage.
Courtesy of Papalote
Courtesy of Papalote
The Mission burrito is possibly the most perfect dish one can get. It's filling. It's affordable. It's portable. It's cutlery-adverse. It's nutritious-ish. And it's customizable, yet not overwhelmingly so, since there are only a few decisions to make. Really only one—choice of meat—since ordering it "super" (guacamole or avocado, cheese, and sour cream) isn't negotiable. Nor are the core ingredients that make a Mission burrito stand out: a massive flour tortilla, Mexican rice, beans, and salsa. Here are our favorites in SF where, just in case you don't know, they're simply called "burritos."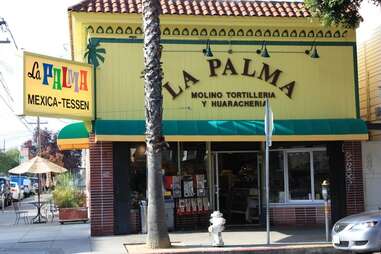 Mission
La Palma has been selling Mexican food and groceries to locals since 1953 and it's still going strong, in part because of the fresh masa used to make what are probably the best tortillas (pressed to order) in the city. The chicharrones might also take home that honor, so don't skip those. Only caveat? If you want to enjoy any of this, you'll have to show up between 9 am and 4 pm—so plan on having a big breakfast or lunch.
How to order: Order in-person.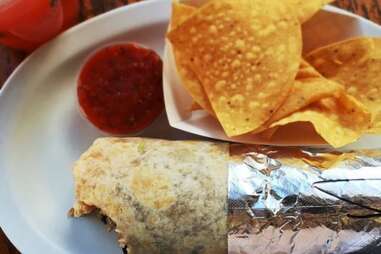 Mission
You can order your standard Mission burrito at El Toro or you can go with one of El Toro's "new style" burritos. The restaurant prides itself on innovating the classic burrito and has become popular for its chile relleno version, which is exactly what it sounds like. Other favorites are a twist on surf and turf—a steak and prawns burrito—and the Especial: build it like a normal burrito, but get it smothered with a savory sauce and topped with cheese. Yes, that means you'll have to use a fork and knife. And yes, you'll get over it.
How to order: Order in-person or delivery on DoorDash, Grubhub, and Caviar.
Mission
Owned by the same folks behind El Toro Taqueria, Pancho Villa is a good entry point for SF burrito newbies. The burrito options are pretty much the same as El Toro's, but you'll wait in longer lines. Your reward for doing so is access to the salsa bar where you'll find the regulars, as well as orange volcano sauce, fire-roasted red chile sauce, stone-ground molcajete sauce, and more.
How to order: Order in-person or delivery from Grubhub, DoorDash, and Caviar.
Mission
There are claims that El Faro's owner created the first real Mission-style burrito when he made a bunch of burritos with two six-inch tortillas (later changed to one big one) for a group of firemen in 1961. We will never know the answer to "Who made it first?", so just put that aside and enjoy El Faro for what it is—a spot with one of the best breakfast burritos in SF—assuming you like chorizo, that is.
How to order: In-person.
Mission and Western Addition
Papalote's famous roasted tomato sauce can be found by the jar in specialty markets all over the city, but if you want to eat the freshest version possible, make your way to one of Papalote's restaurants. There, you'll find the usuals, plus a bunch of plant-based options that will put an enormous smile on any vegan or vegetarian's face—the beans and rice are all vegan and there are non-meat protein choices like vegan soyrizo, vegan tofu, and a couple of veggie medleys. Papalote also takes the whole healthy thing to the next level with its "naked" option, which subs lettuce instead of a tortilla.
How to order: In-person or delivery from Uber Eats and Caviar.
Mission
People have big opinions when it comes to burritos, especially when it comes to La Taqueria burritos. Once named "America's best burrito" by FiveThirtyEight, La Taqueria's fans are die-hard. You might be, too, as long as you don't require rice in your burritos because La Taqueria doesn't have any. It's actually kind of great in that rice can end up being a filler ingredient, but we also appreciate its presence at times, so don't @ us. Take your burrito to the next level by getting it "dorado-style," and your burrito-builder will assemble it and then grill it on the plancha until it's golden brown and perfectly crispy.
How to order: Order in-person.
Mission
Heftiness is a crucial trait when it comes to burritos. But El Metate serves 'em up longer and thinner, and they're still delicious, so maybe the importance of heft is given too much credit. This is a good place to get a vegetarian burrito filled with rice, beans, salsa fresca, and sauteed zucchini, carrots, cabbage, and broccoli (obviously make it super with guac, cheese, and sour cream). It's also a good place to try something new—in addition to traditional burritos, there are a slew of not-so-traditional burritos, like a chicken milanese (pan-fried chicken breast with Mexican spices), bistec a la Mexicana (steak with sauteed onions, peppers, and tomatoes), and chile Colorado (steak and potatoes in a dry red pepper sauce).
How to order: Order in-person or delivery from Grubhub.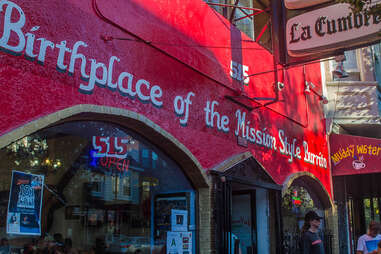 Mission
The owners of this taqueria claim it as the "birthplace" of the Mission-style burrito (in 1969), and it is traditionally the taqueria that gets the credit for that, which makes it a bit of an SF institution. The thing to order here is a grilled chicken burrito, which comes stuffed to the gills like all of their other burritos, but sets itself apart because the chicken is grilled, not griddled. You can even be super Californian and get it in a sun-dried tomato tortilla.
How to order: In-person or delivery from DoorDash and Grubhub.
Mission
El Farolito's burrito is one that people have strong feelings about, in that they believe it's the best you'll find in town. Regardless of whether you agree with that, there is one thing that is undeniable: El Farolito's burritos are the biggest you'll find in SF, and possibly in all of the world. The carnitas or carne asada are great options for the meat, as is the lengua (tongue) for more adventurous eaters. It's also worth noting that El Farolito has three locations in the Mission—all within a stone's throw of each other, all just as good as the others, and all open late for a post-bar second dinner.
How to order: In-person.
Mission
When it comes to a no-frills taqueria that you can depend on, look no further than Cancun. Here, you'll want to get your burrito with al pastor that's marinated and cooked to tender perfection. If you have a supersized appetite, try the burrito mojado that's stuffed with choice of meat, rice, beans, onions, cilantro, and salsa then topped with enchilada sauce, green sauce, melted cheese, sour cream, and Mexican salsa—you'll obviously need utensils for this one.
How to order: In-person.
Daisy Barringer is an SF-based writer who has never finished an entire burrito in her life. Mock her on Twitter
@daisy
.