Because tacos are just better when they're cooked in a hole-in-the-wall taquería with painted concrete walls, plastic tablecloths, and abuelas in the kitchen chattering in Spanish over the sounds of sizzling stovetops, we ventured into the heart of The Mission district (Mission St from 15th St to Cesar Chavez), tasted every single taco in a 12-block span, and came up with this list of Mission Street's most real-deal options.
Oh, and we passed up famous establishments like El Farolito and El Taquería, 'cause those don't quite qualify as "under-the-radar".
Taquería Vallarta (address and info)
What you're getting: Cochinita Pibil
This should be your last stop every time you drink in The Mission. There are three locations, and this one -- next door to the 16th St and Mission BART stop -- is open until 4am. Tacos are sold at a separate counter with a special surprise: cochinita pibil, a traditional, Mexican, slow-roasted pork dish of Mayan origin. It takes hours to prepare, so you won't find it many places -- especially not like the one at Taquería Vallarta, which's juicy and well-seasoned, a lot like the ones I've had in the Yucatan.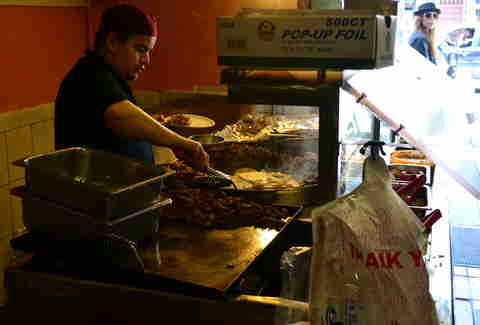 El Castillito (address and info)
What you're getting: Tacos de Lengua
If you're feeling brave enough to try tacos de lengua (beef tongue!!!), this is a great place to do it. A commonly used meat in traditional Mexican food, it's not nearly as gross as it sounds. In fact, it's delicious when done well, with an extremely high-fat content helping the meat absorb flavors deeply without gristle. With crispier meats, the tacos are so saturated with sauces that you don't even need a drink... although a Pacifico never hurts.
Yucatasia (address and info)
What you're getting: Poc Chuc, Pachuco, Salbutes
Next door to Southpaw BBQ, Yucatasia has a surprisingly unique story, given its outstanding food from the Yucatan Peninsula in Mexico. The restaurant is owned by an ethnic Chinese family who used to own a grocery store on the corner. When some of their customers were shut down for selling homemade food out of their kitchens, the family hired them as chefs for a new restaurant. "We hired people from the neighborhood and got recipes from all the Grandmas," says Diana, the owners' daughter.

The resulting food is a personal favorite. The tortillas are handmade to-order, and everything comes with a healthy chunk of avocado on top. Try the poc chuc (pork marinated in citrus before being grilled and served with pickled onions, avocado, and more) for your meat, as well as the pachuco and salbutes -- deep-fried twists on tacos that're common to the Yucatan. Oh yeah, and it's BYOB, so pack a cooler.
La Alteña (address and info)
What you're getting: Al Pastor
La Alteña has been open for 35 years, and their kitchen-minders -- Alfredo and Roberto -- have been there for 25 and 22 of those years, respectively. They may not speak much English, but these guys know how to cook. The al pastor -- a shawarma-style wheel of pork marinated in dried chiles, spices, and pineapple popular in Central Mexico -- has a jambalaya-feel to it with its depth of rich, spicy flavor, and the meat is moist on the inside and crunchy on the outside... the way it was meant to be.
Chava's (address and info)
What you're getting: Carnitas Taco
You won't be able to put down the carnitas taco at Chava's. Homemade tortillas are one reason why, and the carnitas are the other -- they're fried to crunchy perfection, not shredded like you find at most places (it's not wrong, just different). The chips and salsa are standard stuff, but the wide beer selection will put you in a forgiving mood. Elba, who only speaks Spanish, has been working there for over two decades (in a ladylike move, she declines to specify how many years). Started in 1976, Chava's moved from 28th and Shotwell to its current location 11 years ago, and has become a neighborhood favorite. While the family that owns Chava's is from Guadalajara, the food is a mix of Mexican traditions. For the record, her favorite is the carne de chiles.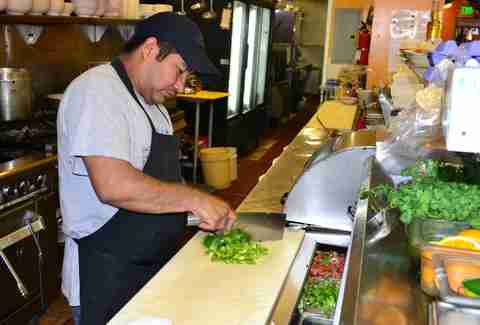 Chavita's (address and info)
What you're getting: Homemade Tortilla Taco
This is where your wandering mariachi goes to eat at the end of his shift. While Chava's up the street (no connection) has the clean décor and tacky murals of the modern taquería, Chavita's is grounded and a little dark. The Romo family has been serving some of the same regulars here for 20 years, and it's not hard to see why. Two homemade tortillas bookend the most ENORMOUS "taco" that I've ever seen, which comes with chips and spicy salsa for only $4. The surly cook languidly works his magic in the kitchen, presiding over another perfect taquería find on Mission Street. Esto para llevar, sí, but I'll be back soon.
Lovell is a San Francisco-based freelance writer and grew up in San Diego, so he knows a thing or two about legit taquerías. Got a favorite taco shop he missed? Tell him on Twitter.