In nearly every neighborhood in SF, you can eat well. But my job was to figure out which 14 neighborhoods you can eat the, um, well... best. To figure out the best eating hoods, I spent an inordinate amount of time eating all over the place, and factored in quality of the restaurants, bakeries, ice cream shops, coffee shops, and anywhere else that'll serve you some duck fat fries. Some neighborhoods have a few notable and glorious restaurants (both the Castro and Nob Hill come to mind), but didn't quite make the cut because of a lack of volume. And I'm sure I will hear about those omissions in the comments.  
Feel free to use this breakdown, which mentions over 100 restaurants in San Francisco, as a bucket list for eating in neighborhoods you don't usually frequent. Or don't use it all, and hurt my feelings! Either way, here are the best eating neighborhoods in San Francisco. 
Recommended Video
The History of Delivery & Takeout
14. Jackson Square
Essential restaurants: Cotogna, COI, Tosca Cafe 
It's hard to rank a place with multiple Michelin starred restaurants, a couple of the best upscale casual restaurants in the city (Cotogna, Tosca), a classic SF dinner spot (Bix) and one of the best grilled lamb chops you might ever eat (Kokkari Estiatorio) towards the bottom of this list, but Jackson Square's lack of good affordable cuisine, and its small size prevent it from moving on up.
13. Lower Haight
Essential restaurants: Nopalito, Ragazza, Maven 
Lower Haight suffers from the same problem it had in the drinking 'hoods guide: a lack of serious numbers to make it more of a destination. Nonetheless, what they do have is: one of the best Mexican restaurants in the city in Nopalito, a top-five pizza joint in Ragazza, an all-around winning neighborhood spot for food and cocktails in Maven, one of the most underrated burgers in SF at Black Sands Brewery, quality sausages to maw on and carry into Toronado at Rosamunde, and a quiet winner in the old RickyBobby space, The Lodge (which is the first place I've seen offer up baked stuffed shells outside of my mother's house).
12. Chinatown
Essential restaurants: Z&Y Restaurant, Golden Gate Bakery, Mister Jiu's 
On the opposite end of the spectrum from Jackson Square, Chinatown is lousy with lots and lots of cheap eats and some amazing deals if you know where to look. Z&Y is likely the most well-known and best of the Szechuan eateries (though don't sleep on Spicy King), Capital Restaurant's got great Cantonese, City View's dim sum is underrated, Golden Gate's egg tarts are not underrated, but still delicious, and Brandon Jiu's modern riff on Cantonese at Mister Jiu's is worth the crowds.
11. The Fillmore
Essential restaurants: State Bird Provisions, Black Bark, Fat Angel 
Though small in size, The Fillmore packs lots of comestible glory into a couple blocks, starting with quite possibly the most popular and far reaching SF restaurant in State Bird, its sister The Progress, the best barbecue in SF at Black Bark, Fat Angel (aka my favorite neighborhood beer bar), Wise Sons Bagel and Bakery for breakfast sandwiches, 1300 On Fillmore for jazz brunch, and absolutely underrated tacos coming out of the tiny kitchen in The Social Study.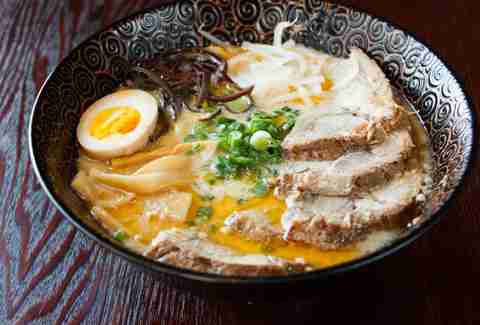 10. Japantown
Essential restaurants: Waraku, Ino Sushi, Benkyodo Co.  
Japantown's few blocks and small mall can be intimidating to navigate, but once you do, you will have all the mochi you can handle, and a very positive self-image. Whether you want ramen at Waraku or Ramen Underground (or Tanpopo, though the yakisoba is great there as well), sushi at Ino, all sorts of gems and exotic things like Japanese Kit Kats at Nijiya Market, mochi at Benkyodo, and that famous coffee crunch cake at Yasukochi's Sweet Stop. Oh, and also: one of the best upscale Indian restaurants, DOSA, sits on the block, and you can stuff yourself with Humphry Slocombe ice cream while watching rom-coms at Kabuki.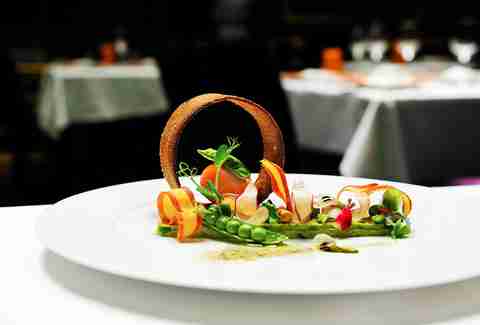 9. Russian Hill
Essential restaurants: Lord Stanley, Stones Throw, Nick's Crispy Tacos
Russian Hill has a ton of restaurants. The problem is many of them are not good. But aside from the pizza slice spots and overrated sandwich spots cluttering the street, there are some legit choices in the land of young people yelling. Lord Stanley was just named the third best new restaurant in the country. Frascati has been a classic date spot for years. Stones Throw has been a classic date spot for less years, but it's still grand. Nick's Crispy Tacos are delicious even if you have to eat them in a weird club. 
Leopold's Austrian cuisine and giant beers will make you happily gain weight. La Folie has Michelin stars. And eating sticky chewy chocolate ice cream in a cone outside of the original Swensen's while the cable car goes by is a thing that can't be recreated in any other part of any other city. Still, there are enough middling spots here to keep the hill of Russians from rising any higher.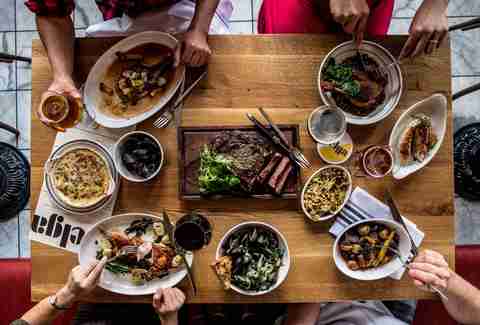 8. The Marina/Cow Hollow
Essential restaurants: A16, Gamine, Zushi Puzzle
Though these are technically different neighborhoods, they are united by a joint force of bros in fashion forward tank tops and Chubbies and girls in SoulCycle tees, and so they will remain together for this ranking. In many ways, they also suffer from the issues of Russian Hill: myriad places to eat, the majority of them average, at best. That, however, seems to be changing. In the past few years there has been a rise in the overall quality in the area, with the likes of Causwells, Le Marais Bakery, Maybeck's, and Belga joining OGs par excellence like A16, Delarosa, Lucca Delicatessen, Tacolicious, Zushi Puzzle, Gamine, Atelier Crenn, Greens, and Brazen Head to elevate the game. Ex-water polo players wearing weirdly large sunglasses have never had it so good.
7. Pacific Heights/Lower Pacific Heights
Essential restaurants: Octavia, SPQR, Pizzeria Delfina 
The land of old money and new earthquake retrofitting has a strange mix of restaurants outside of the Fillmore street area. But what they do have is damn good. The fantastic Michelin-starred Octavia now sits in the old Baker and Banker (and before that Quince, I'M OLD), SPQR continues to knock out some of the best pasta in the city and also has a Michelin star to prove it, Pizzeria Delfina continues to keep crossing names off chalkboards popular, b. patisserie essentially made kouign amann an American trend, Nico has a Michelin star as well, Jane is one of the city's great coffee shop/bakeries, the second Craftsman and Wolves sells out of the Rebel Within everyday, and I haven't even mentioned OTD, Smitten, Florio, or The Grove. Well, until now. 
6. South of Market
Essential restaurants: Benu, Marlowe, Bellota 
I am pretty open about my distaste for SoMa, though I'll admit that it's more of an aesthetic issue than anything else. And though there remain wide swaths of unimaginative chains, SoMa has some serious hitters, in the form of two restaurants with three Michelin stars (Benu and Saison), plus incredible sushi at Omakase and upscale eats at AQ. But for those who don't want to spend their entire weekly paycheck on a meal, you can also hit up the wildly under-the-radar Garaje for one of the city's best burgers, my favorite all-around restaurant in the city (Marlowe), solid pizza and cocktails (Zero Zero), more great burgers at Popsons, chicken & waffles at Little Skillet, sandwiches at Darwin Cafe, fancy Mexican food at Fénix, and the new king of Spanish cuisine in SF: Bellota.
5. North Beach
Essential restaurants: Sotto Mare, Mama's, Tony's Pizza Napoletana
Once you get past all of the red-sauce tourist joints with hawkers out front, North Beach turns into a wonderful eating neighborhood. You could start in the morning with a breakfast at Mama's on Washington Square, then head over to Liguria Bakery for a sheet of focaccia, then Original Joe's for a burger, then Tommaso's for an old-school pizza, Tony's for a new-school pizza, Park Tavern for a cocktail and the poulet rouge, Sotto Mare for some crab cioppino, then to Don Pisto's for some pork tamales and a hamburguesa. Finish the night with the poutine at 15 Romolo. That's quite a day.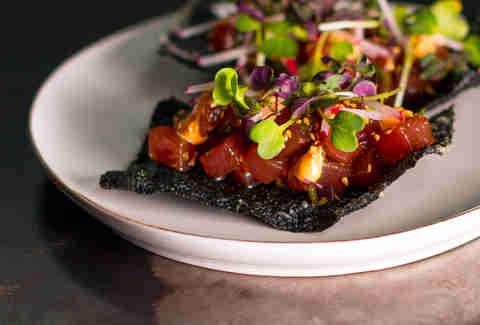 4. The Tenderloin/Tendernob
Essential restaurants: Liholiho Yacht Club, Kin Khao, Saigon Sandwiches
People like to throw out the word "edgy" to sort of dress up neighborhoods of ill repute, but the Tenderloin is different. Maybe unpredictable is a nice word to use. Despite this fact, the Tenderloin's food game has always been weirdly on-point, thanks to the mix of cheap and delicious holes-in-the-wall (Saigon Sandwich, Pearl's, Turtle Tower), old classics (Brenda's French Soul Food) and cool new restaurants with wildly different concepts (Liholiho Yact Club, Del Popolo, Huxley, Whitechapel). 
3. Hayes Valley
Essential restaurants: Cala, Absinthe, Rich Table 
This little box in the middle of the city is almost specially designed to be an eating neighborhood. The area around Hayes stretching from Gough to Laguna is jam packed with food, nearly all of it good. The steadfast pillar of the Hayes Valley scene is Absinthe followed by Suppenkuche, and Rich Table. But wonderful restaurants are everywhere -- Monsieur Benjamin, Boxing Room, Souvla, Chez Maman, Cala, and Lers Ros. French macarons at Chantal Guillon. Ice cream at Smitten. Sausages and Wednesday burgers at Biergarten. The shells and cheese at 2 Sisters Bar and Books. The new fanciness stuff coming from Chef Kim Alter's Nightbird. And that's just the best stuff. 
2. The Mission
Essential restaurants: La Taqueria, Al's Place, Flour + Water 
The Mission is basically unfair. No other place can pack as much old- and new-school action into its 'hood. If you ask almost anyone in SF where to go if you love food, they will point you towards the Mission. There is a reason that the rest of the country advertises "Mission-style" burritos. La Taqueria, El Farolito, Taqueria Cancun, El Toro, Taqueria La Cumbre, El Gran Taco Loco, Taqueria Vallarta. Nearly all would be considered the best in the city in any other place. 
And on the opposite end of the spectrum, you can find Michelin-starred meals unlike any you've had across the city at Lazy Bear and Californios. Or vegetable perfection at Al's Place. Or insane pizzas at Flour + Water, Delfina, or Beretta. Or crazy delicious Jewish food at Wise Sons. Or trend-setting Asian at Mission Chinese. Or the best bakery in the city at Tartine. Or innovative spaces for eating all sorts of amazing things at Tartine Manufactory. Or crazy good Peruvian at Limon Rotisserie. Or ice cream at Bi-Rite and Humphry Slocombe. The eating can go on and on and on.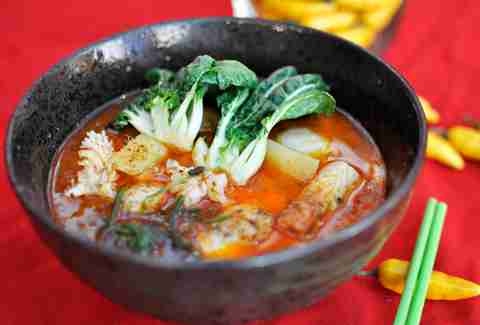 1. The Richmond
Essential restaurants: B Star Cafe, Tommy's Mexican Restaurant, Aziza, Wako Sushi 
I was going to pick the Mission. I swear. It had so much firepower. But when I really dug into the research, and you combine the Inner and Outer Richmond 'hoods (I'M NOT SORRY, I CAN DO WHAT I WANT), and see what's left, it is absolutely remarkable just what is available out there. And the fact that, unlike the Mission, it's a relatively close-guarded secret mostly just enjoyed by the people who live there makes it even more attractive (also: sorry for blowing you guys up). 
Also known as "second Chinatown," the Asian food game is unmatched. From Burmese spots like the famous Burma Superstar and its second (actually better) sibling B Star, to Korean from Han II Kwan, to dim sum joints like Good Luck Dim Sum, Hong Kong Lounge II, Dragon Beaux, or Ton Kiang, to dumplings at Shanghai Dumpling King or Wing Lee, to Szechuan at amazingly named Spices! 2, to Michelin-starred sushi at Wako, you cannot go wrong. But what really puts The Richmond at the top is the fact that Asian food may be playing on the main stage, but there are a lot of other shows going down. Arguello Super Market's famous turkey sandwich, for one. The Russian pelmeni at Cinderella Bakery. Cardamom coffee cake at Marla Bakery. Great pizzas at Fiorella and Pizzetta 211. Perfectly fine Mexican food to go with the best margarita in the country at Tommy's. Michelin-starred Moroccan-California dishes at Aziza. French food in lieu of hats at Chapeau! Behold the glory that is the Richmond. 
Sign up here for our daily San Francisco email and be the first to get all the food/drink/fun SF has to offer.