This month was all about craft beer… but in SF's food and drink scene, when is it not? Whether it's homebrews, beer that becomes whiskey, or a beloved Bay Area brand premiering a new summer beer garden pop-up, San Francisco's thirst for ales, lagers, kolschs, porters, and so on will never be satiated. Neither will our desire to drink said beer in cool industrial spaces, taprooms, and even funky double-decker buses. Also on tap: quality sushi that won't break your budget, a T-lish expansion, and happier hours in Mission Bay. Here's where you should go next.
All of the restaurants on this list are part of our ongoing quest to find this year's best new restaurants in America, and we're combing through every opening in every Thrillist city. Get involved on Instagram -- #BestRest2016 -- to let us know your picks and your favorite dishes at each of these new spots.
Fisherman's Wharf
We're gonna blame the June gloom that had us steering clear of all outdoor spaces for failing to mention this beer garden in last month's roundup. Though the pop-up, fueled by Lagunitas, only lasts through the summer (Thursday-Sunday 12pm-7pm), there's still time to take advantage of the second-best reason to visit this timeless, tourist-happy landmark (the first reason, obviously, is the Ghirardelli Chocolate Company's hot fudge sundae). Enjoy your pints of the Bay Area-based brew with live music from 3-6pm, and feel free to eat your sundae with it -- outside food is welcome. Take the Hyde St cable car to get there to round out the picture-perfect afternoon, especially if you're entertaining visiting relatives… or if you just want to remind yourself that you live in a freakin' postcard.
Mission Bay
The team behind SoMa StrEat Food Park has unveiled its latest food truck gathering space in Mission Bay, and it might just eclipse its popular predecessor in terms of awesomeness. Cool things about Spark: There's a vintage double-decker bus, fire pits, complimentary s'mores sessions on Monday and Wednesday evenings, special events like a Mac&Cheese Melt Off and a Poke-con, and 150+ local vendors rotating through the event space for lunch and dinner. Themed evenings with great deals every night of the week means there's always a good excuse for happy hour, and you can book reservations for both small and large groups -- which means you can actually enjoy the campy, specialty seating arrangements, filled with open-air decks, adirondack chairs, and porch swings. It's a little bit Austin, a little bit tech playground, and completely the setting for your next company happy hour or Bumble date.
Mission
Eleven courses of premium sushi for under $100? Yes, it's possible to truly live the dream. Sushi Hon offers an 11-course omakase that runs just $65. In case you need a refresher, omakase is a full meal chosen by the chef, based on what's fresh that day. It's decadent and luxurious, and up until now pretty expensive, making $65 per person (not including drinks) a steal. Owner Min Choe also runs another successful sushi spot, Cow Hollow's Tamashisoul Sushi Bar.
Bayview
Seven Stills, known for creating whiskey distilled from craft beer, opened its massive tasting room and distillery in Bayview this month. The industrial space offers its own craft beer and whiskey at two bars, and adds a few house cocktails to the mix (when the cocktail guy is around). All the whiskey and beer renditions will expand your taste buds and your idea of what a shot and beer can offer whether you drink them separately, or pair them together. We especially loved the Fluxuate, derived from a coffee porter. The Chocasmoke will also have you splurging on bottles and growlers, which you can buy on-site. Pop-ups and themed nights such as Sunday's BYOBBQ, in which you bring a meat or veggie to throw on the grill, are an attempt to lure folks to Bayview's burgeoning craft drink scene. The "trek" (can you still call it a trek if you're Ubering there and back?) is definitely worthwhile, especially if you think whiskey and beer are #strongertogether. Tastes and tours available Thursday and Friday 3:30-10pm, Saturday 12-10pm, or Sunday 12-8pm.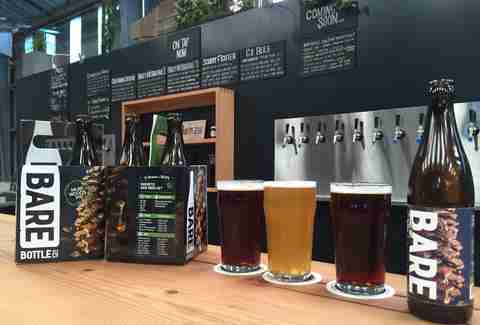 Bernal Heights
Homebrewers, prepare to get discovered: monthly homebrewing competitions hosted at this new, inventive brewery give amateur craft brewers a chance to see their creation on the menu. Even if you're more into drinking beer than making it, this Bernal Heights newcomer is worth checking out, so you can taste inventive brews and have a say in what shows up on taps. The fan favorite from monthly competitions will rotate through the brewery's menu, in addition to ales by head brewer Cortlandt Toczylowski (Drake's), including Espresso Macchiato Milk Stout with Paramo Coffee, a New England-style IPA, and a California kolsch-style ale. Co-founders Lester Koga, Michael Seitz, and Ben Sterling, homebrewers themselves, began this project after many years of entering and judging beer competitions, and noticing that the most inventive concoctions were usually crafted in someone's garage. Now they're giving homebrewed beer its moment in the spotlight and cultivating the Bay's robust homebrewing community. Pop in for a pint Wednesday through Friday from 3-9pm, Saturday from 12-9pm, and Sunday from 12-7pm... and stay tuned for beer-themed cultural events and workshops.
Marina
This one isn't new per se, but the space is. You likely already know and love Tacolicious, the local gourmet taco group that's spread throughout the city, but you'll especially love the same menu in a bigger, brighter space, with less of a wait. The original Chestnut location spread its wings to new digs two blocks away and across the street from where it all began.
Sign up here for our daily San Francisco email and be the first to get all the food/drink/fun SF has to offer.