When T. S. Eliot said "April is the cruellest month," he very clearly didn't know... about all of the awesome bars and restaurants that were going to open in San Francisco this year! From an impeccable cocktailery, to a burger pop-up, to the sequel to critically acclaimed Frances, we're actually pretty sure April is one of the best openings months SF has seen in a while.
Well, April and a little bit of March -- since a few spots managed to get their doors ajar just after we wrote about our favorite winter openings. Enjoy.
Upper Market
First things first: it's pronounced aah-CHAY. Second things second: here's what you need to know when you tell your friends this is where you're meeting up for dinner -- it's the newest addition from the team behind Flour + Water (and you loooove Flour + Water) and Chef Ryan Pollnow is at the helm. The menu is inspired by the Basque tapas culture, but is very much driven by local Northern California ingredients. (This is SF, after all.) The vibe is very intimate and European, the former meaning you'll want to make a reservation (call if your party is five or more), though walk-ins can grab seats at the bar or the communal table. Share the charred sepia & pork belly, the Spanish fried rice, and the charcutena board (or do the salt-grilled beef rib eye for two), and toast to Aatxe's motto: "May the food do you good and the drink do you no harm."
The Mission
Good news for fans of Chef Brett Cooper (formerly of Outerlands). His first solo project (in the former Beast and Hare space) opened up at the end of March and focuses on creative California cuisine. Many of the ingredients are being cultivated by Northern California farmers and ranchers specially for the spot, so you can expect very thoughtful, tasty dishes like pigs head croquettes (w/ blood orange kosho, arugula, kumquat), and dry-aged beef striploin with farro verde, morel, little gem, and ramps. There are also almost two dozen wines by the glass, including biodynamic and naturally produced vintages, as well as plenty of European beers by the bottle. Or, um, sodas with house-made syrups if you're not drinking (???).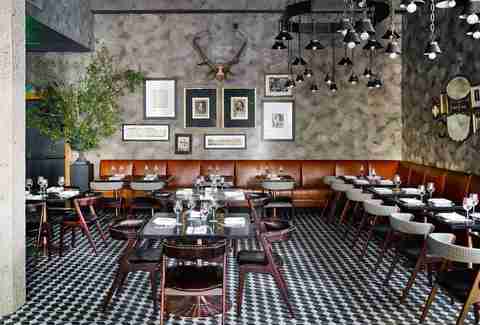 Union Square
We've already told you that BDK needs to be your new go-to bar for after-work drinks. But what we haven't ALSO told you is that it's super legit for dinner as well. We don't like picking favorites, but if we have to, we'll go with the smoked ham and Brie pop tarts. And the potato and cheese pierogies. And, um, the burger that comes with cheddar, bacon, AND a fried egg. AND OH MY GOD THE BEEF SHORT RIB POT ROAST. (But also, those cocktails.)

The Mission
We're 100% positive that there's going to be a long (worthwhile) wait for a table at Buttermilk Southern Kitchen. And we're also 100% positive it's going to be worth it. The food is totally affordable (almost all of it is under $18), everything is made in-house (from the sour cream, to the butter, to the pickles), there are eight beers on draft (that seems important), and the reason we'd bet it's going to be SF's new favorite spot? It's got brunch.
Civic Center
It's a bar. It's a lounge. It's a cocktail parlor... bar... lounge. The former 8,000sqft Stars space has been taken over by the owners of Oddjob, SRO, and Jones, and is now SF's new hottest nightlife spot that somehow manages to be whatever you want it to be (as long as you aren't looking for a dive bar). Impressive chandeliers give the space an elegant feel, as do the multiple VVVIP areas (bottle service, yo). Or, escape to the back for a quieter lounge. There will be rotating DJs and lots of special events, like fashion shows and art installations. Our favorite part? It'll be bringing in food truck chefs to make all of your favorite treats and, of course, the handcrafted cocktails. Sure, bottle service is cool, but we'll never turn down a perfectly concocted cocktail.
The Mission
When ICHI Sushi moved across the street and was reborn as ICHI Sushi + Ni Bar, it left an empty space on Mission St for... ICHI Kakiya (!), an oyster bar sister restaurant focused on sustainable seafood and Japanese bar dishes. The menu is small (oysters, clams, scallops, and a few salads and steamed seafood dishes), but every single item is thoughtful and, even better: super tasty. Thanks to the drink menu -- there are a half-dozen sakes, three beers on tap, and lots of seafood-friendly sparkling and white wines -- it's basically the perfect place for a second or third date. And not just 'cause of the oysters. But also, fine, 'cause of the oysters.
SOMA
Here's everything you need to know: Marlowe now has a super-laid-back pop-up that's dedicated ENTIRELY to its eponymous burger. And... here's everything else you need to know, in case you weren't already sold on the whole "pop-up that's dedicated ENTIRELY to its eponymous burger" thing.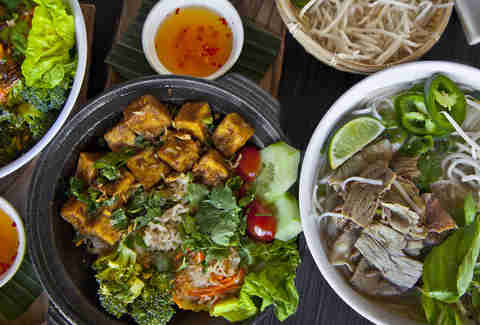 Castro
Mekong Kitchen describes itself as "Vietnamese soul food," which, in more scientific terms, translates to... Sriracha wing lollipops! Good for a quick and affordable bite with friends or a casual date, you'll order at the counter and then grab a seat. Depending on who you're there with, order the garlic noodles (not unless you're sharing with your date) or one of the slurp-tastic bone broth noodle soups (translation: pho). Too busy binge-watching Netflix to leave the house? No worries: Mekong also delivers.
SOMA
Before man: there were apes. Before cars: horse and buggies. Before pizza: pinsas. What's a pinsa? It's pizza's lesser-known older brother, a flatbread that was once prepared by peasants outside the imperial walls during the Roman Empire. And the star of Montesacro, a new Roman enoteca in SOMA with high ceilings, exposed brick walls, and lots of seating. There are 10 pinsas on the menu (like the burrata, broccolini, spicy pork sausage, and mozzarella -- or tomato, artichokes, mushroom, olives, egg, and prosciutto), as well as cheeses, salumis, paninis, and an extensive wine and beer list.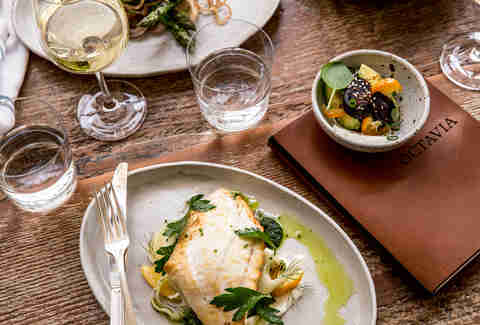 Lower Pac Heights
Much like The Empire Strikes Back only made you appreciate "Star Wars" that much more, Octavia, the sister restaurant to Castro's Frances, will make you appreciate Chef Melissa Perello The Most. The concept is similar: refined home cooking (that's actually nothing like the home cooking you do in your kitchen, because if you could cook like THIS, why would you ever go out?). In this case, home cooking just means simple, without any fancy tricks, and utterly delicious. The menu changes every day, but look/plead for things like dry-aged beef rib eye with charred radish, asparagus, and stilton butter,or grilled beef tongue with charred broccoli and marrow broth.
Inner Richmond
We love a wine bar, but sometimes they feel just a little too intimate. Not the case with Tofino Wines, whose 2,500sqft of space includes 20ft-high ceilings, a 32-seat bar area, and an entire wine shop featuring 500+ carefully chosen wines, including a dynamic selection of Champagne and Sherry. Come in, grab a seat, order one of 10 wines by the glass, six wines on tap, or three beers on tap (Almanac, Fort Point, and Deschutes), and snack on burrata, sardine pâté, or a charcuterie plate. Perfect for a date. Or, you know, just drinking really good wine.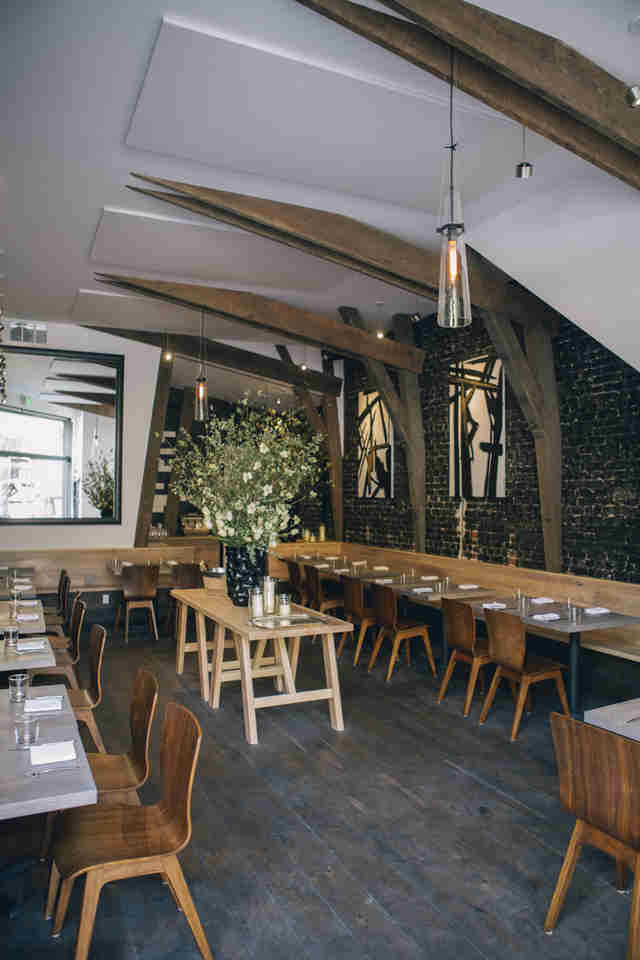 Jackson Square
Hit the gym or hit the snooze button? Ride your bike or take an Uber? Go home or have one more? Life is full of really tough decisions, but thanks to the folks at Trestle, a new restaurant from the guys behind Stones Throw and Fat Angel, now you'll have a few less to make. Every night, they offer a daily changing three-course prix fixe menu, and all you have to do is choose one of the two options for each course. And decide if you want to add the optional pasta supplement. Even better? It'll only cost ya $35. (And an extra $10 for the pasta, which -- if it's the fava bean agnolotti, you're probably (definitely) gonna want to get.) And, since you're saving so much money on what's truly delicious food (dishes you might see include marinated calamari & roasted fingerling potatoes and short rib "pot roast" with potato gratin and roasted carrots), you won't feel bad about splurging on a bottle of wine. Especially once you learn that the markup on any bottle won't exceed $40 (meaning a bottle that retails for $100 will only cost you $140). Trying to save a few bucks? No worries. They also have a huge selection of wines for under $50. And yes, plenty of beer.
Sign up here for our daily San Francisco email and be the first to get all the food/drink/fun SF has to offer.
Daisy Barringer is Thrillst's SF Editor and she's always down for a good wine bar. Or cocktail bar. Or beer bar. Tweet her your favorites @daisy.