February is kind of notoriously a crap month. There are holidays not everyone wants to celebrate (V-Day), and holidays not everyone gets to celebrate (President's Day), and then, just like that, it's over. This February, though, had nine notable "crap month" exceptions: 1) a streak of absolutely amazing weather, and 2-9) these eight brand-new bars and restaurants.
Because you were probably too busy last month drinking beer in Dolores Park to check out 2-9, remedy that this weekend. You'll have a whole three extra days to do so. Enjoy.

The Mission
The fact that "Sous Beurre" means "in butter" should be enough to convince you to check out Chef Michael Mauschbaugh's longtime pop-up's permanent home in the Mission. But in case you need more (WHY DO YOU ALWAYS NEED MORE???), he's doing Provencal French cuisine starring seasonal local ingredients, like steak tartare, a bavette steak au poivre, and an $85 tasting menu that will change, but currently includes dishes like Mendocino uni and bone marrow French onion soup. Oh, and just FYI: SBK is ahead of the latest restaurant trend, as the staff does not accept tips.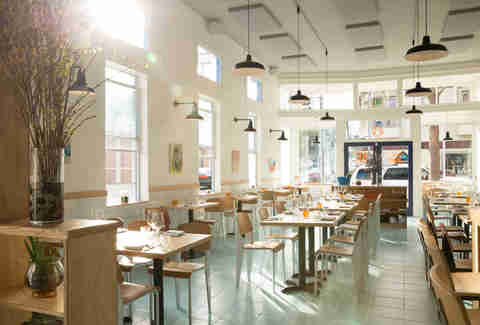 The Mission
Al's Place is the first solo restaurant from Michelin Star recipient Chef Aaron London. We'll warn you now: the main dishes are vegetarian-centric, but, in a twist we kind of love, the sides mainly feature... meat (grilled octopus, hanger steak, and jowl ham are current choices). The menu, which has four sections (smaller bites, warm/hot, cool, and sides) is smart and whimsical and allows you to enjoy a variety of flavors and textures throughout the meal. Right now it's just open for dinner, but rumor has it that brunch is on its way. That's a good thing 'cause, uh, brunch.
Ghirardelli Square
SF barstaurateur Scott Broccoli's flagship venture just got a makeover, elevating the space to a more modern/rustic/industrial/Restoration Hardware vibe that highlights the kick-ass bay view, and things are different enough (in a good way) that we thought we'd include it in our best openings list even though it's not technically an opening (how else would you find out about it???). The new/old spot is still known for two things: 1) being a favorite hangout of SF chefs who need a post-shift drink and bite (it serves an extensive late-night menu until 1:30am), and 2) the BBQ, all of which is smoked in-house. But, along with the renovation, there are a few new menu items, like Pete's Pot Roast (succulent center cut, grass-fed beef slow braised for five hours with cabernet) and five new cocktails, all of which were inspired by life in SF. Our favorite? Orange Pride (Knob Creek bourbon, sweet vermouth, orange bitters). Of course.

Outer Sunset
If there's one thing we love in SF, it's craft beer, which is why, despite what seems to be a huge influx of breweries lately, there's always room for more. Especially in the Outer Sunset where good beer and good food can decidedly *not* be found on every corner. Sunset Reservoir Brewing Company lives in an airy, two-story space that used to be a produce market. There are plenty of tables for chilling while you enjoy one of five house beers (wheat beer, a blonde, a double IPA, a rye amber, and a dry Irish stout) and a menu that features classics like grilled flatbreads, steamed mussels (in beer, of course), beer-braised pork, and the not-to-be-missed $14 Sunset Burger (two house-ground patties, cheddar, iceberg lettuce, tomato, onion, and Russian dressing on a brioche bun).
Fisherman's Wharf
You probably don't find a whole lot of reasons to go down (up?) to Fisherman's Wharf outside of 1) annoying out-of-town friends, and 2) In-N-Out cravings. But now you actually have a whole new THIRD reason to hang with the tourists: the Bacon Bacon Trailer, a permanent trailer located by Carmel Pizza Co. and the Codmother Fish and Chips. Due to space constraints (the trailer with the bumper is 19.5ft), there are slightly fewer offerings, but who cares when they've got all of the greatest hits, like the bacon burger, bacon grilled cheese, bacon fried chicken, breakfast sandwich, and the bacon bouquet? No one, that's who. It's open from 8am to 7pm seven days a week.

Lower Haight
Polk St sushi restaurant Nara just opened a second Lower Haight location where it's serving the stuff you'd traditionally expect to get at a Japanese spot (miso soup, ramen, sashimi), but also some crazier things, like a California roll sprinkled with Pop Rocks (don't chase it down with a Coke!!!!!!!!!!!!!!). Also: sake pairings. There are 40 different types available and if you don't know what you want, no worries: someone will be there to help you figure out just what to get with your Maguro Tar Tar roll (sesame oil-seasoned tuna with Korean pear and avocado).
Financial District
Tokyo-based Ramal Inc. operates more than 150 restaurants worldwide, so it almost seems crazy that the Japanese company is just now arriving in SF. The new FiDi spot is huge -- 200 seats occupy the dining room and there's a large, square bar that overlooks the street. The food is classic izakaya fare, but there's also sushi, rolls, yakitori, and best of all: two dozen beers on draft and a full liquor license (hello, Japanese whisky). It's also got three 65" TVs, so you can watch the game while you feast.

Nob Hill
Stookey's Club Moderne feels like a bizarro diner thanks to an art deco vibe that pays homage to the 1930s and friendly bartenders wearing white jackets and black bow ties. Cozy up with a date at one of the red cocktail tables and order a cocktail that recalls that era, like the Tequila Daisy (classic margarita, served up, no salt), 20th Century (Gordon's gin, Cocchi Americano, Tempus Fugit creme de cacao, fresh lemon juice), Pisco Punch, or, of course, any classic highball.
Sign up here for our daily San Francisco email and be the first to get all the food/drink/fun SF has to offer.
Daisy Barringer is Thrillist's SF Editor and coincidentally her nickname in college was Tequila Daisy. Also, Pitcher of Coors Light Daisy, Gin and Tonic Daisy, 40oz of Old E Daisy, and "Let's Do Shots!" Daisy. Follow her on Twitter @daisy.