Distract yourself from the fact that everyone who lives near a Muni stop's rent suuuuuuuucks with the only thing that doesn't: these 10 new restaurants and bars that opened in SF this May and include a just-opened Mid-Market spot doing boozy coffees, and your new go-to for pork belly buns in the Tenderloin.
Tenderloin
Geary Street has its fair share of cocktail spots, but you'd be hard-pressed to find a swanky-yet-cozy spot to sip a pre-dinner glass of wine until... RIGHT NOW WHEN WE TOLD YOU THAT RESOLUTE JUST OPENED. A sure to be go-to date spot, Resolute offers eight flights of wine, 25 bottles by the glass, and a whopping 120 hard-to-find bottles you can open there or take home or even buy by the case (you're gonna be the "buys a case" person, aren't you?). Artisan beer and cheese and charcuterie plates are also on the menu if wine isn't your thing, though it might kinda be after you hit this place.

Castro
So the simple Mexican dishes don't quite deliver on the name (what restaurant could?), but just so long as you don't mistake this colorful, mural-covered taqueria for a totally different type of business, you're sure to leave satisfied -- and perhaps a little sleepy. The house specialty cochinita sope is the winning move here: slightly spicy citrus-marinated pork, slow roasted in banana leaves and topped with all the fixin's in a handmade tortilla bed.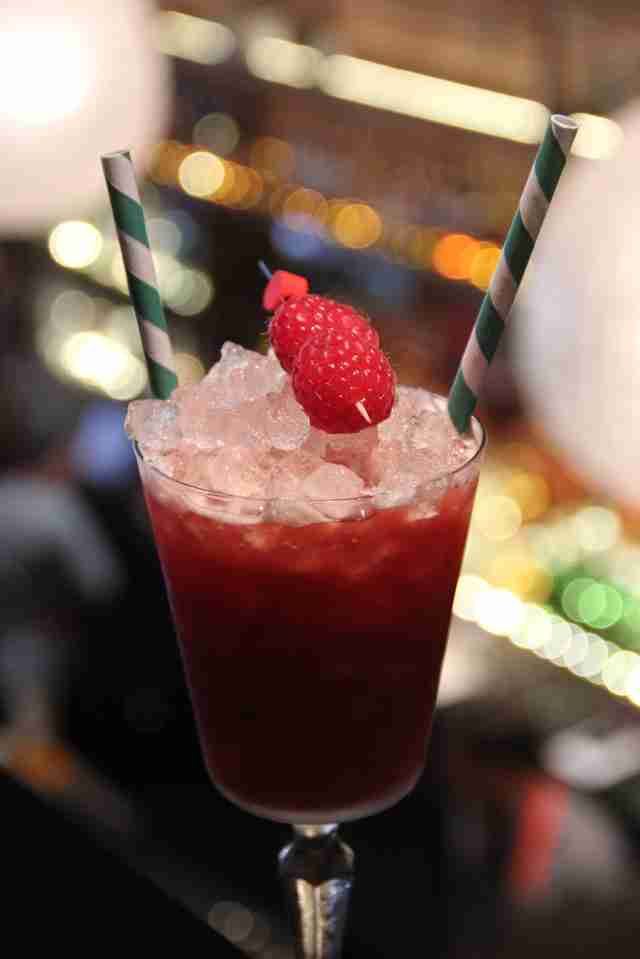 Mid-Market
Floor-to-ceiling windows up front, a long, spacious interior, brick walls, and a perfect people-watching balcony lend this cocktail spot a New York vibe when you walk in, but the attention to interesting spirits and innovative flavor combinations is all San Francisco. Tending vets Jacques Bezuidenhout and Ken Luciano have partnered with the PlumpJack Group to create this already-bustling bar next to, of all places, a Firestone Tire right where Mid-Market Mission curves into Mission Mission. Get the Pickled Swede with dill-infused vermouth -- it's both savory and refreshing -- but also don't sleep on the cocktails of the month, tipples from bartender friends of the bar that have already included a Tommy's marg and a cocktail from a buddy who tends in Ibiza.
The Mission
Hoping to follow in the steps of Saison by opening an ambitious pop-up in the old behind-Sable Cafe space that used to house, uh, Saison, Charin is a new experimental dinner series where a team of chefs (handpicked from fine-dining behemoths such as Benu, Coi, SPQR, and others) is doing a once-a-month-ish dinner where each course isn't just "OMG-what-did-I-just-eat?" interesting, but most dishes look more like a Monet painting than food. Seating is limited with tables for two (and sometimes four) doing a 9- to 11-course menu delivered at the perfect pace with optional (/expensive) wine pairings. This is really a rare, special occasion-type place, but if you're gonna do a rare, special occasion it's the type you'll want to do it at.

Tenderloin
The Zagat-rated food truck still roams the Bay, but now you can count on this sunny lunch spot that quietly opened in April for all your bao cravings. The classic pork belly bun is still the star here, but new items, such as Japanese curry beef, rice bowls (add an egg for $2), salads, and a to-die-for short rib bun join the band in a not-just-backup singers kind of way.
Mid-Market
Having made a name for itself with cyclists and surfers in Marin, Equator Coffees & Teas finally made its move into San Francisco in May, dropping a chic industrial spot into the Mid-Market food-and-drink wasteland. Best part though (outside of the "dropping a chic industrial spot into the Mid-Market food-and-drink wasteland" thing): they've got BOOZY coffee drinks exclusive to this location like the dangerously delicious coconut White Russian, a "Naughty Brew" Irish-style coffee, and a boozy milk tea. Also: arepas or salads, in case you want your liquid lunch to be more solid.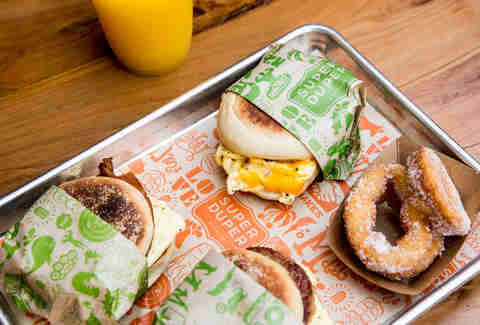 FiDi
Could Super Duper get super-er? How about if it added BREAKFAST SANDWICHES to its menu? Yeah, that's a good start, but not the end: house-made DONUTS made fresh daily with an old-fashioned machine also join the menu/your SF breakfast dream journal entry for today.

Russian Hill
The empire builders behind Campus in the Marina and the FiDi's Eddie Rickenbacker's have bestowed you with another excuse to hit up Polk Street in House Rules -- an opened-just-this-Thursday boozing den that offers up all the Polk St musts (plenty of TVs, eight tap beers, 10 house cocktails), plus some Polk St super bonuses like bar bites from the Hog & Rocks guy, and A FIREPLACE.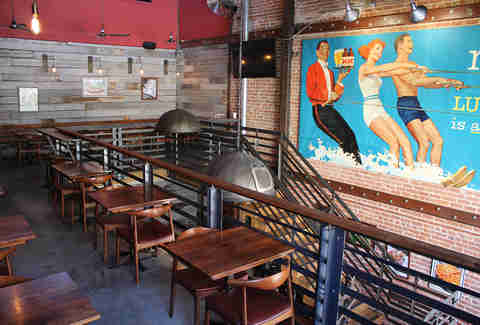 SoMa
Eleven-time World Pizza Champion Tony Gemignani's pizza empire expands to SOMA in the historic Chronicle Books building and is determined to meet all of your baseball pre-gaming, lunching, brunching, and slice-eating needs. The classic slices and pies (from New York-style to Sicilian) that draw crowds in North Beach are on the menu, but Tony also steps out of his pizza comfort zone by coining a new California-style pizza with an artisan ancient grains crust and farm-fresh toppings. With a nod to their ballpark neighborhood, this bi-level restaurant has plenty of TVs and a couple pinball machines, and the team promises promotions and extra hours on game nights. Oh, and the restaurant also debuted its brunch menu last weekend featuring a $20 breakfast buffet that includes breakfast pizzas and $10 bottomless mimosas. So... when can we move in, Tony?!
Cow Hollow
Remember Belga? We were a little skeptical that this classic Belgian brasserie would even have a shot at filling the oyster-sized hole in our hearts left by the beloved Marina bistro it replaced. But after an afternoon spent with the Belgian beer-heavy bar program (10 beers on tap, 50 more in bottles, and an impressive curated cocktail list), we were more than smitten. Pair beer, cocktails, or... beer cocktails with shareable brasserie-style dishes from the culinary minds that brought us Flour + Water and RN74.
Sign up here for our daily San Francisco email and be the first to get all the food/drink/fun SF has to offer.
Amy Copperman is a regular Thrillist SF contributor and she's only kinda joking, Tony. Keep track of her on Twitter at @acoppergirl.