Summer is officially over, but while we have to say goodbye to long days, weekend cookouts, and peeing in the woods, we don't have to say goodbye to these 14 spots that opened while you were busy trying to figure out somewhere, anywhere you could go to escape the fog. Sure, a lot of other places opened, but do those places have robots that pour your drinks, donut bread pudding, and ice cubes with flowers frozen inside of them? Exactly.
Recommended Video
Proof That Iceland's Ring Road Is the World's Most Beautiful Road Trip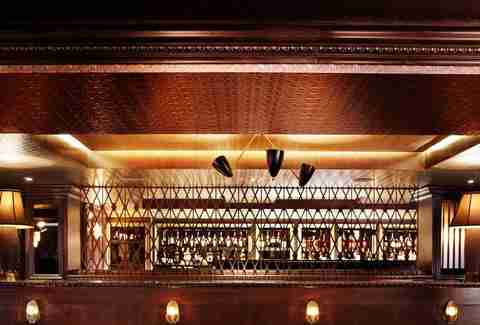 Financial District
This Parisian-style brasserie with dark wood, red leather banquettes, textured walls, and chandeliers is the kind of place you'd bring a date if you wanted that date to go on for hours. And hours. And hours. And also: hours. And if it turns out midway through that you don't actually want that, it won't matter because you'll have feasted on delicious French classics with a Northern California twist, plus cocktails like Napoleon's Own (Cognac, aged rum, maraschino, lime, pineapple, bitters).
The Marina
Next time you're hungry at midnight, head to Causwells (open until 1am every single night of the week) and order the burger made with dry-aged fat and lacto-fermented pickles, and, since you're already eating at midnight, the donut bread pudding. Don't forget to ask for one of their craft beers as well -- not like that would ever happen.
Financial District
A modern take on traditional izakaya-style Japanese small plate dining, this Michael Mina collaboration also has a large selection of sakes and Japanese whiskies, shabu shabu, and sushi. This is the kind of place where you stop by for a drink after work and end up staying for dinner, then you stay for another drink and end up at The Ramen Bar for second dinner. Order the Citrus, a gin cocktail with a lavender-wasabi salt rim and flower-infused ice cubes that you'll definitely Instagram.
The Mission
Hiro Sone and Lissa Doumani have Michelin stars for Terra and Ame, which probably tells you everything you need to know about their new Mission restaurant, Urchin Bistrot. They're serving French bistro fare, but with a twist (the steak tartare comes with fried oysters, and the spaghettini is served with sea urchin and yolk). The cocktail menu is equally creative, with drinks like the Champs Elysees (Congac, Green Chartreuse, lemon, angostura, served up) and The Dovre Club (Irish whiskey, Averna Amaro, raspberry, lemon, egg white, served up).
North Beach
Ferry Plaza Seafood left its spot in the Ferry Building, but kept the name for their new North Beach location. The new space allowed them to expand their menu, but don't worry -- your old favorites (Dungeness crab melts, yummmm) are still on there. Stop by for their happy hour every Monday-Friday from 3:30-5:30pm for discounts on raw oysters, wine, and beer.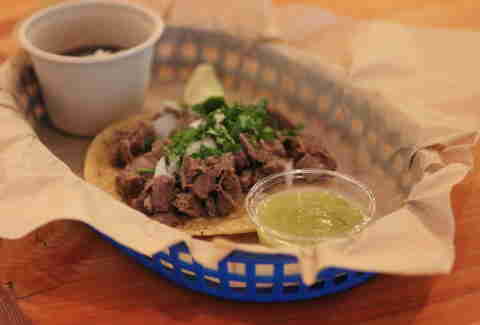 Financial District
The corn tortillas are made in-house every day, the ingredients are fresh, and the service is fast and friendly. Translation: this modern taqueria from the dude behind Super Duper, Beretta, Delarosa, Lolinda, et al. is your new favorite lunch spot. Tacos are $3.50 each, burritos are $7.25, and salads are about eight bucks. You really can't go wrong.
The Mission
The old Tokyo Go Go space got a sweet makeover and is now a sophisticated cocktail bar with a 15-drink menu (all of which cost around $10). Order the Whiskey in Church (smoky Scotch, Oloroso Sherry, maple, smoked pear bitters) and pair it with a pimiento cheeseburger, chicken pot pie empanadas, or (and?) a Sloppy Joe. The bar is open until 2am and the kitchen takes orders until 1am.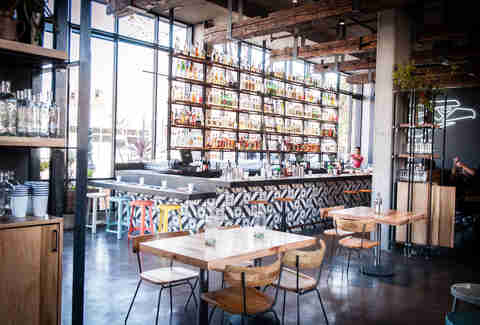 Duboce Triangle
Hecho got off to a rough start when its original name (Bandidos) sparked controversy in the Mexican-American community. Still, the owners apologized and immediately changed the name to Hecho ("made"), and things have been looking up ever since. The light, airy space feels sleek and goes well with the upscale food (nine different types of fancy tacos!) and sizable tequila selection. Order the Guns a Blazin' if you like your cocktails to literally come out on fire (Editor's note: you do).
The Mission
When Loló moved to Valencia, they did their neighbors on 22nd St a solid by keeping the space. Five months later, Loló Cevicheria, a colorful space with a focus on tacos, tapas, and ceviche opened. They don't have a liquor license, but they have sangria, beer, and even a margarita slushy made with wine.
The Mission
Italian in the Mission? Yes, please. Plin is all about the seafood, but there's not one thing on the menu that feels traditional or expected, which explains why two of the sections are named "Explore" and "Discover". Like any Italian restaurant, Plin has an extensive wine list, but there's also a focus (mostly by you) on cocktails and a full bar.
Hayes Valley
The "Plats de Resistance" at this new Hayes Valley bistro are a little pricey (a "fully dressed" hamburger will run you $18.50 and the steak frites are $36), but this modern French spot lives up to the hype and will likely find a home in SF for years to come. The best part? They serve food and cocktails every day until 1am. Finally San Francisco has figured out that we don't all want to go to bed at 11pm.
The Castro
If you're one of those people who hates sharing, you're out of luck, because it seems tapas are here to stay. Beso, Bisou's Spanish sister restaurant, serves traditional hot and cold small plates, and even their paella is made for two. Napa Kitchen Garden is the exclusive grower for Beso and Bisou, which means all of the produce is locally grown and super fresh. There's no liquor on the menu, but there are plenty of Spanish wines to, you got it: share.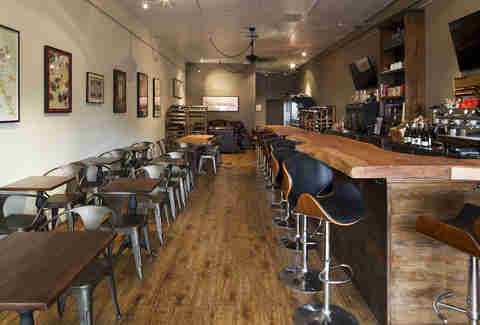 SoMa
Les Clos is all about anticipating and meeting your demands. Whether it's coffee or omelettes in the morning, a quick to-go sandwich at lunch, a happy hour after work, or late-night dinner and drinks with friends, Mark Bright, the wine director at Saison, has created an intimate neighborhood spot to which people on the other side of town will happily travel. It's open from 8am until midnight (10am on the weekends because... WEEKEND) and there will also be wine classes if, for some reason, just drinking wine isn't enough for you.
Fort Mason
It's a bar. It's a cafe. It's a museum. The Interval is one of those places you'll come to for the space, stay at for the cocktails, and then come back again a week later because, wait: was that a clock that was engineered to last for 10,000 years? Truly, this is one of the coolest spaces SF has seen in a long time. You can order a bulb of booze (if you don't finish, it will be stored in the rafters until your next visit), there will eventually be a robot that takes your orders (and another one that writes on the chalkboard behind the bar), and... yeah, this place needs to be seen to be believed.
Sign up here for our daily San Francisco email and be the first to get all the food/drink/fun SF has to offer.
Daisy Barringer is Thrillist's SF Editor and she is curious how much one tips a robot bartender. Please tell her on Twitter @daisy.