Another hectic December has come and gone and, while you were making merry and getting down with the nog and unadulterated consumerism, these 10 new restaurants and bars opened their doors for the first time. So, forget about your silly dry January and/or attempt to lose 5lbs (seriously, it's never going to happen) and go check out these spots, which include everything from vintage video games and keg-lets, to cocktails for all your ailments and bottles of liquor that'll run you $3,800.
Hope Santa was generous...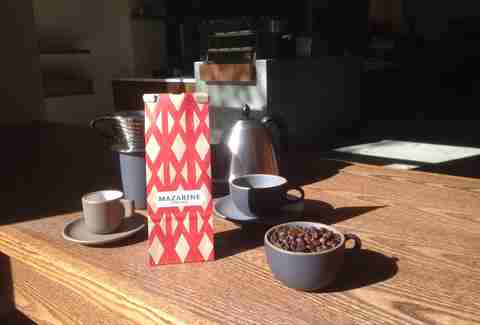 Union Square
Its coffee menu features specialty espresso/coffee blends, it's got 42 seats, plenty of power outlets, AND THERE'S FREE WI-FI. So get your butt in there, crank out some work, eat something healthy for lunch (maybe a shaved fennel and arugula salad?) or not (grilled cheese with mozzarella, Gouda, Gruyere, and chèvre!), and then celebrate accomplishing so much with (way more than) one of the six beers or five wines available.
Western Addition
Like Toy Story, Terminator, and Bring It On, some things are so good they need a sequel. (What? Bring It On Again was a really good movie!) That is definitely the case with The Progress, the follow-up/sister restaurant to State Bird Provisions. It's family style and you choose the number of dishes you want (six dishes for $65/person), and you can drink fancy cocktails while you're eating them. There are 54 seats at tables and right now you can only book a table seven days in advance. You can however, try to walk in and get one of the 12 seats at the bar.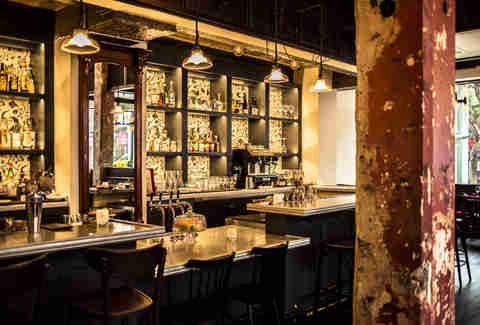 Union Square
This European-American restaurant has everything you like. No really, everything. Bone marrow, Caesar salad with lobster on top, braised pork belly, three different cuts of steak, and a kick-ass selection of handcrafted cocktails. See? Everything. Try the Virtuous Sazerac (rye, Montenegro, XTA, Creole bitters, lemon peel) or the Peter Rabbit (mescal, Yellow Chartreuse, lemon juice, agave, arugula, jalapeño, salt). The space is also super inviting with chandeliers, mirrors, and velvet banquettes covered in pillows.
Union Square
This modern California brew parlor is all about swine and swill. There are 30 beers on tap, which can be ordered in a pint glass, a 54oz Hog Goblet, or a mini five-liter keg-let that's super easy to share thanks to the communal-style dining room. Food-wise you can enjoy house-made sausages and chase 'em with an IPA beer float.

The Tenderloin
Don't be fooled by The Basement's narrow bar. Downstairs, there's a cavernous basement that will eventually have a DJ spinning on weekends and an open mic on Thursdays. For now, they are just serving beer (eight drafts, including Goose Island and Dogfish Head), wine, 12 flavors of infused sojus (vanilla, ginger, and 10 others...). Head there before 8pm for $2 off cocktails and $1 off beers.
The Castro
You know how sometimes you go to a bar and you're like, "I mean, drinking on its own is super fun, but I wish that in addition to this beer I had 21 classic arcade games to play?" Well, wish no more: Brewcade has all of your favorite games, including Ms. Pac-Man, Frogger, 1943, Final Fight, Teenage Mutant Ninja Turtles, Street Fighter II, and The Simpsons, AND they have hella good beer (and a lot of it) AND they have a munchie bar with snacks like fancy chips and beef jerky. So, basically it's just like the basement you always dreamed of, only a million times better.
North Beach
Next time you're feeling a cold coming on or a little extra stress, skip the doctor and the therapist and instead head straight to The Devil's Acre, an apothecary-themed North Beach bar where the bartender can add one of eight remedies to any of their craft cocktails using a spinning cocktail shaker from the 1890s (because how ELSE would one get a remedy into his cocktail?). There's also a smaller, darker bar down a staircase at the far back wall appropriately called Remedie, so be sure to check that out as well. Only catch? You'll want to make an appointment, or rather: reservation, for both.
SOMA
This new spot from Chris Cosentino and partner Oliver Wharton is all about celebrating San Francisco's diverse culinary heritage, but it's Chris Cosentino, so get ready for a lot of offal (as in, even the Little Gems salad has crispy pig's ear in it). There's also a full bar with a dozen draft beers and a selection of ciders. Grab a seat on the second floor if you can for the best view of the restaurant's open kitchen, taxidermy roosters, and plenty of whole-wood oven-roasted pigs' heads.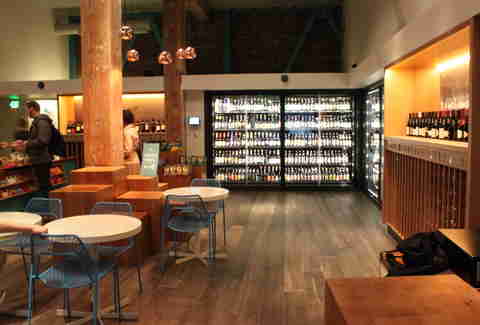 SOMA
Oh, hello 200 craft beers and small-production wines that can be enjoyed in this cafe and bottle shop for no corkage fee while you munch on hot or cold sandwiches (slow-roasted lamb or turkey meatloaf taste good to us). There are also six wines and eight beers on tap AND, though you can't drink liquor in the cafe, there is a floor-to-ceiling copper liquor library that holds 200-250 specialty bottles ranging in price from $30 to $3,800 for you to enjoy at home. Also, if you spend $3,800 on a bottle of liquor, can we please come over? Thanks.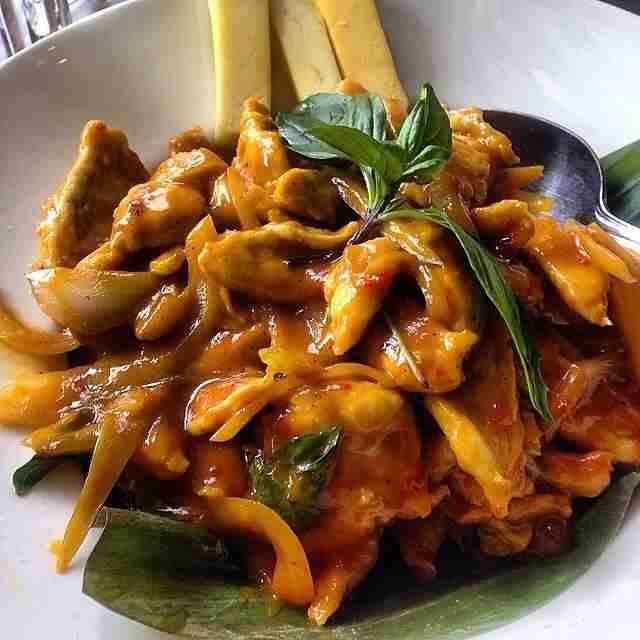 The Mission
Good news! Burma Superstar has a brand-new offshoot in the Mission called Burma Love. Bad news! Much like the Clement St location, the wait will probably STILL be a solid hour. Good news! It's totally worth it. Burma Love has your favorites from the Burma Superstar menu (tea-leaf salad, samosa soup), they will also offer dishes that are a bit spicier. We approve. And since Burma Love is a lot bigger than Burma Superstar, you can grab a seat at the full bar (liquor license is pending) while you wait.
Sign up here for our daily San Francisco email and be the first to get all the food/drink/fun SF has to offer.
Daisy Barringer is Thrillist's SF Editor and, though she hates a line, she is not opposed to a wait that affords her the chance to have a few cocktails before dinner. See what she's drinking on Twitter @daisy.