Since no one wants to eat the same tired brunch weekend after weekend, unless it's from Nopa -- we'd crush that French toast on the reg if it weren't for money/fat -- here are 13 of our favorite new brunches in SF, which run the brunch gamut (the brunmut, if you will), from classy charcuterie and stuff to bottomless revelry.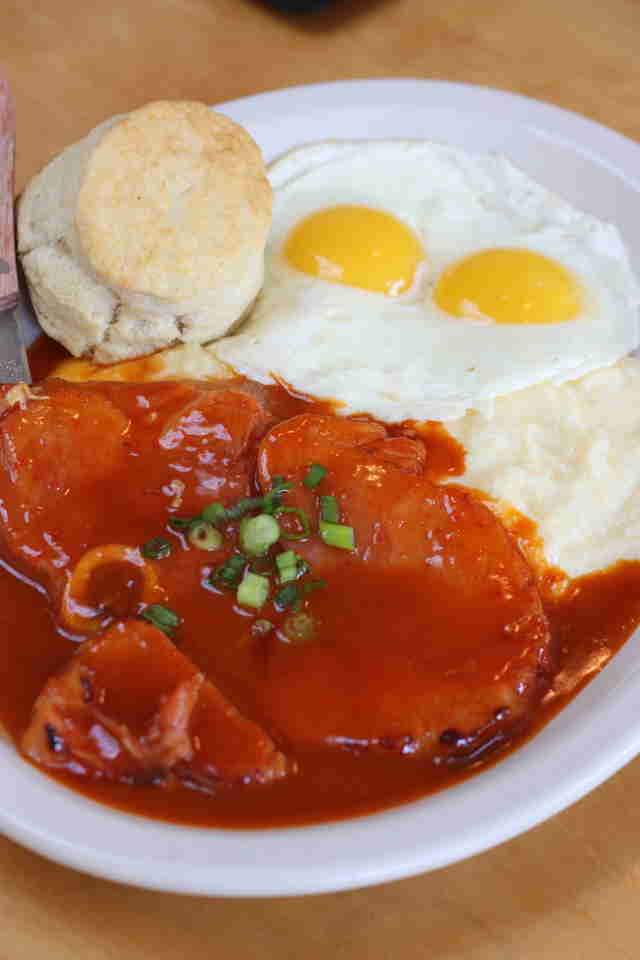 Western Addition
We gave up waiting in the brunch line at Brenda's French Soul Food years ago (yeah, we're old), but we're still game to give it a go at Brenda's new spot on Divis. You can still get awesome, classic Brenda's fare like po' boys and shrimp & grits, plus welcome additions including a city ham steak with red-eye gravy and eggs, and calas -- the "lost rice doughnut of New Orleans," which we can all be glad they found.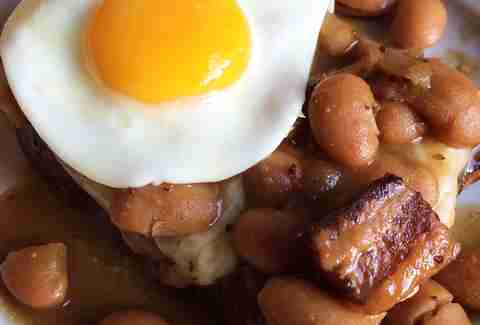 TenderNob
We dig Huxley because it's been known to subtly play a little Notorious B.I.G. during dinnertime; also, because it has a smoked and whipped lard appetizer (uh-huh). The new-ish Sunday brunch is similarly epic, with dishes like avocado toast (yawn) with sea urchin (!!!), braised pork belly and fried eggs, and, oh yeah, a dry-aged New York strip steak and eggs. Bad. Ass.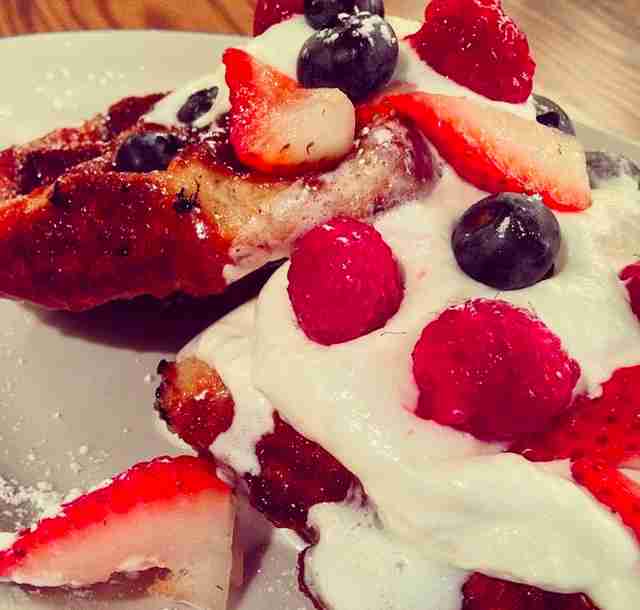 Union Square
Normally, Union Square on weekends makes us shudder in fear at the thought of high school girls chasing us with Forever 21 bags/abruptly stopping in front of us with Forever 21 bags. Thankfully, Klyde's weekend brunch is here to take off the edge, with rib-sticking classics like crab and fried green tomato Benedict and almond brioche French toast. Also, it's a wine bar, so you can drink away the trauma if necessary.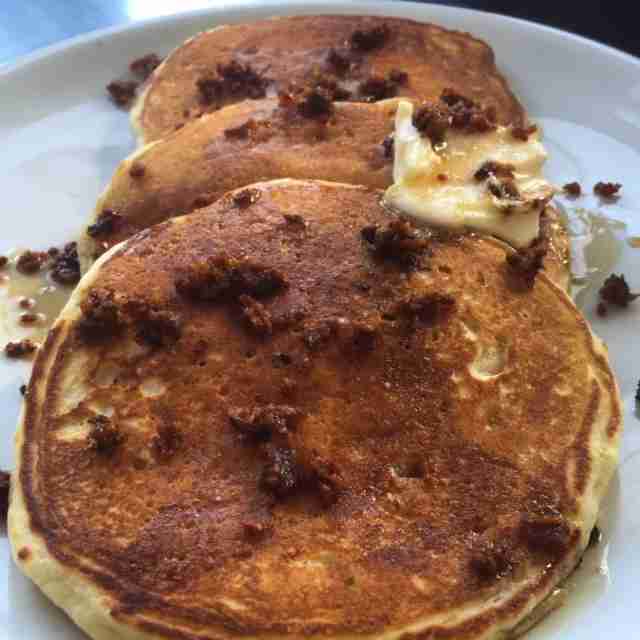 SOMA
We would just go live at Marlowe if they'd let us (c'mon, guys... can we?!!), but we'll take the concession prize of getting to go there for brunch on top of lunch and dinner. You can get the burger (thank God), plus buttermilk pancakes with smoked butter and bacon maple syrup, a Dungeness crab and rock shrimp crepe, and a tomato baked egg with chickpeas and harissa. And, oh right: THE BURGER. See you there.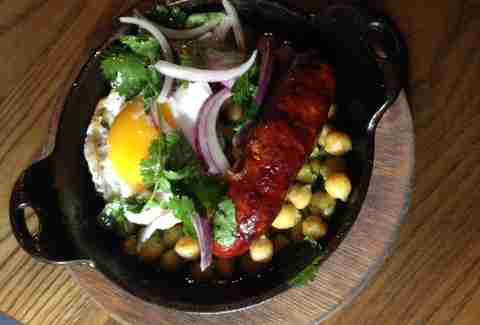 Castro
Because you are hella classy on weekend mornings, sometimes, you like to drink cava instead of Andre and eat bistec con heuvos instead of steak and eggs. Fortunately, Beso's Spanish-style brunch has you covered. In addition to tasty tapas classics, you can get things like octopus and fresh chorizo and garbanzo beans. Oh, you can also get that bottle of cava and fresh orange juice for $25, or head straight for the sangria.
Bonus: Beso's sister restaurant Bisou just revamped its brunch menu, meaning you can do the same thing there, only en Francais.
The Mission
We trust Plin with its brunch -- in part because it makes delicious pasta; in part, because it did an all-out, carbo-loaded, gluten-love celebration menu. The brunch is similarly decadent, with awesomely over-the-top dishes like braised oxtail with polenta cakes and poached eggs and a sweetbread (pancreas... yum) omelet. You should probably get an order of doughnuts for good measure (and also, carbs).

Outer Sunset
We <3 Mexican food (duh), so an excuse to dig into a Sunday-only Mexican food menu and drink delicious craft beer is our favorite kind of excuse-making. Shiny new Sunset Reservoir Brewing Company's just kicked off Domingo, a Sunday-only special menu, with extra specialness like chilaquiles, frijoles, and "tacos!" (SR's emphasis, not ours, ours would have double-!) on offer.
Hayes Valley
Sometimes, you just need a lil' foie gras to start your weekend off right. Thankfully, you can get that, and a raw seafood plateau of oysters and shrimp and crab, plus eggs en meurette (aka poached in red wine) with duck confit at Monsieur Benjamin. The Hayes Valley French bistro is pretty much always full, and if you ever emerge from your foie gras coma, you'll definitely understand the hype. Also, you may find yourself surprisingly fluent in French (though that might just be the tasty, tasty cocktails).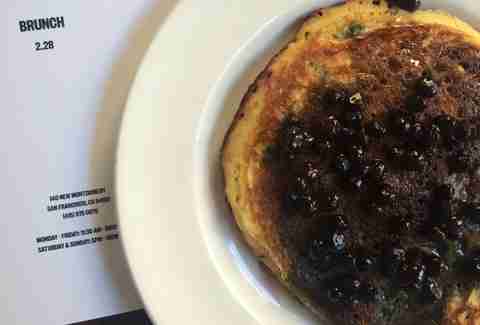 SOMA
The unbelievably extensive charcuterie and salumi selection at Trou Normand? It's a great and delicious idea at any time of day, but maybe even a little bit better at brunch time. Trou Normand's brand-new brunch service (on Saturdays and Sundays) has all of that charcuterie, plus tasty breakfast-y options like semolina pancakes with huckleberries and maple syrup, and an egg-topped croque madame layered with smoked ham and Brie.
SOMA
Rye Project is one of our go-to-iest spots for eating right now, so we were all kinds of psyched when we heard it's now open on Saturdays. In addition to being the place to get your smoked fish fill, you can count on a whole lotta matzoh ball soup, and... hot dogs! That's right, hot delicious dogs for your Saturday brunch needs, topped Chicago-style, Cleveland-style, and maybe even a Surprise-style, or two. Oh yeah, you can totally get a big old pile of pastrami or corned beef, too. Just know that it's not open on Sundays and the hours every other day of the week are 11am-3pm, so plan accordingly.
Outer Richmond
Marla has long made some of the best baked goods in town, so it's no surprise its new brunch is delicious. Take your pick between ridiculous-sounding dishes like rabbit sausage and smoked potato hash (topped with a poached egg, 'natch), a house-made bagel plate served with farmers cheese and smoked sable, or a fresh-baked English muffin sandwiching smoked bacon, a fried egg, and "melted" Brussels sprouts ("melted" = butter and/or bacon fat are involved, "you" = super hungry right now).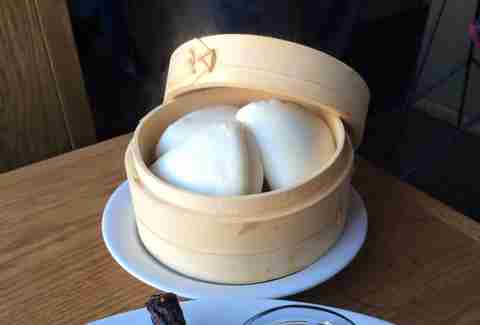 The Marina
Four words: bottomless dim sum brunch. A whole bunch of other words: you should go get that at Chubby Noodle in the Marina, where $37 buys you 90 minutes of dumpling- and noodle-filled indulgence, washed down with all of the Sapporo you can swallow. There are rubber duckies involved, too -- just accept the brilliance and give in.
Mid-Market
Get your mid-Market on in excellent Sunday style at The Hall's Saturday and Sunday brunch, which features bottomless mimosas, shandys, and micheladas, brunch-style specials from a tasty collection of vendors, and live blues music. That's going to look super rad on Instagram, amiright?
Sign up here for our daily San Francisco email and be the first to get all the food/drink/fun SF has to offer.
Lauren Sloss is basically a professional brunch eater, and firmly believes that 98.4% of things are better when you put an egg on them. Tell her if you like yours poached or fried @laurensloss.