If you spent the past month out of town getting a jump start on road trip season, we've got two things to say to you: 1. We're incredibly jealous, and 2. Yes, even more restaurants opened in SF! Yeah, new dining options spring up in this city like mushrooms popping up all over the Presidio, but we rounded up the stuff that's really worth checking out. This April, we're excited about some impressive burgers, a ping-pong bar (!), and a Mexican happy hour worth leaving work a little early for.
All of the restaurants on this list are part of our ongoing quest to find this year's best new restaurants in America, and we're combing through every opening in every Thrillist city. Get involved on Instagram -- #BestRest2016 -- to let us know your picks and your favorite dishes at each of these new spots.
Market
The Thrillist-favorite Causwells burger has gotten its own restaurant, making Popsons maybe the best spin-off since... A Different World? Chef Adam Rosenblum, along with restaurateur Alvin Garcia, have crafted a fun, fast, and casual menu featuring Five Dot Ranch patties topped with a myriad of delicious, seasonal ingredients (you won't find any flavorless, out-of-season tomatoes here). Vegetarians aren't left out, either, with a play on the burger featuring a beet, quinoa, and walnut patty, truffle cheese, clover sprout, onion, pickle, and aioli. Head to the historic Warfield Building to get in on the diner fun. Popsons even has its own wine label on tap, as well as classic milkshakes and sodas.
SoMa
If you love ping pong and just don't get enough of it in your office's break room, you're gonna love this massive table tennis social club that opened its first Bay Area location. Featuring 19 tables, two bars, a VIP lounge, and an outdoor patio, it's a family-friendly space by day, but morphs into a bougie nightclub scene once the sun goes down, not unlike Lucky Strike or Mission Bowl… only, you know, with smaller balls. Also like Mission Bowl, SPiN offers up gourmet bar bites and craft cocktails. Expect weekly tournaments and music events. Scoring a table will run you $29/hour during off-peak times, and $49/hour when it's poppin'.
Mission
Alright, so it's not new as in brand-new; Foreign Cinema's sister bar, Laszlo, has been a Mission staple for 15 years. But the space did just undergo its first renovation ever, including a complete overhaul of the cocktails and a new food menu… so let's be real, it's as good as new. The seasonal cocktails have been upgraded with house-made syrups and top-shelf concoctions named after famous movies, and a brand-new bar bite menu ($4-12) featuring Indian and Mediterranean flavors such as vegetable samosas, curry fried chicken sandwiches, and an intriguing shrimp & lobster corn dog. A revamped DJ lineup, with more attention to the who's who of DJs, means this spot is poised for a nightlife revival to boot. Pro tip: you can still order a full meal from Foreign Cinema during dinner and brunch to enjoy in Laszlo, which you'll definitely want to do -- especially once you peep their sleek, airy set-up, with new booths on the mezzanine level.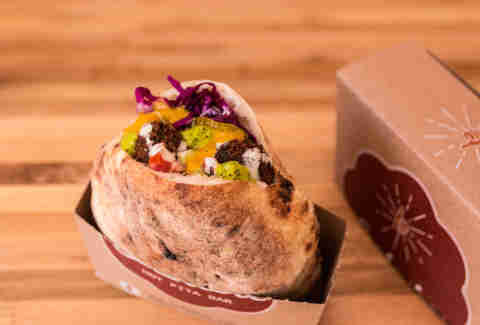 FiDi
Sababa is Hebrew slang for something along the lines of "cool," "great," and/or "general satisfaction," which is exactly what you'll feel in FiDi's newest fast-casual lunch destination, especially if you love pita. The hot pita bar serves pita in just about every form -- sandwich, salad, bowl -- with falafel, chicken, and kofta. It's… sababa. Head there to score a hearty Israeli lunch for around $12.
SoMa
A colorful, bi-level Mexican spot has risen from TBD's ashes, following the devastating fire that shut the place down last year. Aptly called Fenix, the new restaurant focuses on gourmet, shareable Mexican dishes and interesting, seasonal sangrias. The best thing about this spot is how easy it is to nibble your way through essentially all the dishes: each large plate, like the carne asada or fresh pescada del dia (suited for one to two people) comes with 11 complementary "little tastes," such as grilled pineapple adobo, chilled broth with tomatillo, and Mexican pickles. Go with a small group, and you could easily treat your taste buds to an entire spectrum of gourmet Mexican flavors for under $50/person. Head here for happy hour when four flavors of sangria, queso fundido, and an order of peel-and-eat shrimp are just $5 a pop.
SoMa
The Absinthe Group has just opened its latest destination, this time focusing on Spanish cuisine. Paella is the main event here -- there are five different types served from a custom-built wood-fired hearth, and if the star lineup in the kitchen helmed by the former chef de cuisine of Coqueta is any indication, this soaring space will likely soar to the top of best-of lists. It's serving up sangria on tap, while traditional Spanish drinks like sherry and dry cider round out the experience.
SoMa
Beyonce's Lemonade debuted the same week LA chain Lemonade hit San Francisco, so let us clear up any confusion: Lemonade, the visual album, is Beyonce's brilliant reckoning with Jay Z's infidelity, while Lemonade, the fast-casual chain, offers healthy, cafeteria-style food that lets you mix-and-match your way to veggie-focused, satisfying nirvana. You need both in your life.

Sign up here for our daily San Francisco email and be the first to get all the food/drink/fun SF has to offer.
Other Stuff You'll Like In Openings Cheat Sheet