Last month's restaurant openings were all about nostalgia and comfort with a California twist. There's an old-school lunch counter with a new-school vibe in the Financial District, Southern food and whiskey at Mid-Market, a restaurant where it's dumpling time all of the time in SoMa, and more. With so much over-the-top food and drink to indulge in, let's just say we're glad "summer bodies" aren't a thing we have to worry about in SF.
Recommended Video
This Burger Weighs 15 Pounds
Hayes Valley
Adriano Paganini (Beretta, Starbelly, Delarosa) has yet to open a restaurant in San Francisco that we didn't fall instantly head-over-heels for, and we're happy to report that he's done it again with his new Italian restaurant in Hayes Valley. The space is light and bright thanks to floor-to-ceiling windows, and the tables are close together and small, but big enough to house a plate of pasta, a pizza, and a couple of cocktails.

The handmade pasta is the highlight of everything coming out of the kitchen: There are seven to choose from, including spaghetti clams, bucatini all'Americana, tagliatelle with pesto and English peas, and a pork sugo rigatoni. The goal at A Mano is to share as much as possible, so be sure to also order the Monterey squid with ceci beans, tomato, and romesco, as well as the chicken polpettine with spicy tomato sauce. There are also a couple of pizzas on the menu, but the pasta is so good that we recommend ordering two of those instead.

As far as drinks go, A Mano has a full bar and an excellent selection of craft cocktails (start with the Cardinale, which is like a Negroni martini). There's also a ton of Italian wine and beer, which means -- since it's open until midnight on the weekends, 11pm during the week -- we will definitely be stumbling in here for late-night drinks... and a second dinner.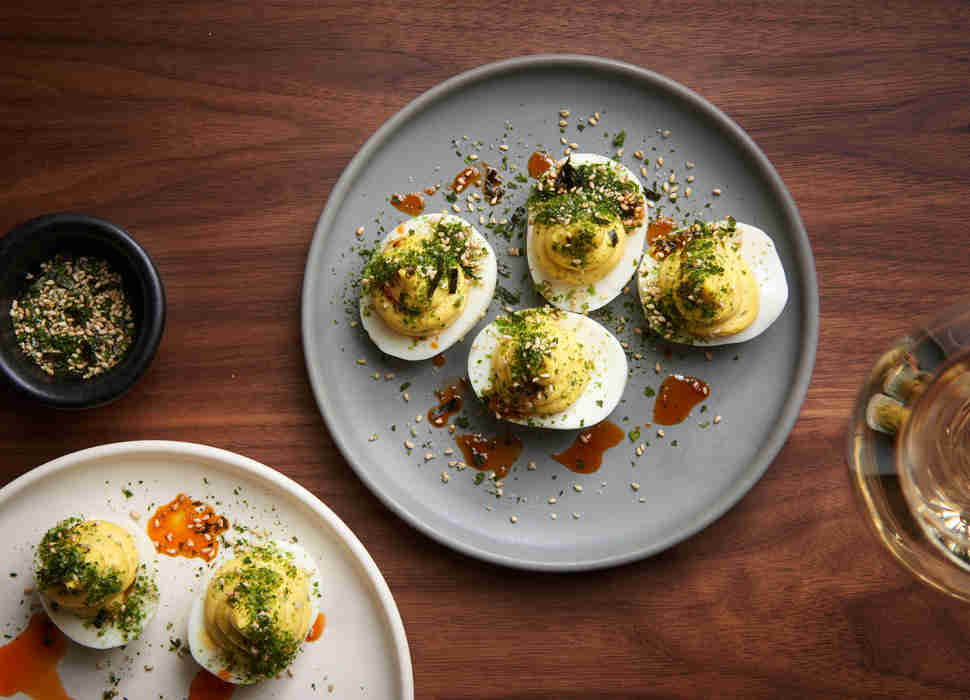 Dogpatch
Daniel Patterson just opened a second location of his American-California restaurant inside the Minnesota Street Project, and it's the perfect place to grab breakfast, lunch, or dinner if you're visiting the galleries (or just in the mood for tasty market-driven fare and delicious low ABV cocktails). The space is pretty minimalist with lots of concrete, but the open kitchen, dark wood floors, pendant lighting, and walnut tables add some much needed warmth to the room, which looks out to the Minnesota Street Project's lobby.

During the day, the focus is on counter-service breakfast and lunch, with selections like sweet and savory rice porridges, braised pork hash with a fried egg, and the Alta cheeseburger. At night, the 45-seat space transforms to table service with a mix of smaller and larger plates, like grilled levain bread with a spread of fava beans and fromage blanc, and a daily cut of pork with dandelion salsa verde. As for our favorite part of the place? It's a toss-up between the sparking wine cocktails on tap, low-ABV cocktails, and the fact that Alta has a no-tipping policy.
Castro
Sometimes a sequel is everything you want it to be (looking at you Back to the Future II) and sometimes a sequel is so bad you wonder how it's possible it could all go so very wrong (why Jar Jar Binks?). In the case of The Castro Fountain, the sequel to The Ice Cream Bar in Cole Valley, we're happy to report, it's definitely the former.

The space is exactly what you want from an old-fashioned ice cream parlor. Sure, it's small (there's room for 12 people inside and another 12 outside), but the high ceilings, peach and black tiles, copper mirror, and restored 1930s soda fountain make milkshake dreams come true. Unlike its sister restaurant, The Castro Fountain only sells sweets: old-fashioned handmade sodas, malts and milkshakes, ice cream floats, hot fudge sundaes, banana splits, ice cream sandwiches, and baked goods like yellow cake with fudge frosting.

The only bummer is that -- because a liquor license was too hard to get -- The Castro Fountain doesn't serve the boozy "remedies" we've come to love so much at The Ice Cream Bar. It's OK though; it just adds to the wholesome appeal. And gives us an excuse to chase that sugar high by ordering a second scoop.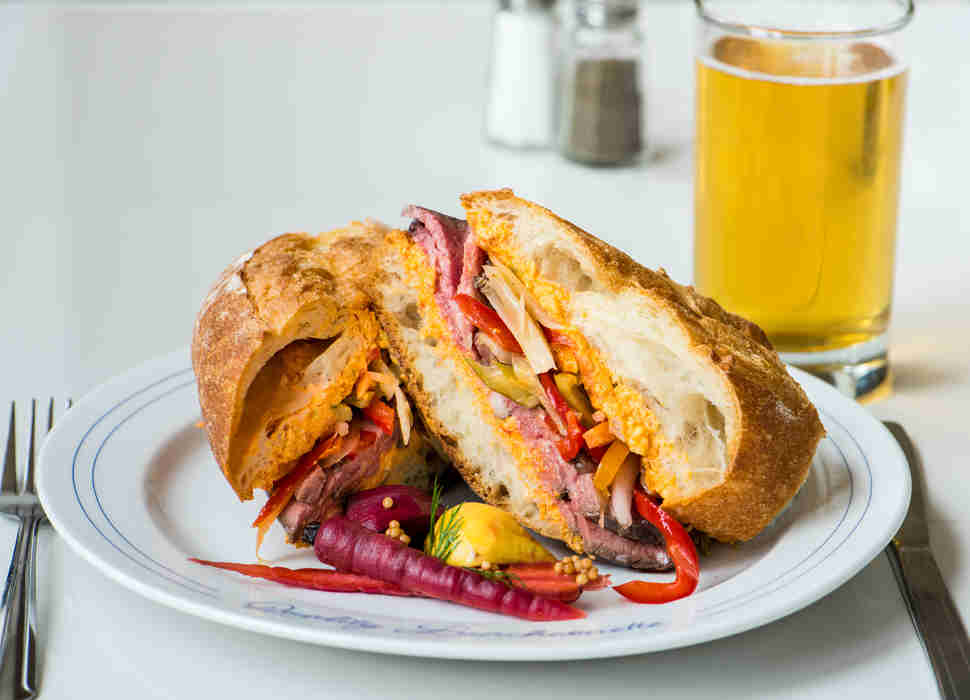 Financial District
The Standard Oil Building (home to The Treasury and Blue Bottle), now boasts a modern luncheonette inspired by the Woolworth's lunch counters of the 1940s that's intended to be an escape from the hustle and bustle of working Downtown, even if you only have 15 minutes between meetings.

Order one of 10 sandwiches -- deviled egg salad, roast beef, and baked egg and salami are highlights -- or five salads (we love the crispy chickpea and tuna and the mixed baby lettuces with olive oil cured tuna) at the counter and add a side of either house-made potato chips, vinegar slaw, or deviled eggs while you're there, and then grab a seat at the 60-foot wraparound stone counter or one of the built-in benches the line the windows.

There are also ice cream sandwiches and floats for dessert, and a focused list of wines by the glass and a couple of local beers. In fact, if you can't find a seat at The Treasury, you can head to City Counter for happy hour (from 3-7pm) for discounted bar bites and a wandering bar cart.
Mid-Market
The Mid-Market area has been a death sentence for a bunch of restaurants as of late, but we hope this new spot -- a little bit sports bar, a little bit Southern fusion restaurant, and a little bit whiskey wonderland -- finds success.

The space is big for SF, so there's room for 16 TVs, two pool tables, tables, and chairs with a retro '70s feel, and a wooden bar behind which 170 different whiskies call home. It's kind of like a grown-up rec room where you can watch the game while eating tasty Southern-inspired eats, like hush puppies, tater tot nachos, gator bites, chicken and waffles, BBQ ribs, shrimp and grits, and banana pudding with Nilla wafers (which, for the record, is the only way banana pudding should ever be served).

As far as the neon sign on the exposed brick wall that glows, "There's gonna be some sad singin' and some slow walkin' up in here!"... You're absolutely going to Instagram it. And that's OK. It might almost be weirder if you didn't.
SoMa
What time is it? Dumpling time. Or, um, it will be just as soon as you get to the front of the line. Yup, there are already waits to eat at this new dumpling destination and for good reason: Dumplings are so hot right now (literally and figuratively) and the dumplings at Dumpling Time are even more delicious. They're also beautiful, so expect to see many, many people Instagramming them before popping them in their mouths. The space also features an enclosed glass "dumpling room" where you can watch dumplings being made all day long, which is an oddly calming activity.

Aside from pan-seared gyoza and steamed and soup dumplings, there are noodles, steamed bao, and sweet buns for dessert, all of which you can pair with 10 beers on draft, sake, or wine. Yes, Dumpling Time is already super popular, but there's seating for 70 people -- with more patio seating coming this summer.
Castro
If you've never had a croissant... or a macaron... or an éclair... or a baguette... or a pain au chocolate... or a, well you get it... from Le Marais, all we can say is you're missing out big time. However, we can almost excuse it since (until now) Le Marais only had bakeries in the Marina and Ghirardelli Square, and perhaps you're the kind of person who doesn't frequent those locations.

The good news: As of late May, the Parisian-inspired sweet and savory goods are available at Le Marais' new light, airy café in the Castro. The menu is similar to the Marina location with options like avocado toast (RIP that house you were going to buy), quiche, four different "croques," salads, tartines, and sandwiches. There's also a rotisserie so you can order Mary's free-range chicken, prime rib, or lamb as a platter, salad, or sandwich. The coffee comes from Sightglass, there's beer from Fort Point, as well as a couple of wines by the bottle and glass. Just, whatever you do, order some sweets to enjoy with your meal... and a bunch more to take home.
Sign up here for our daily San Francisco email and be the first to get all the food/drink/fun SF has to offer.