R
R

arely do movie sequels satisfy audiences, and spin-offs are almost always a one-season flop, but fortunately for us, San Francisco has had yet another month of excellent openings. Proving that the food scene is nothing like the film industry, a bunch of local industry vets have doubled down (or sometimes tripled or quadrupled) on their recipe for restaurant success. This month's batch of notable openings is full of established and emerging SF food empires, so opt for dinner and a movie every week this month.
SoMa
Put away your sad desk lunch -- SoMa's Garaje has a spin-off in Garajito just a few blocks away, next to a parking garage (so at least you won't have look for a space). This tiny outpost at 257 Third St is the place to go if you're at Moscone Center and don't want to deal with convention center food lines (or convention center food). Garajito serves tacos, salads, and zapatos -- essentially a pressed burrito -- among minimalist vintage digs (including a handful of old SF street signs). Bring cash and opt for a pulled pork sandwich with bacon, spicy slaw, and onions or seared ahi tuna taco.
Mission
A New York hotspot stakes claim in SF's Mission with this Indian newcomer. Following an enthusiastic greeting in Manhattan's Alphabet City neighborhood, Jessi and Jennifer Singh brought their healthful modern Indian concept to the Bay and add a few Mission-friendly touches, such as fresh, local ingredients and a "help yourself" beer fridge, stocked with a rotating collection of local brews. Retaining the bold flavors of Jessi's native Northern India, the owner-chef has developed twists on classic dishes such as the "Inauthentic" butter chicken and coconut curry with scallops. The chef's tasting menu is $62 per person and features signature appetizers and Tandoor items, a thali-style curry platter served with charred naan, and dessert like the signature Kulfi with cardamom, honey, and pistachio, while à la carte items run $16-$26.
Motze
Mission
The Tartine empire continues its spread through the Mission with this long-term pop-up from Bar Tartine's Nick Balla and Cortney Burns. Motze will only be around for 18 months while they have the space, meaning a reservation is required to eat at the latest Tartine altar of California cuisine that adds in a heavy dose of Japanese influence. A shareable menu changes daily based on what's freshest and runs $58/person, including gratuity. Stop by Tuesday through Saturday for dishes like rainbow trout with wasabi, spicy porridge, and peanut butter truffles. The pop-up is named for Chinese philosopher from the fifth century BCE who touted the principle of "undifferentiated love" -- we're sure you'll have unbounded love for Motze's dishes.
Civic Center
Contemporary northern and central Indian fare, with -- you guessed it -- a California sensibility, arrives in the burgeoning restaurant scene in Civic Center area. Designed to cater to Bill Graham revelers, symphony and ballet-goers, and folks who work in the area, August 1 Five serves lunch-friendly wraps, sandwiches, and small plates then transitions to happy hour seven days a week and a more robust dinner menu. But this isn't any plain, quick stop joint. Lush jewel tones and high-backed velvet booths make for a luxurious, bold setting while a central square-shaped bar area that seats around 90 adds a convivial atmosphere for pre-show imbibing. Almost everything is organic or locally sourced, too, so you can feel great even before your evening of entertainment gets underway.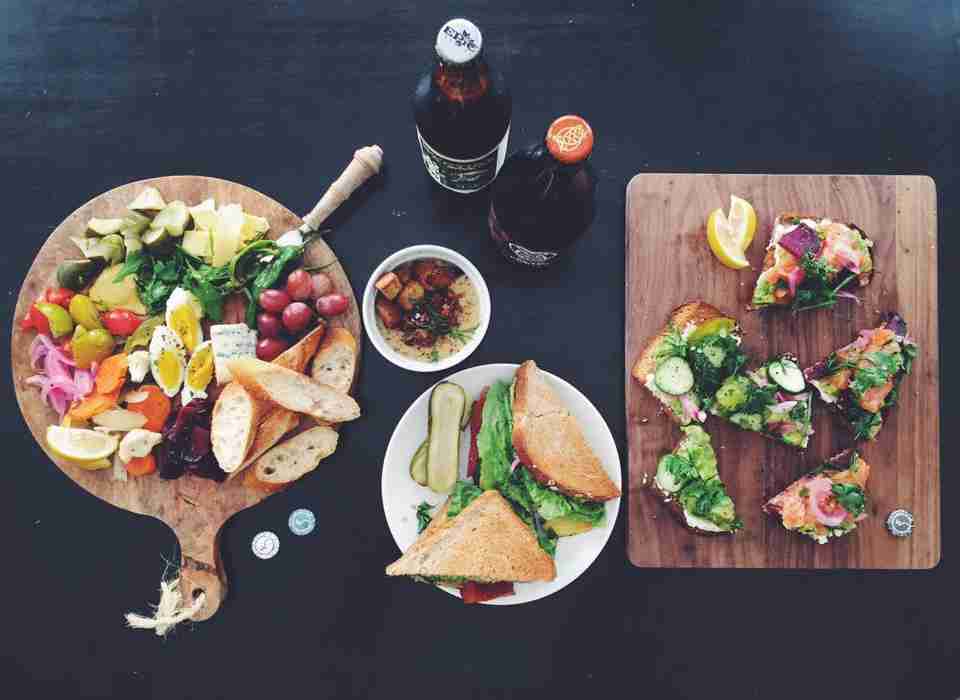 Mid-Market
A solid culinary block has formed on Mission and 6th as this wine and beer cafe takes the vacant place between Equator Coffee and Popsons. Brought to you by Tom Patella, one of the guys behind Marina gem Causwells, along with Billy Riordan, Waystone aims to be an unpretentious watering hole for the transitioning neighborhood. Its robust, well-curated wine and beer menu is arranged by flavor attribute, and the food is on point and well priced. Go for the avocado toast, braised beef sandwich, or the Ploughman's lunch -- Riordan's take on a charcuterie board that includes assorted picked items, house mustard, and chimichurri.
Tendernob
A swanky, two-story supper club from Bacchus Management (Spruce, The Village Pub in Woodside) moves into the corner of Post and Leavenworth, replacing an SRO. The extensive renovation of the over 100-year-old building reveals some of its original charm -- think exposed brick and beams -- giving the whole space a rollicking 1920s vibe. The main attraction is the tiered glass and steel chandelier that cascades down the stairwell on the first floor to the subterranean reservation-only dining room. While the 23 seats downstairs will surely be a hot ticket, guests can enjoy Chef Mark Sullivan's full menu of savory treats ranging from tots with cheddar and chorizo, to chicken liver toasts, and crudo. You'll find a $15 burger upstairs, where 64 bar seats and a wall of backlit liquor provides posh ambiance. Spruce's barman Brandon Clements offers a menu of 15 cocktails, served as highballs, shaken, stirred, or barreled and bottled. Groups can go for the $100 Cocktail Bill Boothby Bowl (a swanky take on a tiki punch bowl), made with bourbon, rum, maraschino, green tea, pineapple, and mint.
Sign up here for our daily San Francisco email and be the first to get all the food/drink/fun SF has to offer.