Get Excited for San Francisco's Most Highly Anticipated Bar & Restaurant Openings of 2017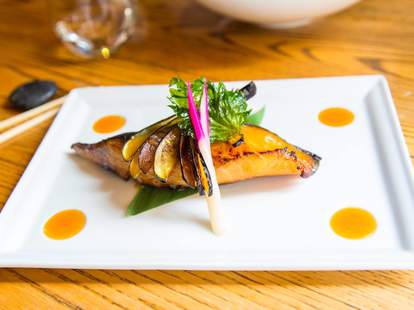 If there's one thing to look forward to in 2017, both in the immediate and not-too-distant future, it's all of San Francisco's new bar and restaurant openings. From Cajun and Korean cuisine to pinball machines and "pop-up" craft cocktail bars, there's a ton of buzz building and most of these places haven't even opened yet. But that's all the more reason to get excited about them and get in there early while the getting is still good (or at least not as crowded). So here are 11 openings, all of which are guaranteed to bring at least a little joy into our lives this year with inventive libations and tasty dishes.
Wes Rowe
Mission
What it is: A new cocktail bar from the guys behind ABV that's actually going to be four different cocktail bars over the course of the year. Over Proof will introduce a different "pop-up" every three months, and each concept will spotlight a new spirit with a totally different cocktail menu, inspired food menu, and complete design overhaul. There will be two seatings a night, and each seating will feature five cocktails and dishes inspired by the spirit and its origins. The first concept is Flip-Flop, a deep dive into rum.
Opening date: January 23. Closing date: a year later. Yup, the bad news is this one's only going to be around for just over 12 months.
Pierce Larick
Mission
What it is: A Cajun-style restaurant and bar in the old Hapa Ramen space from the awesome team behind Causwells and Popsons. The vibe will be festive and friendly and the menu will feature New Orleans classics like shrimp and grits, frog legs, crawfish boils (in the spring and summer), and upside-down bananas Foster cake. And yes, there will be classic New Orleans cocktails, like Sazeracs, as well, and eventually a frozen drink machine (or two).
Anticipated opening date: January
Fillmore
What it is: A Korean fried chicken restaurant from famed chef Deuki Hong of the incredibly popular NYC Korean barbecue spot Kang Ho Dong Baekjeong that's received accolades from Anthony Bourdain, Tyler Florence, and Corey Lee, to name a few. It's going to open in the back of the soon-to-open Boba Guys and the menu will feature delicious dishes that use the entire bird.
Anticipated opening date: Sometime in February
Unnamed Restaurant from the Lazy Bear Team
Mission
What it is: Lazy Bear chef/owner David Barzelay and bar manager Nicolas Torres are opening a more approachable (read: affordable), cocktail-focused restaurant in the old Tradesman space. The concept is all about showcasing Torres' creative cocktails and pairing them with modern American food with a focus on seasonal local produce for both. The vibe will be similar to Lazy Bear, with drinks and snacks served on the mezzanine and dinner in the main floor dining room.
Anticipated opening date: "Early" 2017
Petit Marlowe Wine Bar & Oysterette
SoMa
What it is: A charming Parisian-inspired spot from owners of Marlowe, Leo's Oyster Bar, Park Tavern, and The Cavalier. Expect an impressive assortment of seafood, European small plates (charcuterie and classic brasserie tastes like steak tartare), and lots and lots of French wine.
Anticipated opening date: Mid-to-late March
Unnamed Restaurant from Adriano Paganini
Hayes Valley
What it is: We don't know much, but sources tell us that an Italian staple that's not pizza will take top billing at this new concept and that there will be a full bar. Frankly, that's all we need to know because Adriano Paganini (Belga, Beretta, Delarosa, El Techo, Flores, Lolinda, Starbelly, Super Duper, The Bird, Uno Dos Tacos) has yet to disappoint us with any of his popular restaurants.
Anticipated opening date: Mid-March
Bar Crenn
Cow Hollow
What it is: A wine bar from Chef Dominique Crenn, the genius behind Atelier Crenn and Petit Crenn. Bar Crenn will be right next door to Atelier Crenn and will offer wine (since, you know, it's a wine bar), low ABV cocktails, and French small plates.
Anticipated opening date: April
Bernal Heights
What it is: A family-friendly pinball arcade that will (thank goodness) also serve craft beer and tasty food. The goal is to have it be a great spot for kids by day that turns into a great date spot or place to hang with adult friends when the sun goes down. To start, there will be eight rotating pinball machines, as well as Skee-Ball and air hockey, with more pinball machines added if zoning permits allow. There will also be four craft beers on tap and another 20 or so in bottles.
Anticipated opening date: Sometime this spring
Obispo
Mission
What it is: A rum bar on 24th St from Thad Vogler, owner of Bar Agricole and Trou Normand. The food menu will be simple with items like beans and rice, grilled chicken, and macaroni salad, and the main focus will be paying respect to rum and the role it plays throughout the Caribbean.
Anticipated opening date: Early May
Rock Shrimp

| Nobu Restaurants
Palo Alto
What it is: Only the world's most recognized Japanese restaurant that has 22 locations, NONE of which are in San Francisco. Sadly, you'll have to go to Palo Alto to get the famous black cod in miso, but even though we hate to go south of the city, we think this opening will actually make the trip worth it.
Anticipated opening date: June
Unnamed Korean barbecue spot from Deuki Hong
Fillmore
What it is: Don't worry, Korean barbecue lovers; Chef Deuki Hong isn't just opening up a fried chicken shack. He's also planning to open a Korean barbecue restaurant with a fermentation lab that's sure to be an instant hit with insanely long lines.
Anticipated opening date: You're going to have to wait until the end of the year
Sign up here for our daily San Francisco email and be the first to get all the food/drink/fun SF has to offer.
Daisy Barringer is an SF-based freelance writer who is always stoked when another Skee-Ball spot opens up in her hometown. Follow her on Twitter @daisy.