Sure, we didn't see the sun one single time in all of Fogust, but who cares about things like vitamin D when this month brought a new Scotch-centric bar that's probably the hottest opening of the year, two fantastic new spots in the now bustling Hayes Valley (one Spanish, one sushi), a pop-up serving five courses of soulful Mexican food for just $39, and the trendiest (and tastiest) ramen in all of the land? Not us, that's who.
Recommended Video
How to Have a Romantic Date at a Fast-Food Joint
Chinatown
Cold Drinks will be the best bar that opens in San Francisco in 2017. The somewhat hidden lounge (look for the stenciled bats -- a good luck symbol in Chinese culture -- on the concrete staircase that leads to a gold door) in China Live, the new "culinary and cultural destination" in Chinatown, has a high-end vibe (read: bartenders dressed in custom tuxedos, a black marble bar, grey velvet couches, brass and Lucite tables, plush rugs, and custom concrete wall tiles), but with that comes, yup, you guessed it: high-end prices. The cocktails range from $16 to $22.

This is primarily due to the Scotch-centric cocktails, all of which use the highest quality spirits, and appeal to both whisky drinkers and not whisky drinkers. If you're the latter, try the Sometimes Old Fashioned made with duck-fat infused Speyburn 10, Rittenhouse rye, black pepper syrup, angostura, black lemon, and candy cap bitters, or the Shanghai Mai Tai. Don't worry Scotch traditionalists, there's also plenty for you... especially if the idea of sipping a Macallan Limited Edition No. 1 sounds like something you might enjoy.
Hayes Valley
Bats aren't only an important symbol for the Chinese; they're also prevalent throughout Barcelona (legend has it a bat helped Jaume I Aragon win the battle for Valencia), which is why you'll also see their likeness at Barcino, the new tapas-style restaurant in Hayes Valley that takes it name from the ancient moniker for the capital of Catalonia in Spain. Barcino is the newest concept from The Absinthe Group who are also behind Bellota -- the very popular Spanish bistro in SoMa -- and it's clear that the success of Bellota played a major influence when determining Barcino's menu. And that's a very good thing.

It's a must that you order the toasted Catalan tomato bread with jamón ibérico de bellota to start. We could go back every single day and just eat that for dinner... well that and a G&T -- you pick your gin (there are over 30 to choose from, all organized by style) and your tonic. Our other favorites for when we realized humans can't survive on ham and bread alone (which we don't actually believe, but whatever) are the Ou, a sunnyside-up egg with caviar, idiazabal crema, jamón (more jamón!), on a potato chip, the lamb meatballs, and the raw bar platter. Barcino is a welcome addition to Hayes Valley, which has definitely become SF's hottest neighborhood for dining out.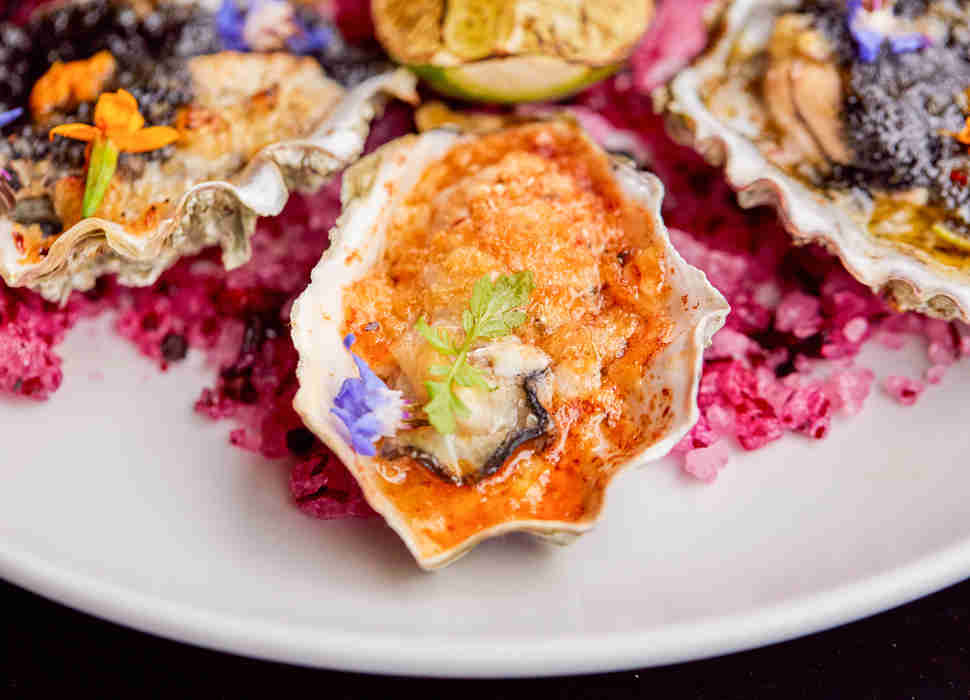 Cow Hollow
There's a new pop-up at MINA Test Kitchen, and this time James Beard Award-winning chef Hugo Ortega has taken the reins and is taking diners on an unbelievably delicious culinary journey that pays tribute to the spirituality and tradition of Mexican cooking (Mi Almita translates to "my little soul"). It works in a similar way as other Test Kitchen pop-ups: Diners pay a fixed price ($39 per person for five-courses, plus an additional price for supplements and beverage pairings) and choose from a few options for most courses.

Everything is intended to be shared, which means you get to taste a lot (skip lunch), including favorites like a ceviche trio, the plantain empanada, and grilled octopus tacos. Add the pozole verde ($9) and definitely do the agave pairing ($35)... just be sure to Uber home. And, like all pop-ups at MINA Test Kitchen, Mi Almita will only be around for a limited time (although fingers crossed it finds a permanent home in SF), so don't lag on making your reservation.
Marina
Once upon a time, we named this fast-casual spot the restaurant with the worst name in all of San Francisco. And while that still holds true, it's also a phenomenal spot to grab healthy, made-to-order, "farm to box" food made with super healthy ingredients and inspired by what you'd find at an Asian street stall.

This new Chestnut Street location (where the old Tacolicious used to be) is currently the only Asian Box in San Francisco AND it's also the only one that serves boozy cocktails. Yup, you can pair a Vietnamese-inspired cocktail, like a Saigon Sling or a Laos lemonade, with your box (we like the Surf Vietnam box because it comes with shrimp and beef). There are even pre-made shots to make the (very short) wait for your food even more tolerable than it already is.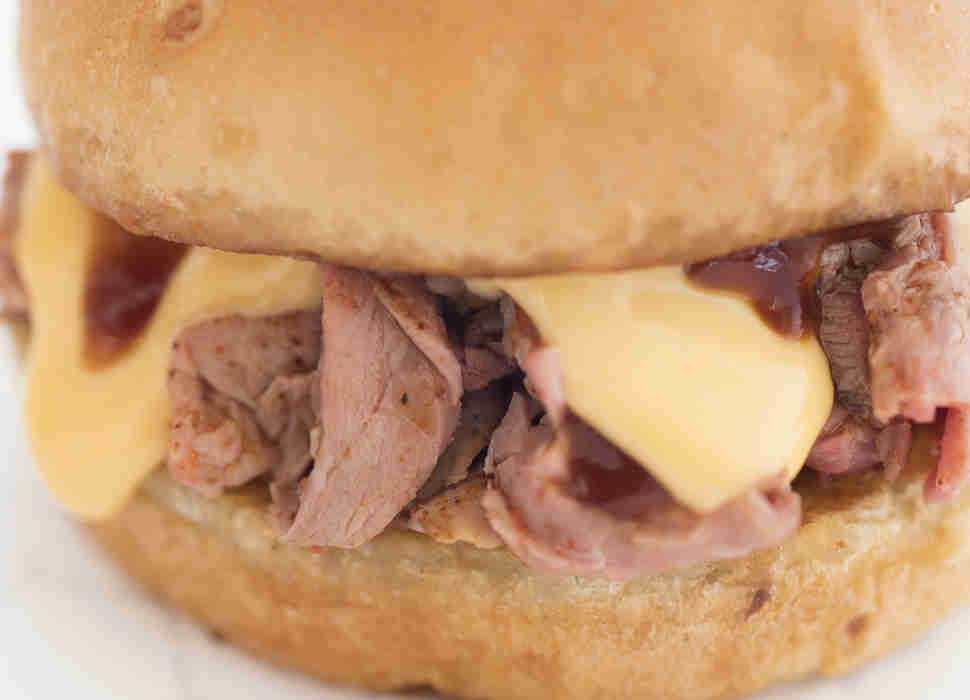 Mission
Good news for fans of Top Round Roast Beef, the fast-casual franchise known for its roast beef sandwiches topped with homemade cheese "wizz" (and curly fries fried in beef fat): the third location -- there's one in LA and Kentucky -- just opened up on 24th Street in the Mission (in the historic Discolandia Records space).

Even though Top Round is ostensibly fast food, it's fast food San Franciscans can feel good about. The roast beef is 100% beef; free of additives, fillers, and preservatives; and slow-roasted for 10 hours. There are seven roast beef sandwiches, a couple of hand-breaded chicken sandwiches, hot dogs, a big breakfast menu, and even some veggie options. Just be sure to save room for the insanely delicious frozen custard.
Noe Valley
The stroller pushing moms and dads (and the kids who ride in them) of Noe Valley are already filling up this Mediterranean-meets-Italian restaurant helmed by the woman behind Gialina and Ragazza. Like Sharon Adriana's other restaurants, pizza is the star -- there are six to choose from -- but she's hoping people will want to partake in the larger, heartier plates, like coffee-brown sugar rubbed beef short ribs and grilled lamb chops, as well. Everything is meant to be shared family style, and in case someone in your family is averse to gluten... gluten-free crust is available for every pizza.
North Beach
There are a ton of Italian restaurants in North Beach, but as of late July, there's only one Italian-Japanese fusion restaurant: Pesce e Riso, a casual dining spot with a focus on local ingredients (is that something we're still pointing out in 2017?) and the chef's interpretation of modern Italian and Japanese cuisine. The literal translation of the name is "fish and rice" and you can expect to see both on the menu, but definitely more of the former. Dishes range from $12 to $32, and include a Sapporo beer-battered squid, prawn, and eggplant tempura; a spaghettini with scallion and grated dry shrimp; garlic fried wings; and a three-mushroom tagliatelle. Pesce e Riso is also open for lunch where the fare is slightly lighter and also more affordable.
Berkeley
Yes it's in Berkeley, and yes, it's a chain (worldwide), but it's worth a trip across the Bay to slurp up the insanely popular and delicious Hakata-style ramen (pork-bone broth and thin, straight noodles cooked to your request) at Ippudo's first West Coast location. The 56-seat restaurant doesn't take reservations and doesn't have to-go containers, so be prepared to wait. The noodles are all made in-house (that's a rarity for ramen shops in the California) and the pork bones are boiled for 18 hours to create the tonkotsu broth.

There are three types of ramen to choose from (traditionalists will go with the Shiromaru classic, while fans of spice should opt for the Karaka spicy), as well as starters, like fried chicken wings glazed in a black pepper sauce and Ippudo buns, a couple of salads and rice dishes, and, of course, so much sake. Oh, and the best part... once you're finished with your noodles, just say, "Kaedama, please" and your server will bring you another serving... as long as you still have broth in your bowl, that is.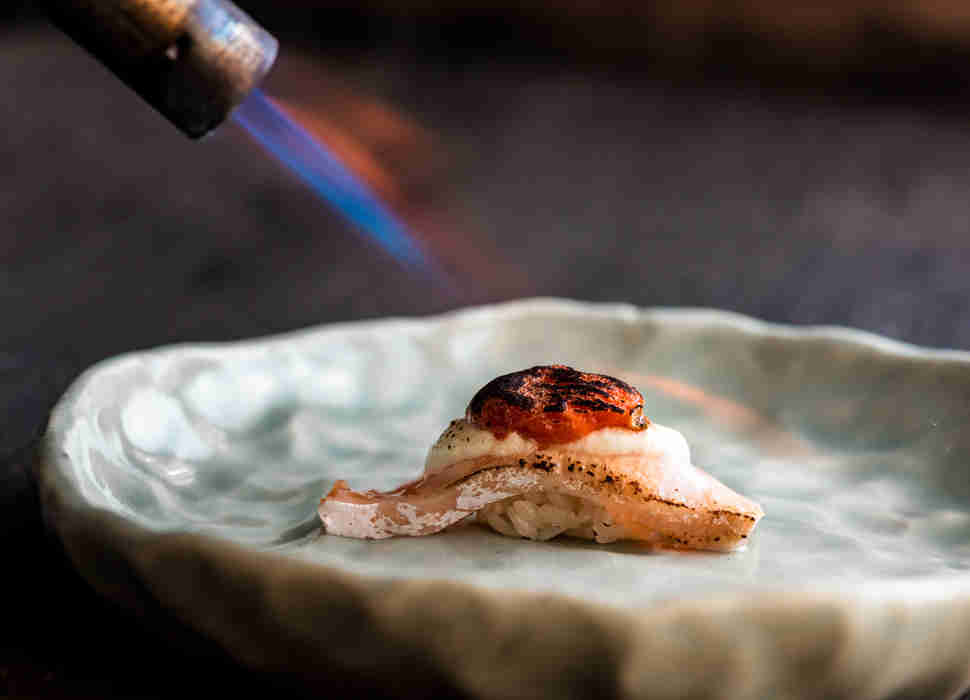 Hayes Valley
OK, so technically this new sushi spot from chef/owner Adam Tortosa opened in July, but considering it's where we were treated to some of the best sushi we've ever put in our mouths, we thought it was important to give it a shout out here. It's not cheap -- the omakase experience ranges from $79 to $179 -- but if you've got the cash, it's cash very well spent.

Truthfully, it's one of those experiences you have to taste to fully understand because the sushi is not like sushi you'll eat anywhere else (not even Japan). Also, it's worth mentioning that chef is a white dude. But he respects Japanese cuisine and traditions. And understands them. But also isn't afraid to take chances with it. And that's where the magic happens, whether it's in the form of the often Instagrammed sturgeon caviar potato chip with ramp aioli, the wagyu topped with foie gras "snow," or the any of the nigiri, all of which come with ingredients and flavors you wouldn't expect.
Sign up here for our daily San Francisco email and be the first to get all the food/drink/fun SF has to offer.