Kelly Puleio
Kelly Puleio
San Francisco's Best New Restaurants of 2017
San Francisco is a culinary seedbed. A fertile ground for promising new chefs to come in and till, creating flourishing restaurants that continue to up the bar in innovation, taste, and excitement. And the past 10 months were no exception. We saw chefs cooking cuisines that were bizarrely underrepresented, more restaurants jumping on the omakase and tasting-style menu bandwagon, and, perhaps most surprising, a surge of fast-casual dining options.
To determine which new restaurants were the "best," we considered several things, including if the restaurant filled a void in the city's dining landscape, if the meal is worth the price tag, and, of course, how objectively delicious the food is that's coming out the kitchen. These 12 spots knocked it out of the park on all levels, and then some.
Financial District
Quick salad and sandwich spot for the FiDi lunch crowd
There was a dearth of delicious lunchtime options in the Financial District for people who didn't want to sit for a fancy meal, which is why this "modern luncheonette" serving up tasty salads and sandwiches without a long wait, was an instant success when it opened in The Standard Oil Building in May.

While the concept may have been inspired by the Woolworth's lunch counters of the 1940s, the bright white interior is the opposite of retro. In fact, it's so sleek and modern, that it almost feels a bit sterile with the lone pop of color coming from a pink neon sign of "Cs." It ostensibly says, "Don't get too comfortable; you do have to go back to the office, after all."

Once the sandwiches arrive, however, the minimalist décor becomes irrelevant as all you're thinking about is how tasty, comforting, and satisfying everything is. There are eight sandwiches to choose from, including a deviled egg salad with crushed salt and vinegar chips inside (!) on Acme white bread, The Rubenesque, which is a vegetarian play on a Reuben with smoked beets, sharp Cheddar, pickled cabbage, and counter sauce on toasted rye, and a $3 Grammy Sammy, which is one slice of white bread, your choice of mortadella and Cheddar or pimento cheese. There are also a couple of salads, including a Cobb for when you want a salad, but not really, and a roasted carrot for when you're truly trying to eat healthy. Everything comes out quickly, but if you're not in a rush, stay for an ice cream float... or, if your boss is out of the office for the afternoon, a second glass of wine or beer.
Mission
California meets NOLA-style bar and restaurant (read: gumbo and Sazeracs)
We didn't know how much San Francisco needed a New Orleans-inspired bar and restaurant until Alba Ray's opened up in the Mission, delivering "Cajun soul" and "California love", which, as it turns out is a match made in indulgent food and cocktail heaven.

When you walk into the Mission spot, it feels like you're trading San Francisco for Bourbon Street. There are ornamental iron arches with hanging ferns, purple velvet banquettes, fleurs-de-lys art, vintage chandeliers, a hand-painted mosaic floor mural, and most importantly: a lively crowd that's there for good food and good times. It all sets the stage for the food and drinks, which are available late night on the weekends, a welcome addition in a town where food after 10pm usually means burritos or bacon-wrapped hot dogs. Alba Ray's is the kind of place where you can pop into the bar for classic NOLA cocktails, like Sazeracs, Hurricanes, and Ramos gin fizzes, or stay awhile and feast on char-grilled oysters, gumbo with chicken and andouille, crawfish étouffée, and shrimp and grits. Whatever you do, be sure to save room for the praline bark and beignets.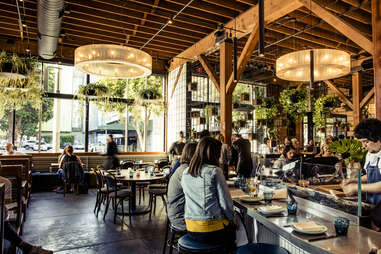 Hayes Valley
Hot new tapas spot with a gin and tonic program you can't pass up
The hype was intense and immediate when The Absinthe Group announced they were closing Boxing Room and replacing it with a Catalan-inspired tapas spot. It seemed like everyone expected Barcino to be a duplicate of its popular sister restaurant, Bellota, and that was just fine with them.

And while Barcino does have similar items on the menu (paella, jamon iberico de bellota, a raw bar platter...), it's not really fair to compare the two, as Barcino is doing its own thing in a completely different location and with a completely different vibe. Whereas Bellota is expansive, elegant, and extravagant, Barcino is much more laid-back with a casual neighborhood atmosphere that feels less "special occasion" and more "impromptu dinner with friends."

That said, it's easy to get carried away when ordering, and be warned, the bill can add up faster than you realize, especially since there are so many standout dishes, including the aforementioned jamon iberico, as well as everything from the raw bar. The patatas are also phenomenal, especially if you like the idea of an oversized tater tot with a perfect amount of crunch and chew (who doesn't?). The Ou is also one of their more popular dishes, and not just because the bright yellow sunny-side up egg atop mini potato chips and slices of jamon, topped with caviar looks great on Instagram. For dessert, the house-made churro s'mores are a perfect way to end the meal.

And though we object to a direct comparison of Barcino to Bellota, we will admit the one thing it's doing equally as well -- and in a similar fashion -- is the gin and tonic program, where guests mix and match one of several dozen gins separated by category with six tonics. In fact, Barcino's cocktails are so good that we find ourselves going back just to sit at the bar and enjoy those... with a plate of that jamon iberico de bellota, of course.
Chinatown
Ambitious Chinese restaurant with over 50 excellent dishes in a sprawling space
China Live encompasses a three-story building that has yet to be totally built out, but currently features a tea café, two bars (one upscale, one more casual), a luxurious fine dining restaurant, a retail shop that sells food and housewares, and the enormous Market Restaurant on the first floor, which everyone calls "China Live" despite the fact that it's not technically its name.

Though we've heard amazing things about Eight Tables, the upscale restaurant on the second floor, and are huge fans of Cold Drinks, the "secret" Scotch-centric bar, we'd like to focus on the 125-seat first-floor restaurant where you can walk in without a reservation and eat a tasty, satisfying, and entertaining (there are four exhibition kitchens throughout the space so you can watch the chefs in action) meal for under 40 bucks (that includes a beer).

The menu offers over 50 dishes divided into seven categories, like dumplings and dim sum, seafood, barbecue, and salad & deep fry. And though it changes daily, to incorporate seasonal dishes, you can expect to find things like xiao long bao (soup dumpling), Peking-style stone oven roasted duck, house-roasted char siu bao, wok-seared filet mignon "kow," and crème brûlée-style egg custard tart. Yes, it's ambitious, but it delivers, and has quickly become a gathering place for locals and tourists alike.
Union Square
Hip, live-fire restaurant with one of the most eclectic bar programs in the city
This much anticipated restaurant lead by chef Robin Song (Hog and Rocks) has only been open a short time, but we feel confident the live-fire fueled joint deserves a spot on this list. The art deco-styled space boasts beautiful tile, lots of shiny gold surfaces, leather banquettes, and also a few surprises. Look closely at the baroque ceiling mural and you'll notice the cherubic angels are tattooed and donning Calvin Klein briefs. But as stunning as the interior is, the giant open kitchen and live-fire grill are where your attention will (and should) be focused throughout your meal.

The key to maximizing the enjoyment of your visit to Gibson's is to leave plenty of time to first stop at the bar, where you'll find a cocktail program that's focused on ingredients in a really interesting way, and offers unique drinks like a clear Bloody Mary made with heirloom tomato water, and a brown butter leather-aged Manhattan.

Once you're seated in the dining room, you'll experience a menu focused around smoke and live fire. Start with the smoked trout with farmer's cheese on rye, as well as sourdough bread straight from the oven, and a variety of things like curried currant and cauliflower or duck liver mousse, in which to dip it. From there, fire at will (bad pun intended).
Mission
Upscale, fast-casual food (read: delicious flatbreads and dips)
Fast casual is de rigueur in San Francisco, and this Central European eatery capitalizes on that with its own "fine casual" twist. You can't make a reservation, you order at a counter, and you find your own seat in the cozy dining room, but the food is more elevated than what you might expect at a Souvla or a Lemonade. In fact, Duna is one of our picks for the Prime 13 best new restaurants of 2017.

The relatively small menu is divided into three sections: flatbread, dips, and snacks; chopped salads; and "peasant classics," and though truly everything coming out of the kitchen is worth ordering (no surprise considering Cortney Burns and Nick Balla, previously co-chefs at Bar Tartine, are the co-owners and co-chefs), the star is the flatbread and dips. You'll surely want seconds, and to order those seconds, you'll text a phone number, so that you don't have to wait in line all over again. Everything comes out on lovely ceramics, which is a nice touch, especially considering the prices.

The food at Duna is local and organic, most of it is handmade, and almost all dishes are gluten free (except for the flatbread, spatzle, and croquettes, which just happen to be three of our favorites). There's even a vegan menu, so you can dine there with even your pickiest friends. As long as your pickiest friends don't mind spending $100 for dinner for two at a place where you have to wait in line to order.
Mission
Delicious, quick Cuban food in bright and small digs that stand out
Another fast-casual newcomer to the scene is Media Noche, where diners enjoy Cuban food in a very pastel pretty space with whimsical details like a neon flamingo, shiny banana wallpaper in the bathroom, and a flamingo mural on the outside wall.

The restaurant is named after the "dangerously addictive Miami party sandwich" -- an El Cubano (roasted mojo pork shoulder, smoked ham, swiss, house pickles, mustard) on sweet brioche -- and is absolutely the thing to order on your first visit. The menu isn't huge in selection, but it packs a punch when it comes to taste. Choose from a couple of other Cubanos, two salads, and four bowls served with black beans, rice, coconut slaw, and your choice of roasted mojo pork shoulder, roasted chicken, roasted seasonal root vegetables, or slow-braised brisket, peppers, and onions (we like the latter the best for its texture, ratio, and flavor.)

There are also a couple of snacks, including croquetas with smoked ham and Swiss; beef or queso and black bean empanadas; a ceviche that's light and bright in the exact way ceviche should be; and ice cream "moon bars" for dessert. Of course, you can't have a Miami party without drinks, which come in the form of beer, wine, and sangria developed by the folks at Media Noche's neighbor, Wildhawk.
SoMa
Charming Parisian bistro specializing in oysters and carefully curated wine
We're huge fans of everything Big Night restaurateurs Anna Weinberg, James Nicholas, and chef Jennifer Puccio do (Marlowe, Park Tavern, The Cavalier, Leo's Oyster Bar), so we were elated to discover that Petit Marlowe, a Parisian-inspired wine bar and oysterette just a few blocks from the ballpark, was another instant success.

The charming bistro evokes a Parisian feel due in part to the fact that it's filled with French flea market finds, like streetlamp-style globe fixtures, vintage bistro chairs, and an antique bookcase that serves as a focal point behind the bar. Proprietary duck-stitched toile wallpaper covers the wall and there are pale pink leather banquettes with plush pillows lining the dining room, as well as a gorgeous marble bar behind which much of the magic happens. And it doesn't matter where you end up sitting, chances are high you'll linger longer than intended. Why? This (perfect for a first date) spot offers an indulgent selection of food and wine that are easy to keep ordering. Start with a raw bar platter, then some deviled eggs, maybe split a salad, or one of three tartares... and pair them all with wine from a carefully curated list that changes often. À votre santé.
Hayes Valley

SF's best new sushi... that comes with a lofty price tag you won't mind paying
No restaurant better exemplifies the Hayes Valley restaurant boom than Robin, the contemporary Japanese joint plating omakase-style sushi that is truly some of the best sushi -- if not food -- we put in our mouths in all of 2017. Chef/owner Adam Tortosa doesn't just have serious knife skills when it comes to fish; he also has a phenomenal palate that inspires him to use unusual ingredients you won't see at other sushi spots, like Granny Smith apples, wasabi, and lime with the hirame-fluke, confit tomato with the sake-ora king salmon, and wagyu that comes under a foie gras "snow." He's also a big believer in using local ingredients in a way you won't see at other omakase restaurants in the city. Instead of flying all of his fish in from Tokyo, he uses locally caught fish whenever possible. And, of course, food comes plated beautifully on gorgeous handmade pottery, so each dish feels truly special.

And, to be fair, that's something you want when you're spending between $79 and $179 on dinner. Truly though, for what you get, Robin's omakase menu is one of the better deals in SF, and we appreciate that it doesn't take itself too seriously. Each dish may be sincere when it comes to taste, but most also have a playful element, one that translates to the décor, which feels sort of "elegant hipster" with rose gold resin drops down the wall, a bright pink neon logo, a blonde wood sushi bar, and a bathroom floor that is "tiled" in pennies.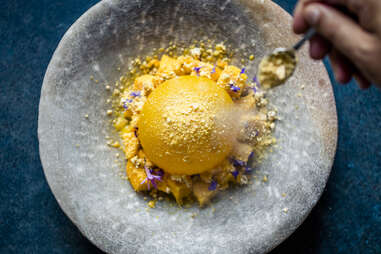 SoMa
Progressive Indian cuisine and cocktails in a vibrant, energetic atmosphere
Everything about this progressive cocktail bar and restaurant is an utter delight from start to finish. The interior is vibrant, sexy, and festive, with a bar that's lit up in blue, adorned with gold mesh curtains that hang between tables, plush velvet banquettes, and pops of color throughout via pillows, artwork, cushions, and curtains. After so many years of reclaimed wood and Edison bulbs, finally restaurants have realized people want to feel stimulated (but also comfortable), and Rooh does a fantastic job on all fronts.

Best of all, that air of excitement continues into the cocktails and food. The drinks menu features concoctions that use a blend of Indian ingredients, shrubs, and spices, and is based on the six rasas (sweet, sour, salty, bitter, pungent, and astringent), which, according to ancient Ayurvedic wisdom, "help achieve a balance of body, mind, and spirit." We don't know about balance, but we can definitely promise that after a couple, your body, mind, and spirit will all feel pretty amazing.

The menu is available as a tasting menu or a la carte, and at $80, the former is a great way to experience a range of dishes and flavors, like the liquid egg bhurji, crispy lamb ribs, traditional butter chicken, and paneer pinwheel. Most courses offer a choice between two dishes, so if you're dining with someone who's willing to share, you can taste almost everything. Rooh also puts out a great brunch and has an excellent happy hour.
Hayes Valley
SF's premier fast-casual restaurant for rotisserie chicken you'll be back for
Fast casual ruled the SF restaurant scene in 2017, but one spot stands out above the rest. Welcome the Rich Table spinoff, RT Rotisserie. We don't want to definitively claim RT Rotisserie is the new Souvla, but... it might just be the new Souvla. The quick-serve restaurant has a small menu, making it difficult to choose between the rotisserie chicken, pork belly, sausage, or cauliflower... and even harder when you realize they're all also available as a sandwich on house-made Dutch crunch.

To be quite honest, though, it's hard not to order the chicken again and again. And again. The birds are brined for 24 hours in seasoned buttermilk, hung for two days, cooked on the rotisserie, and then passed under the broiler at the last minute for that perfectly crisp skin that makes rotisserie chicken so delicious. It comes with four sauces (choose two), but we never even use them -- it's just that good on its own. We're also obsessed with the charred cabbage and almond side, and there's a Southern fried chicken sandwich that is assuredly in the running for best in SF. And while we usually skip dessert in most fast-casual spots, the soft-serve milk ice here is unmissable.
Noe Valley
The only Portuguese restaurant in SF. Utilizes local ingredients with traditional techniques.
In a city this multi-cultural that offers so many different types of cuisines, we were really surprised to realize that this newcomer is the only Portuguese restaurant in the 7x7. Pair that with the food coming out of Telmo Faria's kitchen, and you have two great reasons to hit Noe Valley. Faria's thought process in opening Uma Casa was to honor his Portuguese heritage. But like any good Northern Californian chef, he realized the best way to do that in SF was by honoring local ingredients and flavors. The dishes all have an exotic edge, making everything feel unique and unreproducible but still approachable.

The tuna tartare with a quail egg and onion puree that's served on house-made potato chips is one dish we could order a million times and never grow tired of, as is the seafood stew, which comes with sea bass, gulf shrimp, mussels, braised potato, all in a saffron-tomato broth that's accompanied by a grilled bread. The wine list is entirely Portuguese, which offers patrons a chance to discover something they might not otherwise, but there are a few local beers if you're feeling the need to keep it in the neighborhood.
Sign up here for our daily San Francisco email and be the first to get all the food/drink/fun SF has to offer.
Daisy Barringer is a freelance writer who lives in San Francisco with her 150-pound Saint Bernard who wishes she'd share her leftovers more often. Follow her on Twitter @daisy.