San Francisco routinely impresses us with amazing food (just look at our list of the best in the city right now), even during a time when many restaurants are struggling because of how hard it is to find employees who can afford to live anywhere near here. However, we persist. Despite the economic issues, a range of impressive new restaurants opened this year, including but not limited to a Parisian-inspired wine bar, a whimsical take on a Jewish deli, a much-needed Detroit-style pizza joint, and an Arabic comfort food spot. Without further ado, here are the 11 best restaurants that opened in 2019 -- all of which filled a void in the city's dining landscape and are well worth your hard-earned dollars.
MORE: Check out the 12 new restaurants we named best in the nation this year
Recommended Video
Debatable: Is Shake Shack Really Fast Food?!?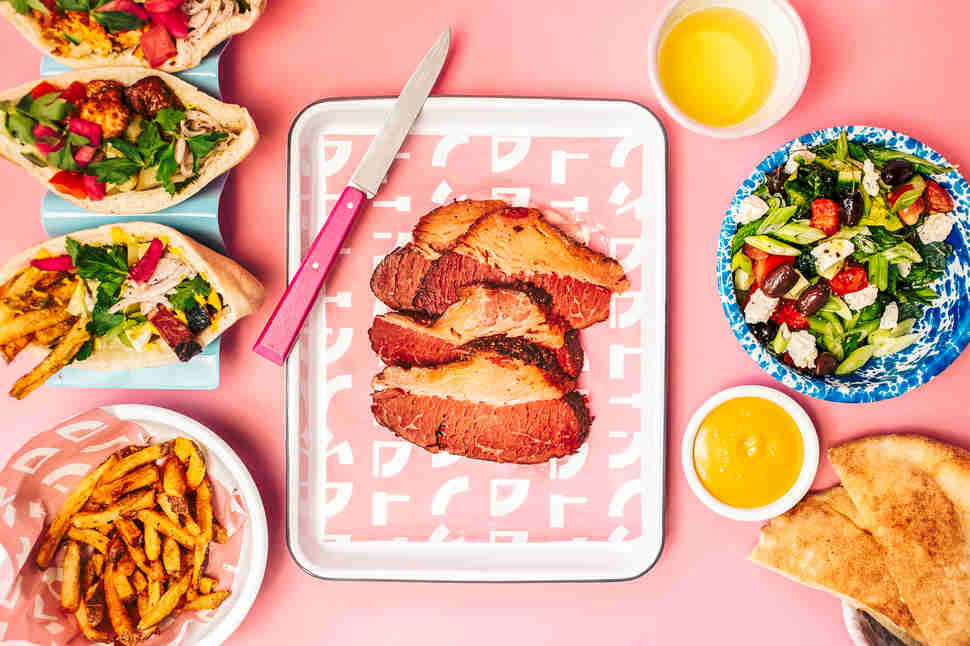 Mission
Jewish deli favorites meet Israeli street food at this fast-casual AL's Place spinoff 
The first thing you need to know about this playful spin on Israeli street food-meets-East Coast Jewish deli fare is that it comes from chef Aaron London, the guy behind one-Michelin-starred AL's Place. If that won't convince you, head there for lunch or dinner and grab some of the most thoughtfully plated fast casual food in the Bay Area. The menu is extremely satisfying, especially the herbed falafel pita sandwich (one of our favorite falafels in the city) and rotisserie chicken. Pop an edible an hour before you arrive and you'll be even more excited to try "Al's Creations," which include a potato latke stuffed with cream cheese, smoked salmon, and red onion caper, as well as falafel corn dog bites.
Cole Valley and Duboce Triangle
Arabic comfort food inspired by the chef's family's home-cooked meals
At one point, there were seven Burgermeister locations in the Bay Area. Now, the final two in SF have been transformed by the founder's 29-year-old son, Samir Mogannam, to Beit Rima -- a fast-casual restaurant that's drawn ceaseless crowds eager to enjoy a menu of Palestinian and Jordanian comfort food. It's a smart pivot in a town with an over-saturation of mouthwatering burgers, especially since there aren't a lot of places to get casual mezze and pita, like muhammara, baked halloumi, baba ganoush, and hummus (made even tastier when topped with spiced beef) in a warm and welcoming environment. 
For those who are a tad hungrier, there are also larger plates like a beef kabob, whole fried branzino, and gazan braised lamb shank. A third Beit Rima will open in Daly City early next year, effectively ending Burgermeister's 20-year run (and what a run it was), but keeping the family's reputation for bringing delicious food made with good ingredients to the Bay very much intact.
Mission
A heartfelt tribute to Eastern European food from the partners and chefs of Nopa and Liholiho Yacht Club
Dear Inga was one of the city's most anticipated restaurant openings this year because of the team behind it: chef David Golovin (Nopa), chef Ravi Kapur (Liholiho Yacht Club) and restaurateur/partner Jeff Hanak (Nopa and Liholiho). The restaurant is named after Golovin's grandmother, and though it's only recently opened, it's already a welcome addition to SF's dining scene. The menu celebrates Eastern European comfort food with a California approach and a focus on fermentation, smoking techniques, and live-fire cooking. Dishes include smoked fish, pork and beef stuffed cabbage, a Hungarian fried bread, and three types of sausage, all served in a sleek space with rustic touches throughout. There aren't a lot of places to get food like this in the Bay, but even if there were, Dear Inga would come out on top.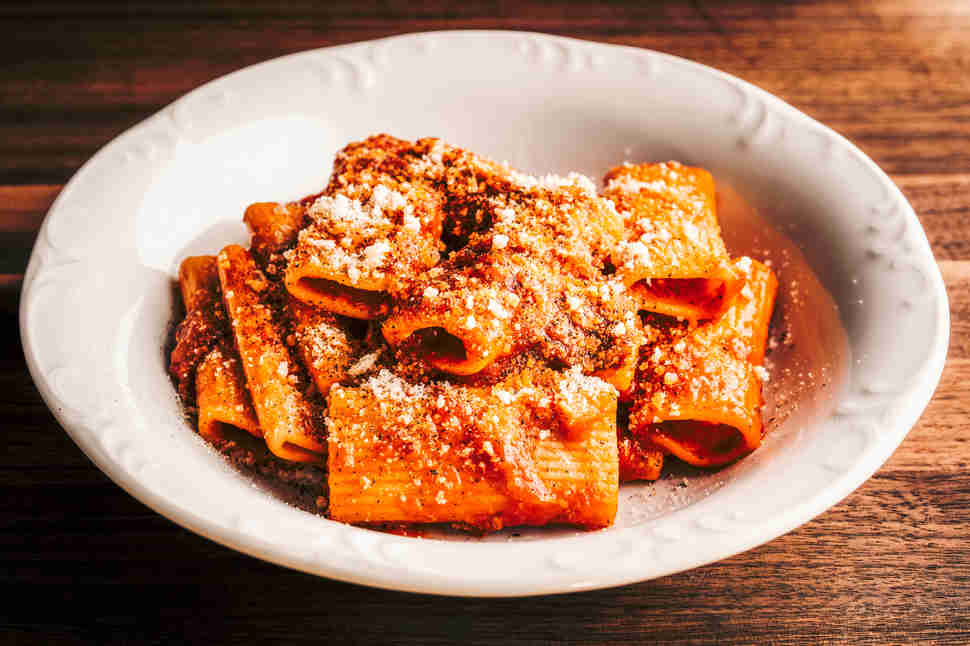 Divisadero Corridor
An Italian wine bar, grocery, and salumeria downstairs from the very popular Che Fico
Che Fico made our Best Openings list last year and remains one of the hottest reservations in town. We wish we could say that the opening of its downstairs sister restaurant, inspired by the wine bars of Rome, has made it easier to get into either spot, but instead it just made this auto body shop-turned-restaurant space even more of a destination. Whereas Che Fico has soaring ceilings and lots of natural light, Alimentari is an intimate space with dim lighting and cozy tables (though the noise level is a 'lil loud during peak hours for the spot to be romantic). 
Alimentari bills itself as a wine bar, but the food menu is robust with rustic, enoteca-style options, like salumi e formaggi, seafood dishes, a selection of classic pastas (the bucatini cacio e pepe is a favorite), and heartier plates, like a suckling pig for two. There are more than 200 wines available -- mostly Italian -- at a price point for everyone. And on the way out, stop and browse the market by the entrance; you'll find a selection of wine and Italian pantry items you'll need to use at home the next time you want to pop in to Alimentari, but forgot to make a reservation.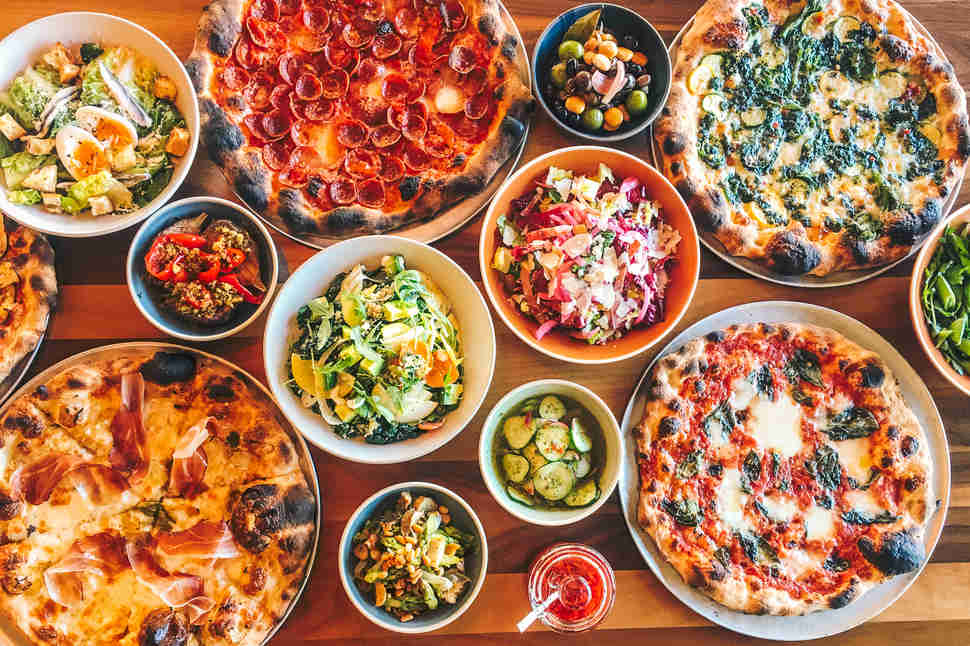 Mission
A pizza spot from chef Thomas McNaughton where you can get a pie to share or grab a slice to-go. 
You no longer have to choose between pizza and pasta when you go to Flour + Water. Now, you'll get your pasta at Flour + Water, and your pizza at Flour + Water Pizzeria -- just a short walk away. One thing to note: the pizza at the spinoff is a little different than what you'll find at Flour + Water. The dough is still fermented over three days, but the recipe has been modified. It's baked in a deck oven to give it the char of a Neapolitan pizza, but with a crunch and chew that can stand up to delivery. That last part is important because, as you can imagine, Flour + Water Pizzeria is just as popular as the original, but there are no reservations (there is a text notification waitlist though, which make things less painful.) Don't skip the mozzarella sticks (the best we've ever had on the West Coast) as well as the soft serve. Unfortunately, neither of those are available for delivery, but hey, you have to leave the house at some point. Note: there's a to-go window where you can get the daily $8 "Big Slice," which is equivalent to half a pie and served on a paper plate.
Design District
A boutique steakhouse with Japanese influence and a focus on Wagyu
The place to sit at this sleek steakhouse is the 18-seat chef's counter above a sunken kitchen, where you'll enjoy an eye-level view (and nose-level smell) of chefs grilling the meat (all butchered in-house) on the binchotan charcoal grill and wood-fired yakiniku grill. It's formal, intimate, and a great way to be a voyeur to all the meaty action. There's a selection of steaks to share, but you're at Niku for the Wagyu. Just be prepared to drop some coin if you go for the A5 (the extremely marbled highest grade of Japanese Wagyu beef). Wine and whisky lovers will also be excited about the 100 wines by the glass and the whiskey-forward cocktail menu.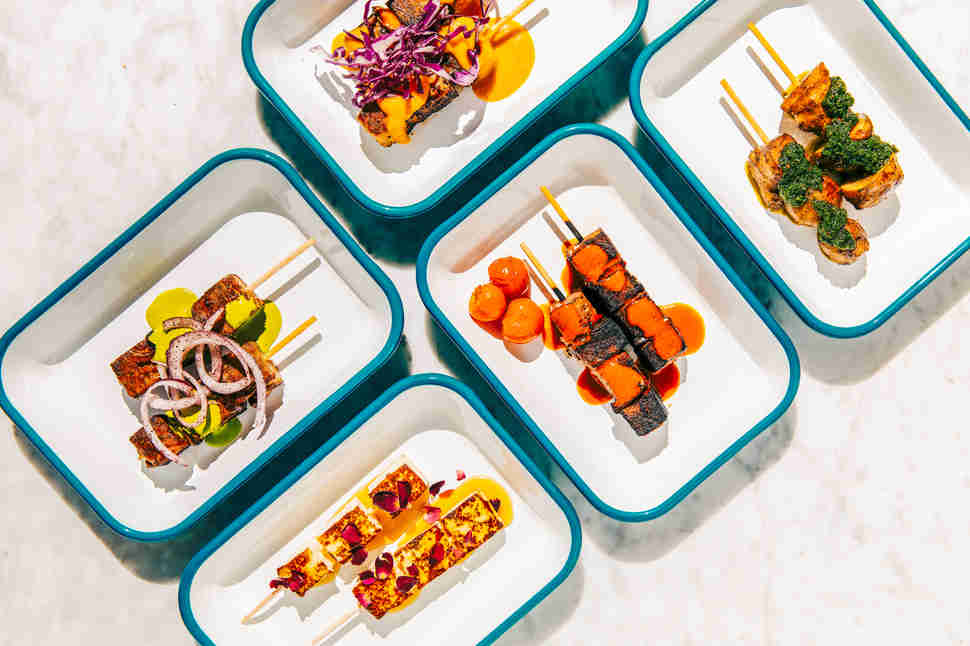 Lower Pacific Heights
Eastern Mediterranean food in a cool, casual environment reminiscent of Santorini
Noosh means "lovely, attractive" in Farsi, and everything about this restaurant -- from the food to the design -- lives up to the name. The plates from Laura and Sayat Ozyilmaz, a wife and husband team known originally for their popular pop-up Istanbul Modern, are served in a "fine-casual" style. You'll order at the counter and, after you sit down, a server will take over so that you can order even more food and/or a second glass of Georgian wine. 
Most of the menu is meant to be shared with an emphasis on small plates, like lamb meatballs and falafel, fluffy Turkish flatbreads from the wood-fired oven, savory spreads (hummus, red pepper muhammara, etc.) served with house-baked chubby pita, and a selection of kebabs. It's simple, satisfying, and all made in-house (including the sauces and roasted spices). And though Noosh is perfectly set-up for delivery, if you choose to eat it at home, you'll miss out on one of the highlights: a sour cherry ice cream sandwich made with brown butter cookies.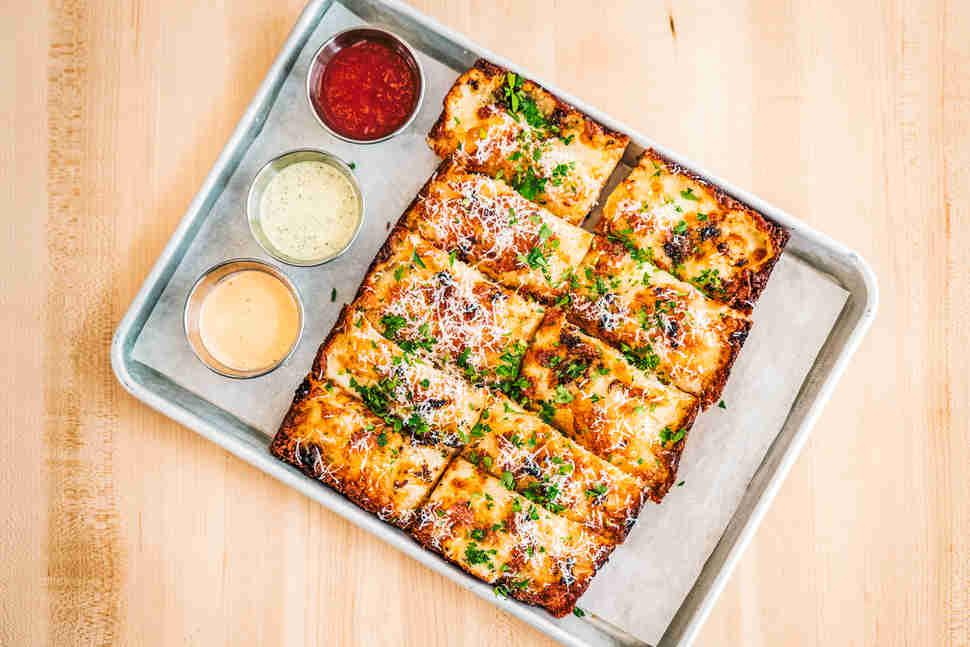 SoMa
Move over Neapolitan, it's all about Detroit-style pizza now
We have a pulse, which means we love whatever kind of pizza is in front of us at any given moment. But we've gotta admit that the Neapolitan-style pie situation in SF has gotten a little ubiquitous. Unfortunately, when something is so readily available, it also stops being quite as special. Now, we're all about Square Pie Guys Detroit-style pizza, a style baked in pans that used to carry automotive parts and is much harder to track down in the 7x7. A picture really does speak a thousand words when it comes to this pizza, but what's important to know is that the dough is crispy, crunch, and chewy all at the same time and the edges are golden brown and encrusted in cheese in the best way possible. 
There are lots of toppings to choose from, but classic pepperoni is the one that will satisfy you time and time again. The Square Pie Guys also serve up some crazy good Szechauan dry-fried wings, and the burger's a winner as well. Pro-tip: they have personal pies at lunchtime. Do with that knowledge what you must.
Inner Sunset
Modern Korean home cooking in a stylish space with a back patio
Um.ma means "mom" in Korean, and this spot (which made our list of the best new restaurants in the U.S.) is a very sweet tribute from SF native chef Chris Oh to moms everywhere. You'll see that in the portrait gallery of moms that hang on the wall, but more importantly in the food. The dishes are thoughtful, contemporary, and truly exquisite. On the menu, you'll find a mix of classics, like a seafood pancake packed with shrimp and scallops, tender slices of brisket, and comforting bowls of pork belly and tofu soup, as well as charcoal-grilled Korean barbecue. The prices may feel a little steep for Korean food, but when you take into consideration the ingredients and how much work goes into the preparation -- as well as the fact that most unfortunately tend to think they should pay less for Asian cuisine (ugh) -- it's quickly clear that the price is well worth it.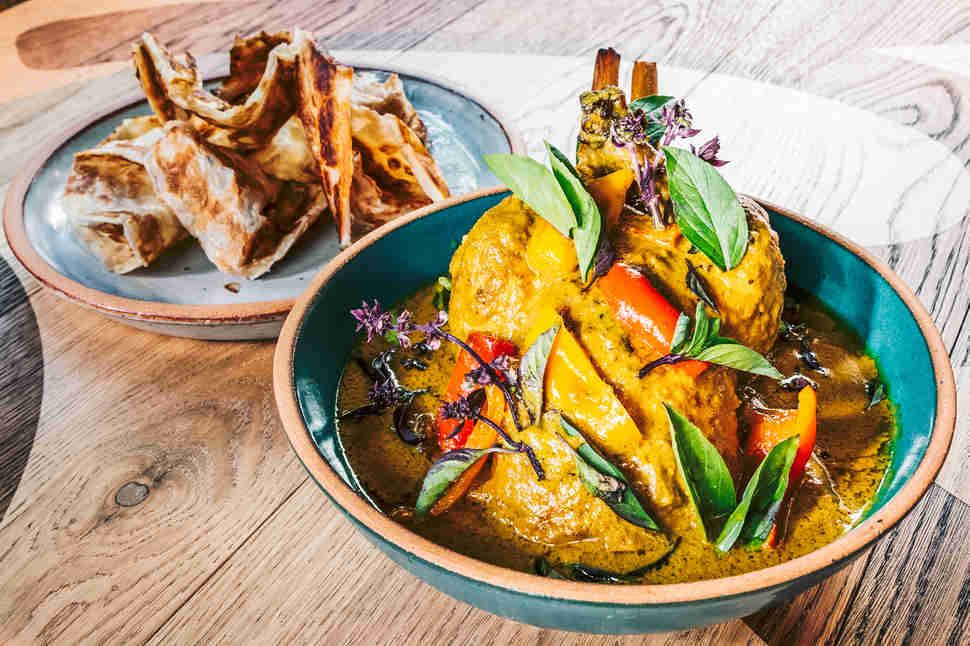 Japantown
A stunning spinoff of Michelin-starred Kin Khao that deserves praise in its own right
Renowned chef Pim Techamuanvivit's newest creation, Nari, is named after the Thai word for "women" and "pays homage to generations of females who inspired Chef's love, appreciation, and mastery of her native cuisine." It also just so happens to be one of the most compelling restaurants SF has seen in a minute. Anyone who loves the food at Kin Khao (which we'll just assume is everyone who's ever eaten it) will love what they discover in this larger space which successfully balances austerity and elegance. The menu offers most of Kin Khao's hits, but is a little more grown-up. This is attributed to a bigger kitchen, where there's more room for Techamuanvivit and chef de cuisine, Meghan Clark, to play around with fiery flavors. We suggest you save the Kin Khao faves (like the green curry with rabbit), for Kin Khao and use your visit to Nari as an opportunity to explore new additions while sipping on one of the cocktails named after female characters from Thai literature.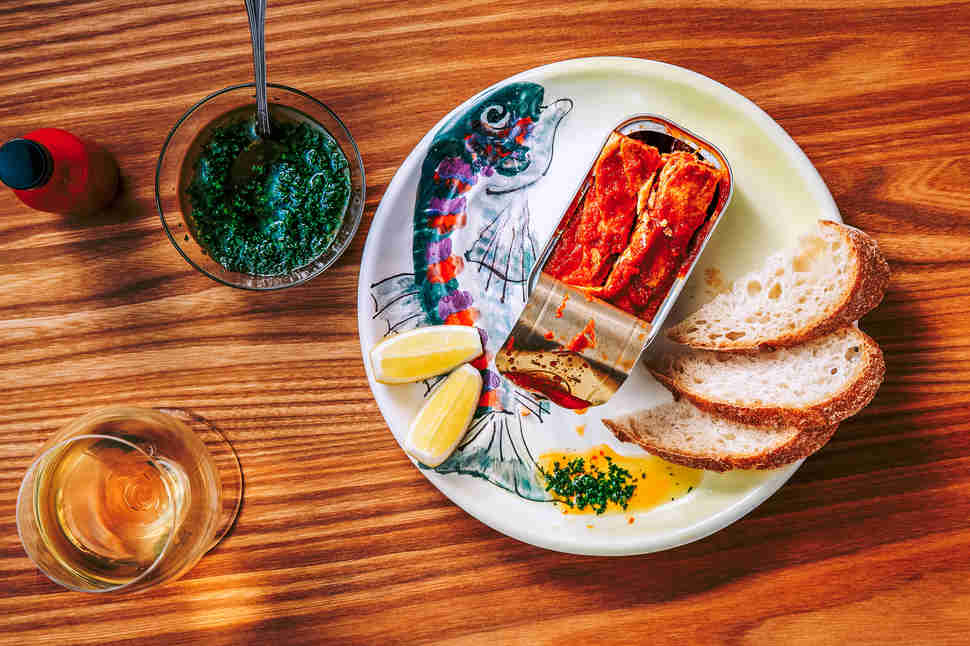 Financial District
Casual French-inspired wine bar and bottle shop with a leaning towards natural wines
Verjus is truly everything one could want in a wine bar -- if what everything one wants in a wine bar is unfussy, but flawlessly executed French food, a wine list that is both unexpected and delightful (with a focus on small scale, independent growers and natural wines), an ambiance that feels effortlessly stylish thanks to high red-lacquered ceilings, cozy mid-century-style tables from French furniture designer Pierre Chapo, and a "menu spontané" on a marquee-style light box. 
Part of the magic of Verjus is that it can be whatever you need it to be: a place to pick up a bottle on your way home for work, a tapas bar for a happy hour drink and snack with a friend, or an (almost) full service restaurant for a leisurely dinner (you order at the counter, but from there will be taken care of by a server). The other part is that even if you're only popping in to buy some wine, Verjus always manages to provide a moment of escape, which, as much as we love this town, is oftentimes needed.
Sign up here for our daily San Francisco email and be the first to get all the food/drink/fun SF has to offer.