Every month, the city of San Francisco delivers unto its residents delicious new food and drink. This batch of openings, however, also serves up some fascinating, diverse stories of SF's entrepreneurial spirit... the kind that make you (if you're anything like me) feel good -- even hopeful -- when eating and drinking through the city, even as many short-lived, high-profile restaurants shuttered this month simultaneously. This month, among other items of note, one of the city's most respected and hard-working bartenders takes over a favorite cocktail den, two first-time female restaurateurs exemplify the rich contributions folks from other cultures make to SF's food scene, and the restaurant at the SFMOMA showcases the city's international focus, creativity, and culture. Here are June's most notable new bars and restaurants.
All of the restaurants on this list are part of our ongoing quest to find this year's best new restaurants in America, and we're combing through every opening in every Thrillist city. Get involved on Instagram -- #BestRest2016 -- to let us know your picks and your favorite dishes at each of these new spots.
Bernal Heights
Isabel Caudillo was doing pop-ups before they were trendy. In 2001, she was new to the Tenderloin, and started making guisados (a hearty stew that's a staple of her native Mexico City) in her living room, for a small enclave of other Mexico City immigrants. Over the course of the next 15 years, her business would increasingly grow, with the help of La Cocina, a non-profit that nurtures low-income food entrepreneurs. I first learned about -- and loved -- Caudillo's food a little over a year ago, at the kind of pop-up that involves PR teams and takes place in modern penthouses overlooking AT&T park (thank you, EatWith, a totally under-the-radar date idea). At the time, Caudillo was forming the menu that would eventually become El Buen Comer: at the heart are still the earthy stews she's known for, made with slow-cooked pork, albondigas (Mexican meatballs), or chiles, and served with rice and beans. But the menu now also includes enchiladas, tacos, and tostados, made in the traditions of Mexico City -- think rich savory flavors and hand-rolled, organic masa. Lunch (Tuesday-Friday) and weekend brunch are now on offer, and the restaurant will expand its service to dinner in July. If you're interested in learning more about Caudillo, the Chronicle's profile of this is definitely worth a read.
Mission
Another first-time restaurateur, Azhar Hashem, also seeks to bring the flavors of her childhood to San Francisco's limited Middle Eastern landscape, but Hashem's road comes by way of her native Jordan, and a successful career at Google. After quitting her job of seven years as Google's head of marketing, Hashem set out to fix what she calls "Mediterranean food 1.0" by introducing the dishes her mother and grandmother would cook. You won't find hummus or falafel on Tawla's menu, helmed by Joseph Magidow (formerly Delfina), which instead celebrates the lesser-known dishes and flavors of Eastern Mediterranean countries like Greece, Turkey, Syria, Lebanon, Palestine, Israel, and Jordan. Here, you can enjoy fluffy, warm pita bread, served with three dips, or "lebnehs" -- spice-topped combinations that I haven't experienced since visiting an open-air market in Israel. Also on the list of things I plan to order again: lamb-and-rice-stuffed zucchini, and raw sirloin topped with refreshing mint and pine nuts. The wine list is equally delightful -- as is the somm, Garret Nakamura -- who's added a few interesting Greek and Lebanese wines to the selection. And the whole taste bud vacation takes place in a unique, bright space that features a gorgeous living wall and latticework that incorporates Moorish designs that were later adopted into Mexican culture -- a nod to Tawla's Mission location. Tawla joins near by ramen spot Orenchi Beyond, Burma Love, and Zeitgeist.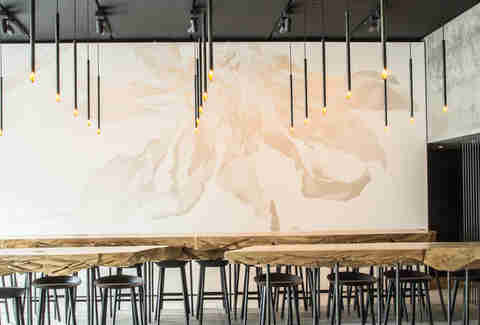 SOMA
The cherry on top of the SFMOMA's recent $305 million redesign is actually located on the ground floor, where In Situ acts as a culinary museum to the world's most high-profile dishes. Curating the menu with a care that's equivalent to the museum's collection, Michelin-starred chef (Benu, Monsieur Benjamin) Corey Lee collaborated with 80 famous chefs from around the world to create a menu of their greatest hits. If that sounds over-the-top, it's cuz it is -- but hey, all the more reason to pretend you're Abe Froman, the sausage king of Chicago, while enjoying a day playing hooky at the museum. The rotating, a la carte menu, featuring dishes from New York's David Chang, LA's Roy Choi, and London's Isaac McHale (among others), treats dishes like art, giving equal space to the origin and creator of the dish as it does the ingredients. A modern, light wood canopy hovers over the 60-seat dining room and lounge area that accommodates 70. And while the main focus is the "art on the plate," there's no shortage of high concept design in the dining and lounge areas that also feature furniture from local designers and artists. Mr. Froman, your table's ready.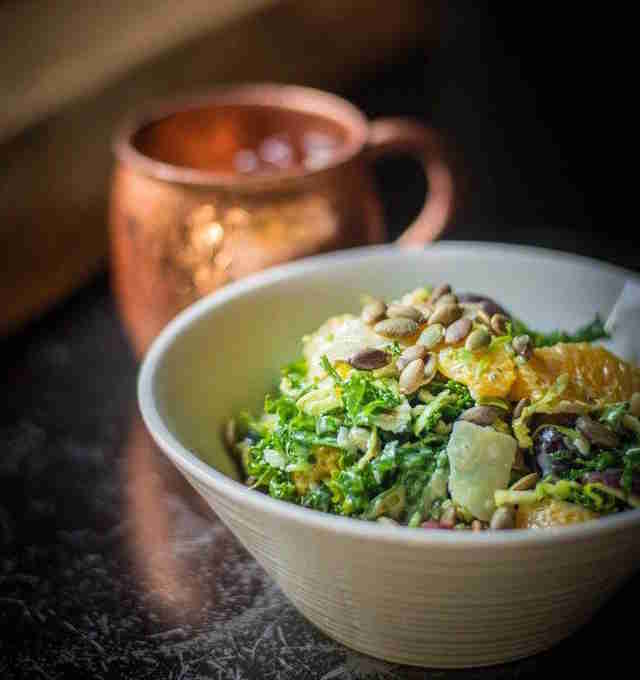 SOMA
Three businesses, all operating in one two-story building, steps away from the ballpark, fulfilling all your eating and drinking needs: Woodbury's got your shot-and-beer combos and flat-screens, while The Alchemist upstairs caters to the sophisticated cocktail-drinking set. And now, with the addition of K+O Kitchen in the back of the Woodbury space, you and your group of diverse drinkers can enjoy tavern-style entrees... and even an a salad or two. Don't you love being able to satisfy all your multiple personalities without ever leaving a building?
Nob Hill
Liholiho Yacht Club opened a reservations-only subterranean cocktail bar under its restaurant. Operating completely separately from LYC, Louie's Gen-Gen Room features its own cocktail menu from barman Yanni Kehagiaras, and a selection of Chef Ravi Kapur snacks. The menu is updated daily, but features elevated bar bites, such as hamachi sashimi and fancy potato chips with caviar. While scoring a reservation takes forethought (the room seats 24 and reservations open one week in advance at midnight), anyone who's stepped past the tiled aloha sign at the entrance knows that the service, thoughtful food and drink, and transportive island calm are generally worth a little planning, especially for special date nights.
Union Square
While you wait for your trip to Louie's Gen-Gen Room, satiate your vacation cravings in the new Kevin Diedrich bar in the old Cantina space up the street. Pacific Cocktail Haven's got a subtle aloha vibe, fresh tropical flavors in many of the drinks (the Saffron with grilled pineapple is the tops), and it doesn't require you to book anything online. Oh and not to mention the cutest mascot ever... Check out our full review of the PCH opening here.
Mission
Also vying to be your new favorite cocktail-driven-but-not-pretentious bar: husband-and-wife-owned Evil Eye. Its menu consists of 18 $10-12 cocktails (half of which are classics) and bar snacks like upscale toasts, wings, fancy fries, cheese, and charcuterie from Mission Cheese, and ice cream from Humphry Slocombe. This roundup is certainly evidence of its mission to be at once high- and low-brow, though it's still TBD if it can capture the heart of its deep Mission neighborhood. However, fun touches such as the pool table, comfortable mid-century bohemian seating, and shareable punch bowls ($50 each) invite you to linger, feeling as if you're chillin' in a rockstar's living room circa 1972.
Sign up here for our daily San Francisco email and be the first to get all the food/drink/fun SF has to offer.
Other Stuff You'll Like In Openings Cheat Sheet