Believe it or not, there are a handful of great restaurants in NorCal that aren't in the Bay Area. Ew... no, not in Fresno, but like, in other places. Here's a look at our picks for the 17 best restaurants from the Oregon border to that one In-N-Out Burger midway down the 5.
Editors' Note: First, so there's no confusion, the "Bay Area" includes the counties of San Francisco, Santa Clara, Marin, Contra Costa, Alameda, and San Mateo (which means no Sam's Chowder House on this list, sadly). Second, if you're looking for good places below Kettleman City (that aren't in Los Angeles), Thrillist LA did one of these for SoCal, too.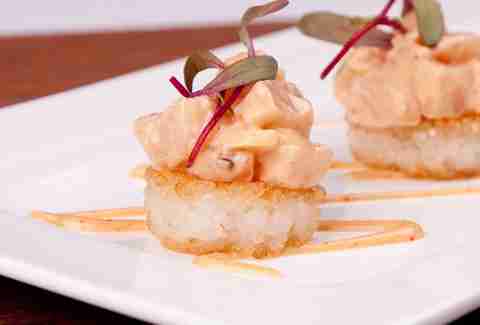 Osake Japanese Restaurant (click here for address and info)
Santa Rosa, CA
Started by the guy behind the also-fantastic Gary Chu's (whose name is Gary Chu, weirdly enough), you might not expect such an elegant restaurant from its unassuming exterior, but that's exactly what you're going to get, along with even more surprisingly elegant Japanese food. And even though we can't recommend the crispy chicken in a light soy honey sauce or the martini prawns enough (seriously, we can't), the move here is to skip those, and instead sit at the sushi bar and let Gary experiment with whatever amazing sushi concepts he's been dreaming up (then go back and get those, too).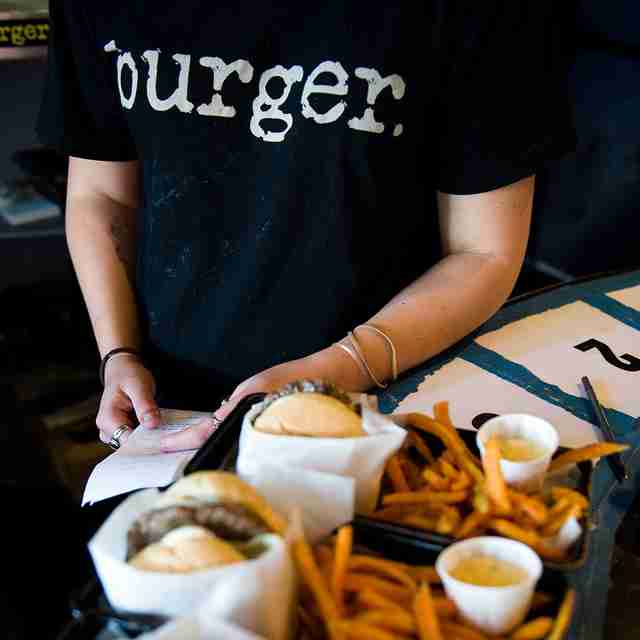 burger. (click here for address and info)
Santa Cruz, CA
With apologies to Surfrider Cafe, burger. just edges it out as this list's lone Santa Cruz representative. There are TWENTY SEVEN burgers on the menu, PLUS eight sliders, four show dogs, a triple-decker grilled cheese, and five types of fries. The Dude burger is good (guac, bacon, Jack), the Chuck Norris burger is good (jalapeño, Jack), the Snooki Burger is good (chili burg between two grilled cheeses), and the Johnny Cash is good (burger topped with fries, blue cheese, and bacon). Literally... every. Burger. Is. Good.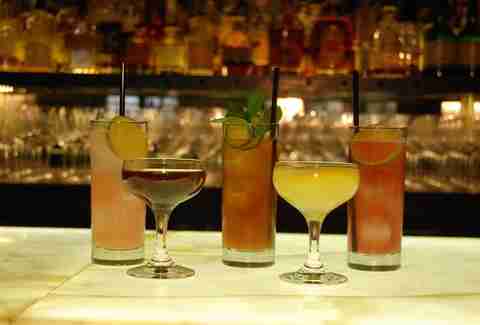 1833 (click here for address and info)
Monterey, CA
This would probably be on a list of the best spots in NorCal even if we INCLUDED San Francisco. The interior is one of the most gorgeous you'll ever see (sort of a cross between a drinking library and a... different drinking library), and the tableside absinthe service will make you wish you didn't have to drive home to SF (also: if you have it, don't drive home to SF). Get literally anything on the menu with bacon, but especially the bacon/cheddar biscuits with maple-chili butter.
Flavor Bistro (click here for address and info)
Santa Rosa, CA
Located on the old Railroad Square, this Italian restaurant is devoted to providing quality pasta -- all of which is hand-rolled, including the Thrillist favorite Pasta Napkins: paper-thin sheets of fresh pasta served with pesto and marinara.
World Famous Hamburger Ranch & Bar-B-Que (click here for address and info)
Cloverdale, CA
This place is literally a hotspot for "local loggers and ranchers", run by a husband and wife team doing Kansas City-style BBQ via a giant, on-premises smoker, plus all of the sauces are handmade (including two that've won Double Gold at past Harvest Fairs). Even more, the interior is steeped Roadside Americana, with a postcard wall that donnes postcards from all over the world, including one of the Ice Road Truckers dudes, Sean Penn, and Joey from Friends.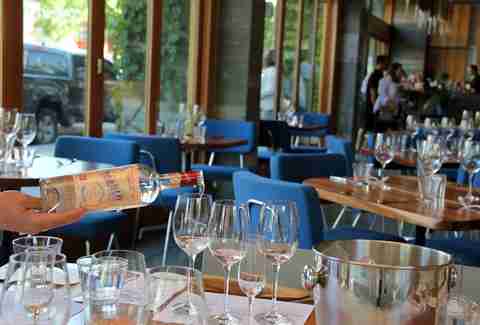 Spoonbar (click here for address and info)
Healdsburg, CA
In the lobby of the H2 Hotel, Spoonbar is one of the best restaurants in all of wine country, in part because the kitchen here is run by a 2014 Top Chef finalist (and Last Chance Kitchen winner!), which means slow-roasted pork loin and rib with creamy pistachio, sautéed tatsoi, and collard green bread pudding. Also: carbonated cocktails!
K & L Bistro (click here for address and info)
Sebastopol, CA
This recently renovated (it's three times bigger now!), formerly Michelin-starred French bistro puts out simple, quality, classic Gallic food inside of a brick building it's occupied since 2001. Get the house-made Boudin Blanc sausage. That, or the whole mesquite-grilled branzino. Actually, just get both.
The Firehouse Restaurant (click here for address and info)
Sacramento, CA
50-year-old restaurant in Old Sacramento, housed inside of a former fire station? Check. Absolutely killer patio? Check. Just-as-killer food, like miso-glazed pork belly with spiced dashi broth or the Firehouse filet mignon with bone marrow butter, chive-potato croquette, and Madeira-infused demi-glace? Yeah, we're gonna check that, too.
Backyard (click here for address and info)
Forestville, CA
On your way to Russian River, this minor detour'll score you a menu from two Culinary Institute of America grads (who're also married and have worked at the likes of Ad Hoc, Bouchon, and p/30) that changes daily, and amazing events like Family-Style Fried Chicken Night on Wednesdays. The hacienda-style restaurant is somehow only a couple years old, despite having already landed on Michelin's SF Bib Gourmand list less than a year in.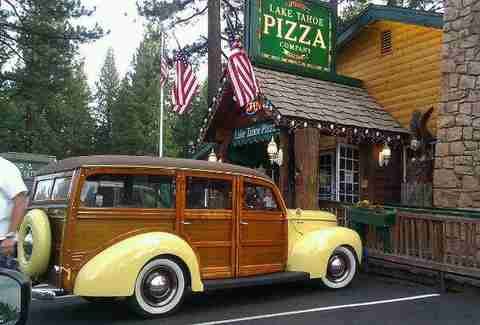 Lake Tahoe Pizza Company (click here for address and info)
Lake Tahoe, CA
It took us five trips to actually make it to Lake Tahoe Pizza Co. when it was open; they don't do lunch, they're only open from 4-9:30pm for dinner, and we're not good at Googling hours of operation. But what they lack in hours, they make up for in totally delicious pizza that uses three kinds of dough, five kinds of sauces, and all kinds of crazy pizza toppings -- none better than their Acapulco Gold, which uses a special corn-blend dough topped with picante sauces, spicy beef, onions, bell pepper, olives, two kinds of cheese, avocado, and chopped tomato. The menu also features a warning with that particular pie: "Warning: could be addicting". And really, it is.
Cafe Citti (click here for address and info)
Kenwood, CA
On the highway between Santa Rosa and Sonoma, this blink-and-you'll-miss-it-if-it's-a-long-blink-oh-my-God-please-look-at-the-road!!! spot is using local fare to create casual Italian cafe food so fresh you'd swear you were in Tuscany... minus the fact that no one is speaking Italian, and well, a million other things. That caprese, though!
Willi's Wine Bar (click here for address and info)
Santa Rosa, CA
An SF Chronicle Bay Area Top 100 Restaurant in 2009, 2010, 2011, and 2012, this cozy little restaurant that could does an eclectic list of Sonoma County-inspired tapas that you're gonna want to try all of... and kind of can, because, tapas! If you're not gonna do all of them, though (why aren't you doing all of them???), at least try the pork belly pot stickers with shiitake mushrooms and the truffled fries with truffle aioli.
Oakville Grocery (click here for address and info)
Oakville, CA
Okay, technically it's a grocery store, but it's also the oldest operating grocery store in ALL OF CALIFORNIA, opened in 1881 and fully restored in 2012. You literally (and figuratively) can't go wrong with a single sandwich on the menu (or pizza, or hell, even salad), and the gourmet deli items are fantastic, too (try the Asian noodles for sure). Basically, your wine tour just got a lot better fed.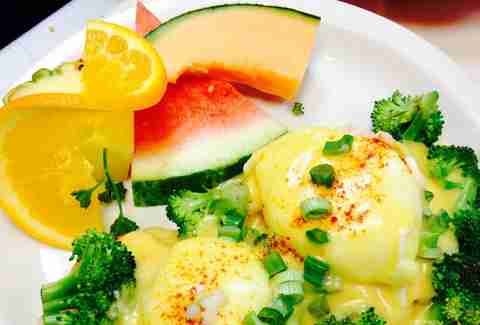 Awful Annie's (click here for address and info)
Auburn, CA
Possibly awful only because it's only open for breakfast/brunch, this Sac-town cafe has earned a "Best Breakfast in Sacramento" nod from the local NBC affiliate six years in a row, despite being all the way out in Auburn, CA. Two important things to know before going: 1) it not only has its own Bloody Mary mix (Baker Brother's), but it's sold by the bottle, and 2) Grandma's Bread Pudding comes with Brandy sauce.
Redd (click here for address and info)
Yountville, CA
There are a lot of great restaurants in Yountville (French something or other, we think?), but Redd is unbeatable if you're going to take into account price at all (which you should, cause French Laundry is crazy expensive, dude). Any dishes with Asian influence are totally the move here; in particular, the steamed pork buns. And the glazed pork belly. And the hamachi tartare. And the... well, you get the idea.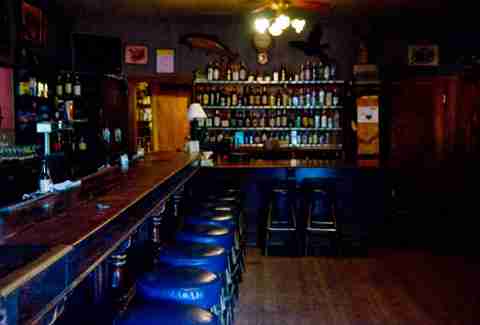 Duarte's (click here for address and info)
Pescadero, CA
This Pescadero restaurant just off the coast is insanely old (since 1894, yo!), somehow serves 13,000 people per month (despite being located in PESCADERO), has a James Beard honorary award for being an "American Classic", and they have the best Olallieberry pies in all of California (shut up, good SoCal pie places).
Ikeda's (click here for address and info)
Auburn, CA
This on-the-way-to-Tahoe roadside diner has a sign out front that reads, "Tasty Burgers / Fresh Fruit". And don't get us wrong, both of those are great (in particular, the Ultimate Big Burger, which they have to serve on a French roll because it's so big), but the reason it makes this list is Ikeda's salsa bar. Located a foot inside the attached market, they've got a whole section dedicated to tasting salsas, with chips provided so you can get the real-deal experience.
Joe Starkey is Thrillist's San Francisco Editor and about to make a road trip up to Osake for some martini prawns right now. Tell him you're in on Twitter.
Grant Marek is a Senior Editor at Thrillist and is pretty sure if you don't agree with any of the picks on this list, they were probably Joe's. Agree with him completely on Twitter.