Paid Content For
San Pellegrino
Where to Eat Oysters Outside in SF Right Now
Treat yourself.
Paid Content For
San Pellegrino
For a few desperately long months there, the only way to get fresh oysters was to buy 'em, take 'em home, and do all of the heavy lifting (okay, twisting) yourself. And while some of you are motivated enough to do that, many are just a little lazy and prefer slurping down an oyster that's been perfectly chilled and freshly shucked by an expert. Now that we have outdoor dining again in SF, there are a bunch of great spots at which to satiate your succulent bivalve cravings in a socially distanced restaurant environment. This list has a couple of happy hours, as well as a few spots where you'll have to shell out up to $4 per oyster, but we promise they will all deliver oysters that will get you in the mood... to eat even more oysters.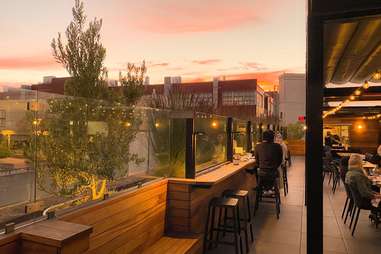 SoMa
The rooftop at 25 Lusk has reopened for socially distanced cocktails, all-day brunch, pizzas, and, you guessed it, oysters. Head upstairs to enjoy an afternoon in the sunshine on the wind-protected deck (which has a retractable canopy in case the weather isn't cooperating), where you'll be treated to one of the best soundtracks we've heard in a restaurant in ages (and not just because it's been ages since we've been to a restaurant). The local oysters are served with champagne mignonette and are $2 each. Make it an oyster shooter ($8) by adding a Bloody Mary shot. Right now Rooftop 25 opens at noon Wednesday through Saturday and 11:30am on Sunday.
Lower Pac Heights
This locals' favorite wine bar celebrates happy hour from 3pm to 6pm every day of the week, with oysters for just $1.25 each as long as you purchase wine. Speaking of, wine is also 20% off during happy hour, and if you go on Wednesday or Thursday, you'll catch live music from 5pm to 7pm and from 5pm to 7pm on Saturday and Sunday.
Embarcadero
Admittedly, a meal at Waterbar is usually a splurge, but if you snag a seat on the outdoor patio with views of the Bay Bridge any day of the week between 12pm and 4:30pm, you can treat yourself to $1.05 oysters. Any other time, the oysters are between $3.80 and $4.05 unless you go baked (shrimp butter, sweet corn, serrano, espelette) -- those are $5 each (and worth every penny).
Mission Bay
ATWater Tavern's patio is open for dining, panoramic water views, and $1 oysters during happy hour (Monday through Sunday from 3pm to 6pm). During that time, you'll also get $2 off house wine, draft beer, and well drinks. During non-happy hour times, which are almost hard to hit since the restaurant is currently open from 11:30am to 6pm every day, Drake's Bay oysters are $3 each and Petite Queshan oysters are $4 each.
Jackson Square
This swanky SF staple is open for outdoor dining Tuesday through Saturday from 5pm to 8pm. Sadly, there won't be any jazz playing while you enjoy your meal, but you can still get one of the best martinis in town to go with your daily selection of oysters served with yuzu mignonette ($AQ).
Financial District
This Izakaya restaurant from Michael Mina and Ken Tominaga just opened its newly expanded patio for full service Tuesday through Saturday from 4pm to 8pm. The reason you're so happy about that is because it means you can finally get the "Happy Spoon" oyster amuse bouche ($9) again. If you haven't had this delightful bite before, here's all you'll need to convince you to change that ASAP: It's a raw local oyster served under fresh uni and two types of fish roe with a ponzu-flavored crème fraîche.
Financial District
This downtown outdoor oasis popped up specifically for these strange times and has tons of seating, heat lamps, and an atmosphere that will leave you feeling very safe. The oysters on the half shell come with a yuzu kosho mignonette and are $21 for a half-dozen and are available with the regular all-day menu and "after dark" when The Vault Garden has more of a lounge vibe.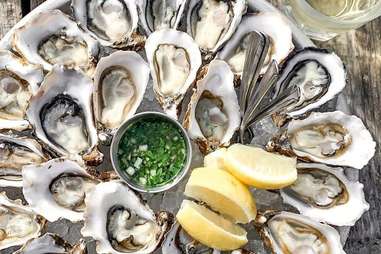 Embarcadero
This Ferry Building staple is open for outdoor dining from 11am to 6pm on Friday, Saturday, and Sunday. There may be a wait for a table, but if that seems like too much to bear, you can also get your order to-go to be enjoyed at one of the many communal tables set up for just that situation. Either way, you'll be guaranteed Bay views and a variety of fresh oysters ranging from $19 to $21 for a half-dozen. Prefer your oysters cooked? Hog Island also offers an oyster po' boy, though our go-to is the Cowgirl Creamery grilled cheese.
Mission
Foreign Cinema has one of the best outdoor dining situations in the City thanks to its charming enclosed patio with twinkle lights and heat lamps. The menu hasn't changed despite the times, which means all types from the East and West Coast are available ranging from $14 to $24 for a half dozen.
Marina
This popular Marina spot is definitely a little (lot) less of a meet-and-mingle party spot these days, but it's still serving upscale comfort food and craft cocktails in its outdoor seating area, including oysters on the half shell served with cocktail sauce, lemon, and umami mignonette. They're $3.50 each and available by the half-dozen or dozen. That is, unless you go during happy hour (Tuesday through Friday from 4pm to 6pm) when they're just $1 each. Go on a "Rocks and Rosé" Tuesday and you'll also get them, as well as select bottles of rosé, for 50% off for the rest of the night.
Fisherman's Wharf
Take in views of the Bay at one of 40 tables on Fog Harbor's waterfront patio while taking down a half-dozen oysters served with cocktail sauce ($21). Yeah, you're going to pay tourist-ish prices and maybe even see a few tourists, but sometimes fresh seafood and great cocktails makes spending putting up with those things totally worth it. Open from 11am to 8pm every day, depending on the weather.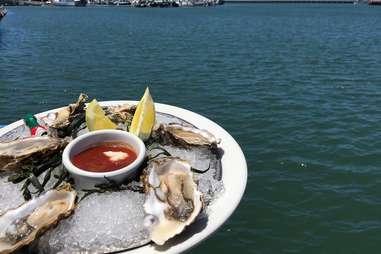 Fisherman's Wharf
Real San Franciscans don't complain about Scoma's touristy location because they know that the fresh seafood that comes directly from local fishermen makes this "pier-to-plate" restaurant worth the throngs of out-of-towners wearing shorts. Right now, Scoma has outdoor dining from 11:30am to 7:30pm every day and is offering a half-dozen oyster on the half shell for $19 and oysters alla Scoma (a Rockefeller-inspired dish) for $20.
Mission
This casual seafood bar has reopened with outdoor seating, which is excellent news for anyone who wants to eat one or all of the nine types of oysters on the half shell available on the menu for $2 (regular) or $3 (premium) during happy hour: Monday through Thursday from noon to 9pm and all day on Friday, Saturday, and Sunday. There are also oyster shooters, fried oysters, a fried oyster po-boy sandwich, oysters Rockefeller... basically however you like your oysters, this spot will hook you up.
Potrero Hill
Mission Rock Resort's bi-level outdoor dining situation seems almost tailor made to the new world of social distancing. Make a reservation for the patio or walk in and get counter service at the Rock Cafe. Both offer waterfront views and, thanks to the location, usually have copious amounts of sunshine, plus live music on the weekend. The menu is pared down, but the oysters are plentiful with hundreds being shucked every day. Want to score a deal on yours? Happy hour is Tuesday through Friday from 3pm to 7pm.
Sign up here for our daily San Francisco email and be the first to get all the food/drink/fun SF has to offer.
Daisy Barringer is an SF-based writer who likes her oysters every way from raw to Rockefeller, but especially likes them when they're enjoyed outside in the sunshine. Follow her food adventures on Instagram @daisysf.