There's nothing better than slurping down an oyster that's been freshly-shucked and perfectly chilled. Unfortunately, there's nothing worse than getting the bill after taking down a dozen or two, especially in SF where the succulent bivalves can be hella pricey. Luckily, these 31 restaurants are here to help, namely by offering great deals on oysters that will definitely get you in the mood… to eat even more oysters. 
BERNAL HEIGHTS
The Deal: FREE oysters every Friday at 5:30pm. Get there early 'cause they go quick.
It's impossible not to have a good time at this LGBTQ+ bar with a huge backyard where the sun is almost always shining.
CASTRO
The Deal: A half dozen oysters for $7 during Wednesday happy hour (5pm-6:30pm).
This "tavern with a twist" serves upscale comfort food, including a legit double stack burger. The oyster deal is only on Wednesday, but you can get $7 bites, $7 wine and well drinks, and $5 beer during every happy hour from Tuesday through Friday.
The Deal: Dollar oysters on Tuesdays.
When we're in the mood for a toasted-buttered Dungeness crab roll (which is often), this casual seafood spot consistently satisfies the craving.
COW HOLLOW
The Deal: Oysters for $2 each (usually $3).
A Belgian-inspired brasserie on Union Street with excellent cocktails and a fantastic beer list, especially if you like Belgian beers.
DOGPATCH
The Deal: Oysters are $1 each on Mondays and Thursdays from 11am to 6:30pm.
The deck at The Ramp is one of the best places to day drink on a sunny day.
EMBARCADERO
The Deal: $1.50 oysters from 11:30am to 5:30pm every day of the week. Limit of 24 at the table at one time.
Outdoor seating, views of the Bay, and a three-hour happy hour where you can fill up without breaking the bank.
The Deal: The daily featured oyster (served with a fermented green strawberry mignonette) is $1.05 every day from 11:30am to 5:30pm.
You'll save on the oysters during happy hour, but expect to pay a pretty penny for pretty much everything else on the menu. Still, it's worth the splurge considering the stunning views, exceptional service, and delicious food.
FINANCIAL DISTRICT
The Deal: Get a half dozen of the oyster of the day, served with tarragon mignonette, smoked roe, and lemon, for $9 from 4:30pm to 6:30pm, Monday through Friday.
This gorgeous Parisian-inspired brasserie is a lovely respite from the hustle and bustle of the Financial District.
The Deal: Oysters are $1.50 every Monday through Friday from 3pm to 5pm (limit of 24 per order).
Leo's is all about 1950s glamor, seafood, and classic cocktails. Of course, that comes with a price, so it's best to experience when there's an expense account involved or you're feeling flush.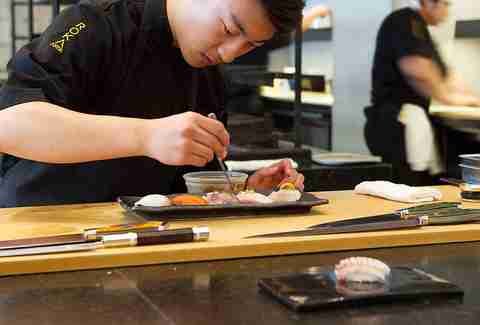 The Deal: Dollar oysters during Sunday's all-night happy hour.
Sleek and sexy, Roka Akor's a great choice for a group dinner because the menu has sushi, seafood, and steak, which means there's something for everyone (even vegetarians).
The Deal: Fanny Bay oysters on the half shell with Champagne mignonette are $1 each during happy hour, which is Monday through Friday from 2:30pm to 6:30pm on the heated patio and 2:30pm until close at the bar.
Pretend like your escaping the city at this French bistro on Belden Place with an outdoor area that makes ditching work a couple of hours early totally worth it.
HAYES VALLEY
The Deal: Hog Island Oysters on the half shell are $2.50 at the bar every night starting at 7:30pm.
You'll find classic seafood and an older crowd at this old school SF establishment frequented by diners who are en route to the opera or ballet.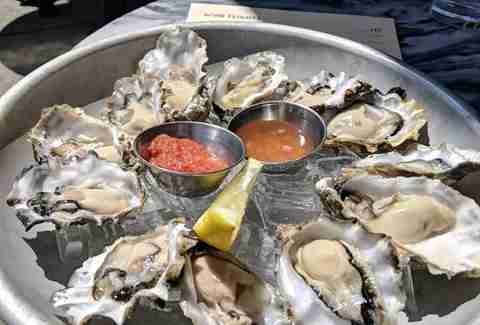 LOWER PAC HEIGHTS
The Deal: Oysters served over ice with mignonette are $1 every day from 3pm to 6pm.
Let the "wine therapists" at this charming wine bar walk you through the exceptional wine list to find the exact glass or bottle you need in your life. A delightful spot for a drink and a bite with a friend or a date.
The Deal: Dollar oysters on Tuesdays.
The nautical theme at this seafood spot is a bit over-the-top and so are the seafood dishes. Both in a good way, of course.
MARINA
The Deal: $1 seasonal oysters Tuesday through Friday from 4:30pm to 6pm.
This swanky Victorian-themed Marina hotspot is all about upscale comfort food and craft cocktails. Go after work for a mellow vibe or on a weekend night if you're looking for something a little more debaucherous.
The Deal: Six premium oysters on the half shell for $10 from 4:30pm to 6pm, Tuesdays through Friday, and 3pm to 6pm on the weekend.
Wellington on Wednesdays, lobster spaghetti on Fridays, and super tasty burgers and fried chicken seven days a week.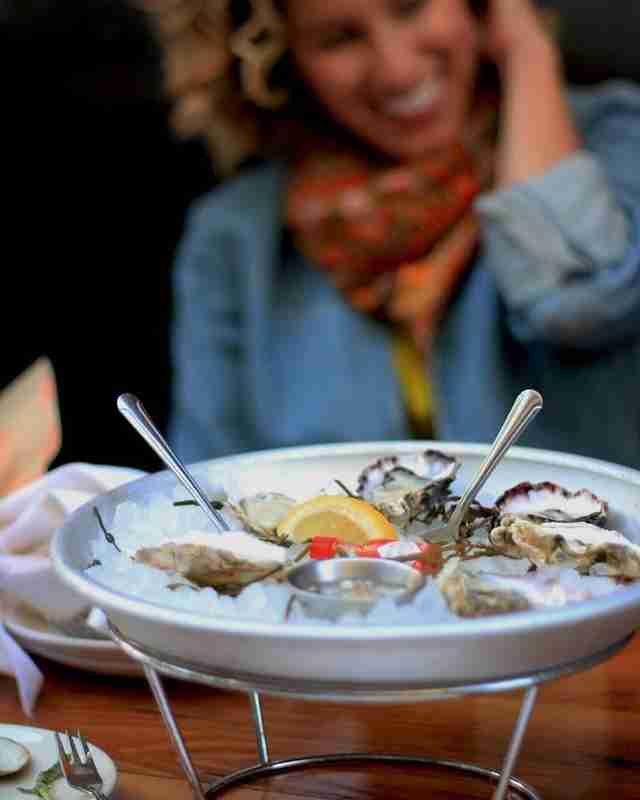 MISSION
The Deal: $1 oysters during "The Witching Hour," 5pm to 7pm, Tuesday through Friday.
This bar and restaurant at music venue The Chapel has fun cocktails and southern-inspired bites, like deviled eggs topped with pork rinds, fried pickles, and hush puppies, plus plenty of great opportunities to use Instagram.
The Deal: $2 oysters Monday through Thursday from noon to 8pm and all day on Friday, Saturday and Sunday.
A casual seafood bar with phenomenal cioppino and the game on TV. The fish and chips is also a great option when you're craving a vehicle for tartar sauce.
NOB HILL
The Deal: $1 oysters (up to 12) when you order a glass of bubbles every Monday through Friday from 3 to 5:30pm.
Step back in time at this elegant restaurant atop Nob Hill where you'll find bartenders that know how to make a perfect martini and live piano that convinces you ordering another is the best idea you've ever had.
NORTH BEACH
The Deal: West Coast oysters are $1.50 all of the time. You'll have to fork over another dollar if you want oysters from the other side of the country.
This is the place to go when you want authentic Italian and fresh seafood. Just don't go there if you're in the mood for something else because that's all they do, which is why they do it so well.
OUTER SUNSET
The Deal: Oysters are $1.50 from 3pm to 6pm on weekdays.
There's not a bad seat in the house in this open air restaurant and bar inside of Golden Gate Park, but when the sun is shining, you'll find us outside on the lush lawn drinking one of the house-brewed beers.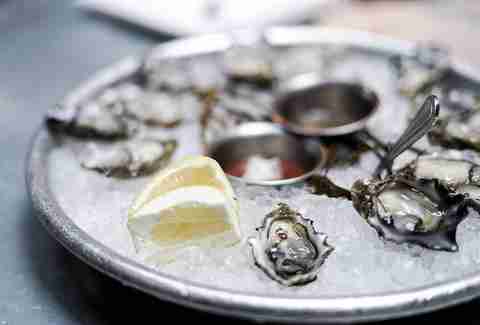 SOMA
The Deal: $1 oysters from 4:30pm to 6pm, Monday through Friday.
This nautical-themed spot in an old warehouse is the best place in town when you want to fill up on New England seafood classics and Angels on Horseback.
The Deal: Dollar oysters Tuesday through Saturday from 4:30pm to 6:30pm.
Go for the dollar oysters. Stay for the views from the outdoor rooftop terrace and the craft cocktails.
The Deal: Oysters are just a buck from 5 to 6pm, Monday through Saturday.
Bar Agricole serves some of the best cocktails in the city as well as upscale Northern California cuisine made with ingredients you can feel good about.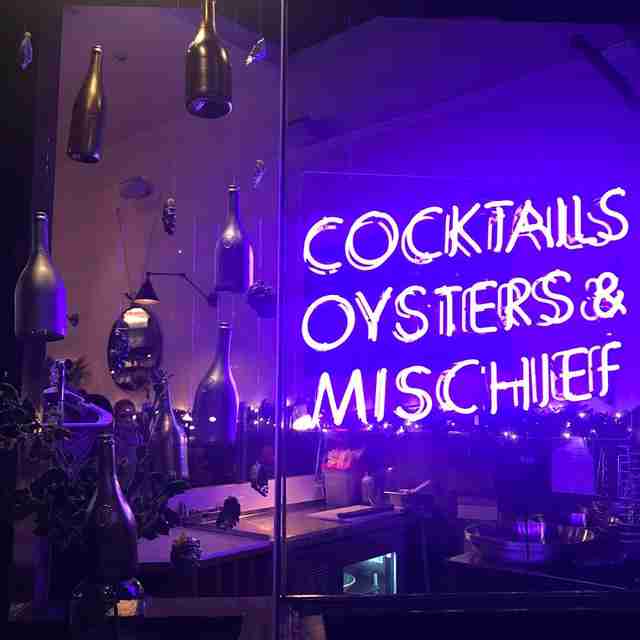 The Deal: Ain't no party like an oyster party -- especially when the oyster party has $1 oysters all weekend, every weekend.
This friendly bar across from South Park is all about "cocktails, oysters, and mischief." And it's the perfect spot for pre- or post-game drinks since it's just a few minutes from Oracle Park.
The Deal: $1 oysters in the upstairs lounge from 5 to 6pm, Monday through Saturday, and 10pm to 10:45pm on Wednesday through Friday.
This nose-to-tail restaurant from chef Chris Cosentino is not for picky eaters. The dishes are decadent, flavorful, and often feature parts of the animal you wouldn't find on most menus.
The Deal: Six oysters for $6 from 4pm to 6pm on weekdays and 5pm to 7pm on Saturdays.
Everyone thinks of this intimate spot as a wine bar, but District isn't joking around when it comes to its whiskey list. Go there after work with colleagues or bring a date and hope you can find a seat on one of the cozy couches.
The Deal: $1 oysters on Fridays from 5pm to 7pm.
Order wine by the glass, bottle, or flight at this urban winery and enjoy California cuisine dishes that are hearty and meant to be shared.
POTRERO HILL
The Deal: Marin Miyaga oysters for $1 from 3pm to 7pm every Monday through Friday.
Enjoy water views, sunshine, and outdoor seating at this casual bar and restaurant that feels like a mini vacation.
UNION SQUARE
The Deal: $1 oysters with kimchi cocktail sauce from 3pm to 6pm, Monday through Saturday.
We're fans of this enormous restaurant and lounge any time of day, but the happy hour is one of the best deals in the city. You can fill up on dumplings, corn fritters, baby back ribs, steamed duck buns, chicken satay, and barely feel a dent in your wallet. Plus, $6 cocktails and $4 draft beers.
WESTERN ADDITION
The Deal: $1.50 oysters by the dozen or half dozen from 5 to 6:30pm Tuesday through Sunday.
This popular seafood spot fills up fast, especially during happy hour when there's an extensive menu with heavily discounted dishes, plus $5 beer and $7 wine.  
Sign up here for our daily San Francisco email and be the first to get all the food/drink/fun SF has to offer.