The 11 best places to get pho in (and around) SF
Fact: a shark is the only fish that can blink with both eyes. Fact (that's less awesome than that but actually related to this article): you can find delicious pho in every corner of the Bay Area. Here are 11 favorites to get you slurping:
Embarcadero
Even though The Slanted Door is arguably one of the most popular restaurants in the entire city, Charles Phan's lunchtime-only pho bo is still somehow under the radar. As you'd expect from a James Beard winner, this is one of the most thoughtfully composed phos in the Bay Area -- a tidy mix of slicker noodles, tender raw and cooked Prather Ranch London broil and brisket slices, and a robust, beefy broth. It's also about half the size of a typical pho, and is really meant as an appetizer. With some refreshing tofu and shiitake spring rolls, plus the stunning Ferry Building view, this might be the best lunch in our food-crazy city.
The Tenderloin
Now in spiffier digs a few doors down from its old outpost, Tenderloin stalwart Turtle Tower remains the official Bay Area authority on chicken pho, with a broth as soothing and chicken-forward as it gets. Don't be bashful, though; amplify your chicken broth with the Pho Gà Long, where chicken giblets enter the equation. It's perfect for curing a I-had-a-LOT-of-whiskey-last-night headache or the flu, but equally worthwhile to, when you've got a clear mind, contemplate the subtle ginger spices with each slurp.
Outer Sunset
Proudly using certified Angus beef instead of the thready mystery beef other pho purveyors often resort to, PPQ may very well be the beefiest pho around -- consider it the Texan version of pho. The beef is superb and very generous, but definitely make sure to opt for a bowl with the delightfully springy, not-chewy tripe. Or ignore the cow and go aquatic by giving seafood pho a chance. The ocean is just down the street, after all.
South San Francisco
Next time you're headed to or from SFO, check out the comforting bowls of pho at the constantly packed Ben Tre in South San Francisco. The Southern-style pho ga is fine, but take the chicken part of the equation further with the pho ga quay chao. It's a do-it-yourself adventure with tender roast chicken -- vividly marinaded in lemongrass, palm sugar, and five spice powder -- served on the side, separate from the broth. Have the chicken on its own? In the soup? Some of both? ALL OF BOTH???
The Mission
Formerly a full-time pop-up, now only about a 60% pop-up, Rice Paper Scissors is the success story of two chicks succeeding in bringing their Vietnamese street food experiences to San Francisco. They're still at Mojo Coffee each Thursday for dinner, but they're now also weekday lunch tenants inside Brick and Mortar. The Hanoi-style beef pho is superb for dinner and the strong ginger notes of the pho ga with shockingly fragrant chicken at lunch shows what six hours of cooking time does for a broth. Bring friends to allow for sharing, too, because lunch has a fun extended menu and their creative banh mi are the best in the city.

San Rafael
Yes, some of the best pho in these parts is on the water in Marin, but it's not some touristy place with Bay views in Sausalito or Tiburon. The vibe is casual but the pho standards, as you'd guess, are decidedly high. Beef balls, which are usually a dry afterthought addition to pho, are a beforethought here. Oh and don't venture this far across the Golden Gate without getting the papaya salad and the Vietnamese coffee "moka" shake with tapioca pearls. Or do. It's your life.
Oakland
Pho Ao Sen is the authority on the Southern Vietnam-style pho dac biet bo vien, complete with the usual beef suspects. The difference lies in the broth, which has a bit more spice and fragrance, making it more delicate, refined, and overall, much more addicting. If you're wondering why there's always traffic on the Bay Bridge, this is it.
Chinatown
You've got 18 pho choices to choose from. Eight. Teen. Go for the last of the list, pho thit heo nuong, where barbecue pork balances smoke and sweetness gracefully. The meat comes on the side, ready to be eaten on its own or given a swing in the broth. Or, be boring/cool and get #1: a very solid regular pho that guarantees a much better meal in this area than you'd likely have anywhere else.
San Jose
In the shadow of Mount Hamilton, Pho Ba Dau Cong Ly is a San Jose classic for Hanoi-Northern pho with a broth that's nicely balanced between beef and anise. The calling card here is the addition of oxtail to the signature soup, which makes for some real wrestling for hidden meat pieces at the end of your meal. Also: the "fresh" wide rice noodles are made in house -- legit noodles that stay with your taste memory for a while. It's also probably the largest bowl on this list, so go extra hungry.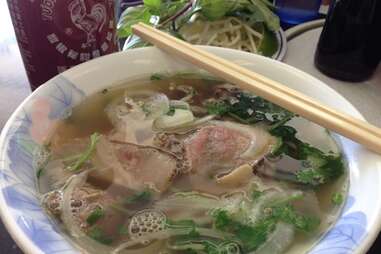 San Jose
Yes, it's far, but Pho Y#1 is the best pho spot you're ever going to find in a mini mall. It looks like a giant college dining hall, but you're not there for the decor. The Southern-style soup has nicely al dente noodles and a pleasant ginger edge to the broth, given a nice hum from generous cilantro sprinkles. Textbook, high-quality pho. Don't forget the durian shake for a drink. Your hesitant friends will be impressed and jealous.

Oakland
How do you feel about Pho King? (We'll give you a second.) Okay, now check the immature eighth grade jokes at the door (not really) of this Oakland spot. The bun bo hue here is the stuff of legend; the generous bowl of beef pho is just as good with a hefty hand on the cilantro and onions -- mega flavor on display, they're not shy. Beef balls are a key addition (you can also laugh at that; we won't judge).
Sign up here for our daily San Francisco email and be the first to get all the food/drink/fun SF has to offer.
Trevor is a restaurants writer for SF Weekly and contributing editor for Vino 24/7. His nicknames include "Bulldog", "The Turtle", and formerly, "T-Bone", until George Costanza stole that from him. Follow Trevor @TrevorFelch.