The thing about pizza is that even when it's bad, it's still really, really good. I mean, it's PIZZA. But while the people of San Francisco had to pseudo-suffer many years of truly mediocre pizza, that is SO not the case anymore. Maybe no one thinks of SF as a pizza town, but we're actually home to a lot of pizza places that are totally dominating these days. All of the places that nabbed a spot on this list are dedicated to serving up some of the tastiest pies we've ever eaten... including in New York.
North Beach
Apparently Tony Gemignani felt the 13 pizza styles available at Tony's Pizza Napoletana weren't enough, because a few years ago he opened Capo's, a nearby spot that specializes in authentic, Chicago-style pizza served on four types of crusts: deep dish, cast iron pan, stuffed, and cracker thin. Our favorite is the Italian Stallion (mozzarella, fontina, Italian beef, Chicago Italian sausage, horseradish cream sauce, chives, sweet peppers, and Romano), but we don't know how to choose between the deep dish and cast iron pan versions, so please don't make us. And while the pizza is enough to keep us coming back, it's worth mentioning that the exposed brick walls, curved red vinyl booths (each of which pays tribute to a Chicago mobster), tin ceiling, and functioning (!) 1930s phone booth gives Capo's a cool, old-school vibe that makes dining there a real experience. Oh, and one more thing you might be stoked on: there over 100 whiskies on the menu.
Marina and Financial District
A second Delarosa opened up in the Financial District last October, so now you don't have to trek all the way to Chestnut St to get your Roman-style pizza fix. The thin, crispy wood-fired pizza comes in the classic flavors you love (mmm, margherita with burrata), but the seasonal options are hard to resist. This is also the place to go for your late night pizza and cocktails fix: the downtown location is open 'til midnight, and the one in the Marina stays open until 1am.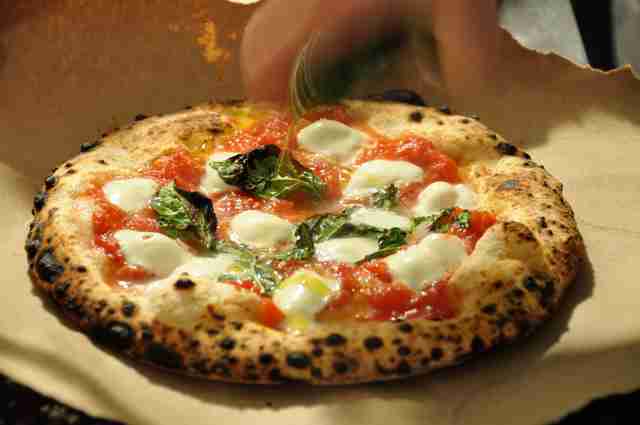 Lower Nob Hill
We first fell in love with Del Popolo's 20ft, glass-enclosed shipping container truck that houses a wood-fired oven, and though that love will never fade, we're pretty stoked that now we can get the Neapolitan-inspired pizza at the brick and mortar location almost any time we want (OK, anytime after 5:30pm). The wood-fired oven still takes center stage, and the pies -- with their blistered crust and creative toppings -- might even be better than what we first fell for. Our faves? The anchovy and the margherita never disappoint.
Mission
The fact that Flour + Water has been open since 2009 and it's STILL impossible to get a reservation before 9:30pm pretty much says everything you need to know. This place serves up thin-crust pizzas that are wood-fired in under two minutes. The toppings are seasonal and change daily, but the funghi is one we go back to again and again.
Western Addition and Mission
We weren't sure about putting two deep dish spots on this list, but Little Star's cornmeal crust is just so satisfying, there was no way we could omit this Bay Area favorite. Order the Brass Monkey even though it's not on the menu: it's the Little Star (spinach blended with ricotta and feta, mushrooms, onion, and garlic) with the addition of sausage. We're also big fans of the thin crust pizza; it's just hard to make ourselves order it when we know we could devour a deep dish pie instead.
Mission
The Neapolitan pizzas at Mozzeria are all cooked in a 5,000lb Stefano Ferrara oven in the center of the restaurant, so you can watch as your pies being prepared and cooked. There are traditional pizzas, but you want to go for one of the creative options instead: our current favorites are the Hosui Pear with pancetta and brie, and the Peking Duck. Oh, and NBD (actually huge deal), but Mozzeria is one of the only deaf-owned and operated restaurants in the country. No worries if you don't know sign language; you place your order using pen and paper.
Lower Pac Heights and Mission
There's always a crowd waiting for a table at both locations, but that's because this Neapolitan-inspired pizza is some of the best in SF. We're obsessed with the Clam Pie (yeah, that's right, CLAM on pizza), so we like to get that and a Napoletana (tomato, anchovies, capers, hot peppers, olives, oregano) to share... and a cannoli (not to share) for dessert.
Outer Richmond
There are only four tables at this tiny pizza spot, so try going there for lunch or at off-peak hours to get your crispy, thin-crust pizza fix. If you must eat when the masses do, you'll be offered blankets and drinks though, so the wait's really not that bad. The tomato, mozzarella, basil, and pepperoni pizza is consistently delicious, but we're really crazy about the rotating specials. Most recently, we had a pizza with farm egg, English peas, shiitake mushrooms, and truffled pecorino. That particular pie might not be available, but rest assured, everything that comes out of the kitchen is drool-worthy.
North Beach
Tony's is home of the 12-time World Pizza Champion, Tony Gemignani, which is probably all you really need to know. But since you made it this far, we'll also let you in on the fact that many of the ingredients are imported from Napoli, and there are seven different ovens because there are THIRTEEN types of pizzas: Neapolitan, Californian, Classic American, Classic Italian, Coal-Fired, New York, Sicilian, Roman, Detroit, St. Louis, Stout-Infused, Grandma, and, yes, even Gluten-Free, since that's a thing so many people are into these days. Obviously, you need to make it your life mission to eat every single type, but we suggest starting with the Coal Fired New Yorker (mozzarella, hand crushed tomato sauce, natural casing pepperoni, sliced Italian fennel sausage, Calabrese sausage, ricotta, chopped garlic, and oregano) and go from there.
SoMa
Una Pizza Napoletana is very San Francisco in a way that can annoy a lot of people. You can't make reservations. The hours are limited (Wednesday through Saturday only). When the dough is gone, the restaurant closes. And the only thing on the menu is pizza. No appetizers. No desserts. Just pizza. Not only do they only serve pizza, they only serve five kinds of pizza (unless it's Saturday, when they offer up the famous Apollonia, consisting of fresh eggs, Parmigiano-Reggiano, buffalo mozzarella, salami, extra virgin olive oil, fresh basil, fresh garlic, sea salt, and black pepper. And at $25 a pop, the prices are sky-high. Yet even with all that, this is still the pizza we find ourselves craving over and over. And over. If only that wait weren't so damn long...
Sign up here for our daily San Francisco email and be the first to get all the food/drink/fun SF has to offer.
Daisy Barringer is a writer from San Francisco; her elementary school cafeteria served slices from Village Pizzeria every Tuesday, which totally made up for the bagel and cream cheese they called "lunch" on Mondays. Follow her on Twitter @daisy.