If you don't think of SF as a pizza kind of place, it's probably because you're eating the wrong SF pizza. And we're here to fix that with this comprehensive guide to cheesy discs, complete with pizza stories from the last 365 days that'll fill you in on how, when, where, and why to eat pizza in the city.
The best SF pizzas, by 'hood
Let's face it, San Francisco has a lot of great pizza. Unfortunately, you'll never get to try most of it, because A) it's not all located right by your house, B) it's not all located right by your work, and C) you apparently refuse to go anywhere not by your house or work. THAT'S why we've decided to, at the very least, make sure you're eating the best pizza wherever you live/work, with this guide that breaks down the best pizza spot in every single SF 'hood (Okay, almost every SF 'hood... sorry Excelsior). READ MORE
It's after 2am. Here are the 15 places in SF that'll still deliver you food.
You just got home from last call, and now you're wondering how you're going to satisfy that sudden, UNDENIABLE craving for something greasy without leaving the comfort of your jammies and cued-up Love Actually. Well, have no fear, because we've compiled a list of all the places in the city that deliver after 2am (lots of pizza on here, yo), and conveniently included the only three things you need for each: their menu, their phone number, and how late they'll stop by your place (assuming it's not in Crocker-Amazon). READ MORE
The dude who made pizza in a modded Weber Grill outside dive bars? He got a restaurant.
The last time you saw the PizzaHacker, he was outside of a bar (probably Bloodhound), not-super-legally slinging some of SF's best pies from a jerry-rigged Weber Grill pizza oven he calls the "FrankenWeber". The next time you see the PizzaHacker? He'll be way-more-kinda-legally slinging (still!) some of SF's best pies from his very own namesake Mission slice-house. READ MORE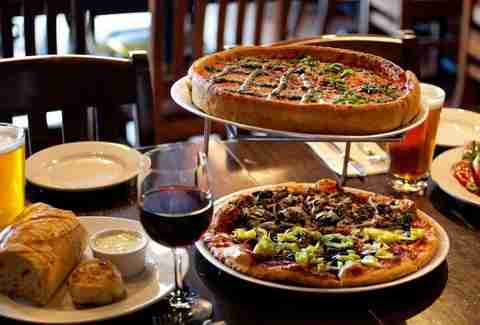 SF's 11 best under-the-radar pizza places
We've said it before (remember the first sentence of this piece?) and we'll say it again: SF is not known for its pizza, nor will it ever be known for its pizza. Still: there are some really good, fairly famous pies in the 7x7. These pies are not those pies. These pies are the pies that are really good, but that no one seems to talk about. Under-the-radar pizza, if you will.
And when we say under-the-radar, we mean they're hella under-the-radar, as in none of these spots have appeared on any of the most recent "Best SF Pizza Places" lists from SFist, Eater SF, Zagat, or even us. READ MORE
(Egg) Pizza Time!
Usually, having pizza for breakfast entails stale slices from a box on the floor accompanied by odd bruises you don't remember acquiring, and a new number in your phone saved as "giRl WITh tHE FaCe". Class up your morning pizza routine with Gioia Pizzeria's Brunch. READ MORE
Sign up here for our daily San Francisco email and be the first to get all the food/drink/fun SF has to offer.
Daisy Barringer is Thrillist's SF Editor and, though she finds absolutely nothing wrong with eating stale pizza for breakfast, she does prefer one with an egg. And a mimosa. Follow her on Twitter @daisy.