The Insider's Guide to Getting Lost in Oakland's Chinatown
From Vietnamese banh mi delis to Cantonese BBQ, fortune cookie factories, and more.
One of the oldest Chinatown districts in North America, Oakland Chinatown was a hub for new immigrants arriving from the Southern region of China in the mid-19th century. In later years, it became a place where refugees from Southeast Asia settled and started small businesses. Today, Oakland Chinatown is a diverse, intergenerational neighborhood that's nestled in the downtown core of the city, with 8th and Webster Street representing the neighborhood's central heartbeat, and loose boundaries of 12th Street to the north, Interstate 880 near 6th Street on the south, Broadway on the west, and Lake Merritt on the east. Less touristy than San Francisco's famous Chinatown, Oakland's version holds just as many culinary treasures.
But like Chinatowns across the country, Oakland's neighborhood suffered from a loss of business in the wake of anti-Asian prejudice and violence in 2020 and 2021. Compounded with a decline in business due to COVID, the community now needs support more than ever.
That's the mission of Cut Fruit Collective, founded by Daphne Wu and Maya Kulkarni during the pandemic to support Chinatowns in the Bay Area. "We hope we can inspire people to not fear, come together, and build a stronger community that can be resilient in the face of all these challenges," Wu says.
With international offerings, Oakland Chinatown is an ideal spot to ring in the Lunar New Year that begins on February 1, and is celebrated by many Asian cultures, including Chinese, Taiwanese, Korean, Vietnamese, and, Mongolian. Food represents an essential part of the holiday, with certain dishes representing luck and prosperity in the year to come. As we usher in the Year of the Tiger, below are some must-visit spots, from the oldest boba shop in the East Bay to banh mi sandwiches to Peking duck. The Oakland Asian Cultural Center will hold an in-person Lunar New Year celebration in Chinatown on February 6, with additional virtual events in February.
It should be noted that while many Chinatown restaurants stay open during major U.S. holidays, such as Christmas, some small mom-and-pop shops close for up to two weeks starting on Lunar New Year. Keep this in mind when visiting.
Cam Anh is a Vietnamese deli serving banh mi sandwiches on fresh-baked French bread with pickled daikon and carrots, and a protein filling of your choice. The deli opened following the closure of Cam Huong, one of the most beloved neighborhood staples that also served banh mi and hot dishes, which closed in 2018. Cam Anh serves a strong Vietnamese iced coffee, as well as hot dishes for takeout, many of which are vegetarian.
How to order: Walk in or order takeout by calling 510-451-4389.
This small restaurant with roasted duck and roasted pork hanging in the window invites you to try traditional Cantonese fare and barbecue, including Wonton and Egg Noodle Soup, Egg Fried Rice, and Rice Rolls filled with crunchy Chinese fried dough sticks (you tiao) or shrimp. This is where the mamas and the papas, the GongGongs and Waipos get their family meals. It's truly a hole-in-the-wall and a treasure trove for Cantonese food.
How to order: Walk in or call 510-268-1288 for takeout orders.
Shan Dong is one of the few restaurants in Oakland Chinatown focusing on Northern Chinese cuisine. Known for their handmade dumplings and knife-cut noodles, everything is made from scratch here. Charles, the second-generation owner who became involved in the family business while in college, is the smiling, friendly face that first greets customers. The restaurant has an extremely dedicated following, partially due to Charles' friendly personality, and the chewy texture of their doughy noodles and dumplings. The menu is a mix of American Chinese fare alongside more traditional Shan Dong dishes.
How to order: Walk in or call 510-839-2299 for takeout and local delivery.
This factory that's run by a mother and daughter pair is the oldest in the Bay Area and one of the few that still makes all of their fortune cookies entirely by hand. During Lunar New Year, they have special flavors and designs—think cookies dipped in red icing and covered with sprinkles. The special Year of the Tiger Lunar New Year sets are available through the end of February.
How to order: Order online for pick up or delivery anywhere in the continental U.S.
The tiny location is literally a window you order from and eat on the sidewalk or take to-go. They are known for Tian Jin-style Jian Bing, a crepe wrapped around a well-seasoned egg and scallion omelet and served with a savory, spicy sauce. Their tea eggs and wonton noodle soup, along with fresh soy milk, all satisfy a breakfast or lunch craving. While "dumplings" is in the restaurant's name, they no longer serve them. However, everything on their concise menu is worth a try.
How to order: Walk-ins only.
One of several Chinese bakeries in Oakland Chinatown, you know it's good because there's always a line out the door. Fill up one, two, or three pink cardboard boxes with fresh pastries—from pineapple buns, pork sung buns, fresh taro-filled buns, and egg tarts, to freshly baked and fluffy white bread toast. During the Mid-Autumn Moon Festival in the fall, the second major holiday in Chinatown after Lunar New Year, they sell many types of mooncakes filled with red bean, lotus seed, and more.
How to order: Walk-ins only and cash only.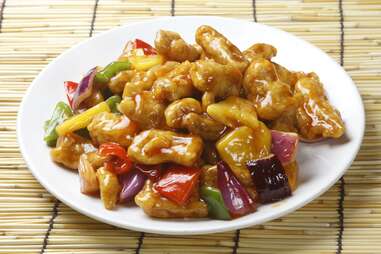 Peony's is the last remaining large-scale seafood banquet hall and dim sum restaurant left in Oakland Chinatown. It barely survived the pandemic, nearly shutting down until a local article put a spotlight on the business and enthusiastic community support allowed it to open once again. It was one of the first Oakland Chinatown restaurants to shut down when COVID first arrived. To see a bustling scene, order dim sum from carts on a weekend during brunch hours and see generations of families laughing and dining on chicken feet and ha gao together. For weddings and other special events, such as red egg and ginger parties (an infant's first month celebration in Chinese culture), book in advance. The restaurant's banquet menu includes more lavish fresh seafood dishes: Salt and Pepper Dungeness Crab, Maine Lobster Sashimi, and Whole Steamed Rock Cod are just a few of the standouts.
How to book: Walk in or call 510-286-8866 for large party reservations. Order online for takeout.
The local Bay Area lore is that Sweetheart Cafe was the first bubble tea shop to land in the East Bay in 1996. The small shop is both a boba store and Asian snack stand— think curry fish balls and chicken wings—and after-school snack vendor. Fun sidenote: if you play Pokemon Go, you get a discount. While many boba shops have proliferated in the neighborhood, the original one still stands strong. Try their traditional boba milk tea.
How to order: Walk in or order online for takeout.
This Hong Kong-style cafe has a mind-boggling, expansive menu and is also one of the only late-night venues in the area. On the menu, you'll find comforting, diner-style drinks and dishes such as Hong Kong milk tea, baked spaghetti, and Russian borscht soup. The baked spaghetti, served with either ground beef marinara sauce or seafood, hits the spot. They also serve fresh fruit smoothies and boba drinks, including some fun zodiac-themed beverages.
How to book: Walk in for indoor dining or order online for takeout.
The dessert outlet features all kinds of hot and cold desserts, such as Sticky Purple Rice with coconut milk and fresh mango, Sago desserts, and hot Black Sesame Paste Soup. They also sell Hong Kong-style egg waffles, with little ovals that you can break off and Lady M. crepe cakes by the slice or whole. While it's a haven for those with a sweet tooth, the fresh ingredients somehow leave you feeling like you ate a healthy dessert.
How to order: Walk in or call 510-922-8857 for takeout orders. Delivery via DoorDash.
If you need fresh seafood, this is the spot. A little hectic and always exciting, the popular fish market always has some kind of fresh crab, either from Oregon, local Bay Dungeness while they're in season, or green crabs from Vietnam. There are also many types of fresh fish and other crustaceans on offer. The parklet outside, added during the pandemic, has bins of fresh produce and fruit.
How to order: Walk in.
Yuen Hop is a fourth-generation, family-run Oakland business that has received city awards for its longevity and history. The market has many grocery items, dry goods, frozen foods, and canned goods—items you'd need to stock up your pantry or cook a good meal at home. However, they are most well-known for their 10-12 types of fresh egg noodles. The market opened in 1931 selling those noodles, fresh tofu, and bean sprouts. Today, they still sell fresh soy milk and dou hua (sweetened, soft tofu) that tastes exactly like what you'd find in Asia.
How to order: Walk in.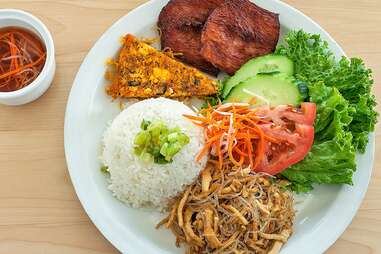 This restaurant with a plant-based, mostly Vietnamese menu is a top choice for mixed groups of vegetarian and omnivore diners. Dishes range from rice paper spring rolls wrapped around mint, cilantro, carrot, tofu, and jicama, to filling dishes that replace protein with faux meat. One example is their pho that's made with soy protein instead of beef and is so flavorful you'll hardly miss the real thing. The restaurant is on the border of Chinatown near downtown.
How to order: Walk in, order online, or delivery via DoorDash.
This Vietnamese restaurant is a popular lunch spot for people who work downtown, featuring broken rice dishes and roasted chicken. One special to try that is hard to find elsewhere is the crispy Whole Roasted Catfish. The fish should be ordered in advance, and comes with rice paper spring rolls that you can construct at the table yourself. The usual accouterments are included: rice noodles, carrots, cucumbers, mint, other herbs, and fresh lettuce, plus dipping sauces.
How to order: Walk in to dine in, call 510-893-8136 for takeout orders, or order delivery via Doordash, GrubHub, UberEats, Postmates.
Classic Guilin Rice Noodles was originally located in Oakland Chinatown proper and then relocated two blocks away on the outskirts of Chinatown. One of the only restaurants in the Bay Area serving this regional specialty from the Guilin province of China, their rice noodle dishes pack a flavorful punch. The classic noodles come with a bowl of dry rice noodles and toppings like barbecue pork and beef tripe, plus a side of bone broth to pour over the noodles. Other, more spicy dishes include rice noodles with spicy snails.
How to order: Walk in or order online for takeout.
Momo Chang is a freelance journalist based in the San Francisco Bay Area and the Co-Director of
Oakland Voices
. Her work focuses on healthcare, immigration, education, Asian American communities, food and culture. Follow her on Twitter
@momo_chang
and IG
@momo_chang
.