10 Reasons to Drive to Healdsburg, California
This picturesque town in Sonoma County is the perfect home base for wine country adventures, world-class dining, and luxury resorts.
Francis Ford Coppola Winery
Francis Ford Coppola Winery
Situated just 70 miles from San Francisco in the northern part of Sonoma County, Healdsburg serves as the meeting point of three famous valleys and their celebrated wines: Alexander Valley (cabernet sauvignon), Russian River Valley (pinot noir and chardonnay), and Dry Creek Valley (zinfandel and sauvignon blanc). The tasting opportunities alone would be enough to win our attention, but the town boasts more—world-class dining, four-star hotels, and vibrant culture—not to mention a location that overflows with day trip options.
From live music to mushroom foraging, here are 10 things to do in Healdsburg and its surrounding areas on your next weekend road trip:
Dine around the plaza
Healdsburg is home to a wealth of dining options, and several of them are situated on or right around the town's main plaza. Take, for example, The Matheson, a 15,000-square-foot, tri-level venue where chef Dustin Valette spins out elevated Californian cuisine in the dining room, and wood-fired small plates at Roof 106. Internationally acclaimed interior designer Cass Calder Smith helmed the venue's look and feel, and we're thankful—a large, open kitchen and chef's counter serve as a focal point for the space, with raw materials like white oak, stone, and leather offering a warm California welcome.
There's also his eponymous Valette, which the chef opened alongside his brother, and has risen to become one of the town's favorite intimate restaurants, with friendly service, locally sourced plates, and a boutique list of small-production wines. Keep those fine dining vibes going with a splurge at SingleThread, a three Michelin-starred venue featuring multi-course menus from chef Kyle Connaughton. The team's local farm informs much of the evening—situated in Dry Creek Valley, it boasts 24 acres and hundreds of different crops, ensuring ample inspiration from amuse bouche to mignardises.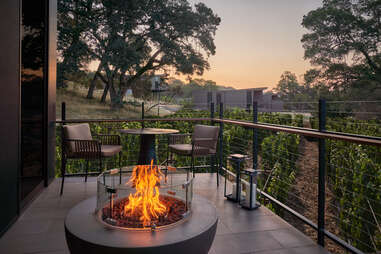 Check into a luxe new hotel
The Montage Healdsburg recently opened its doors, bringing with it 130 Bungalow-style guestrooms featuring floor-to-ceiling windows, marble bathrooms, and walk-in showers. The on-site restaurant Hazel Hill is destination-worthy—chef Jason Pringle excels in delivering Northern Californian cuisine with French influences, and honors the changing seasons in the process. Case in point with dishes like Chilled Pea Soup with morels and quinoa, Wild King Salmon with pumpernickel and sorrel, or Chou Farci with wild rice and cabbage. Don't miss dessert—with coffee gelee and cookies, the Hazelnut Semifreddo serves up a tour of textures.
Slightly closer to town guests will find The Madrona, a new boutique hotel spanning eight acres that was originally built as a private residence in 1881 during the Aesthetic Movement. Venerated interior designer Jay Jeffers handled the property's aesthetic, curating more than 200 antiques and relics from around the world while preserving original elements throughout the spaces (24 guest rooms in total). Come dinnertime, visit the restaurant, where Michelin-starred chef Jesse Mallgren serves seasonally inspired menus with global twists, featuring plates like Medjool Dates with togarashi and olive oil, Shishito Peppers with ginger and sesame, and oysters on the half shell with orange leaf mignonette. The drinks list is just as enticing, thanks to the Paxton Menu, a selection of rare and vintage spirits named after the property's original owners. Enjoy a round on the front porch or al-fresco patio, with views of the storybook gardens.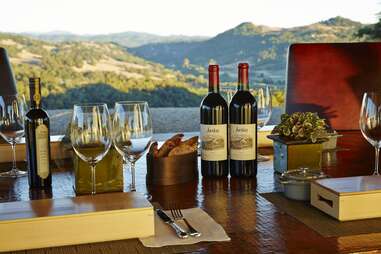 Visit a world-class winery
Healdsburg is home to several prominent wineries, most of which are available for tours, tastings, or both—and Jordan Vineyard & Winery would be an excellent place to start. Established in 1972, the vineyard and winery was inspired by France's great estates and their high-caliber service. Experience some of that hospitality here with a tasting of the team's chardonnay and cabernet sauvignon, all alongside hilltop views and pairings from the on-site garden. For the full experience, book the three-hour tour, which explores the entire estate and concludes with a thorough tasting of wines and the winery's home-grown olive oil.
Just a 10-minute drive away you'll find the Francis Ford Coppola Winery, an expansive, sleek hangout complete with a pool, bocce court, and movie relics galore. Order some plates to pair with a few of their offerings (they produce more than 40 wines here), then carry on to Reeve Wines, a majestic tasting room and patio surrounded by towering oaks and manzanitas. It's an equally solid souvenir stop—the team's small-batch and responsible farming approach is one you'll want to remember.
Or check out an in-town tasting room
While a visit to the vineyards is certainly in order around here, tasting rooms on the plaza offer an experience just as memorable. Check out Marine Layer, the manifestation of Baron Ziegler's longtime dream to create wines honoring the area's coastal influences (specifically, the Pacific's thick blanket of fog that rolls in on the regular). Settle into a gorgeous space replete with warm, earthy tones, and sample through the team's handiwork—mineral-driven, small-batch wines (with some bottles produced in quantities as small as 50 cases). Pair them up with a mezze plate, featuring rotating seasonal ingredients from local newcomer Little Saint. From there, meander just footsteps away to LIOCO, where husband-and-wife duo Matt and Sara Licklider share offerings produced from their winemaking cooperative in Santa Rosa. Expect a spotlight on chardonnay, pinot noir, and carignan—all of which are sourced from lots featuring older vines and heritage clones.
Support an animal sanctuary
Hang with some animals during your travels, all in the name of a good cause (and real good company). Take a day trip to Sunrise Horse Rescue, a nonprofit formed in 2007 to care for abused, neglected, and abandoned horses as a result of the economic crisis. Today, the team rescues and provides sanctuary for horses throughout the region, while educating the public about animal welfare and the benefits of equine-assisted learning and therapy. Book a tour to meet the herd, while also learning how you can become a "Hero for a Horse in Need" through donations and sponsorships. And if you're jonesing for more animal hang time, swing by Sindisa Sanctuary on your way back to town, where a team helps to provide forever homes for horses, mules, pigs, alpacas, cows, and donkeys.
Dine well while supporting diversity
If you have plans to head to the region real soon, be sure to check out J Vineyards & Winery for their "Shifting the Lens" dinner series, events aimed to spark conversation around equitable representation in the world of dining by spotlighting various culinary techniques and philosophies. NYC-based chef Shenarri "Greens" Freeman leads the dinners on the weekends of September 29-October 2 and October 6-9, bringing her plant-based, holistic approach to the table.
Forage for mushrooms—then dig in
The 'shroom-curious will do well to book a stay at Hotel Healdsburg, where the team heads up a two-hour foraging quest at Notre Vue Estate & Winery. In the process, discover what kinds of trees and terrain to seek out, how to vet your mushrooms, and tips to ensure success in your hunt. It all serves as helpful intel once back on property, where Dry Creek Kitchen will help to prepare a three-course meal featuring your foraged finds.
This restaurant-meets-performance venue opened on Earth Day—a fitting debut, as the team prioritizes plant-based offerings, based on their farms' ever-evolving inventory. Chefs Kyle and Katina Connaughton (of three Michelin-starred SingleThread) are behind the venue's food and drink programs, meaning that regardless of your order, you're in for something excellent (think Farro Verde with grilled corn or Red Lentil Hummus with harissa). The team works alongside Jenny Hess on the site's programming, a robust lineup which ranges to include wine tastings, book signings, and live music every Thursday night. Keep an eye on the calendar for upcoming shows, and whatever you end up catching, feel good about your purchase—proceeds benefit Saint Joseph's Arts Foundation, a non-profit supporting local creatives and arts communities.
Spend some time in Glen Ellen
Good food, wine, and history can all be found a short distance away from Healdsburg in Glen Ellen, once home to Jack London (author of Call of the Wild and White Fang). He made such a mark on the area, in fact, that visitors today can now explore the Jack London State Historic Park, the author's former ranch that lays claim to 1,400 acres and more than 26 miles of trails. After those kinds of aerobic efforts, kick back with a massage at Kenwood Inn & Spa, where several treatment rooms, two spacious spa cabanas, and private tubs (complete with vineyard views) await. Opt for the Valley of the Moon massage, a 50-minute service blending several techniques (e.g. Swedish, deep tissue, and lomi lomi), or the Ultimate Bliss massage, a customizable, 110-minute restorative treatment incorporating soothing aromatherapy oils. Linger onsite a while longer to enjoy the property's lush courtyards, fire pits, and fountains before making your way to dinner at the Fig Café, where chef Sondra Bernstein (of Sonoma's Girl and the Fig) puts forth seasonally driven French plates like Duck Confit with delicata squash or Beef Bourguignon with baby carrots.
Founded in 1978, this market is a treasure trove for those seeking the bounty of the region, thanks to a medley of fruits and vegetables, cheeses, honey, olive oil, bread, fish, and eggs (and a strong selection of cooked and packaged foods). But the draw here goes above and beyond shopping—the team makes a point of organizing events like cooking demos, live music, and produce-themed fun (think "Zucchini Races" and pumpkin carving contests).
Sign up here for our daily San Francisco email and be the first to get all the food/drink/fun SF has to offer.