San Francisco Beyond state politics, or the spectacular year-round climate, food is the talk of the town in Sacramento. With 1.5 million people now calling the Sacramento region home, and millions of acres of fertile farmland, the area's being touted as the nation's farm-to-fork capital -- and yet, it's still overshadowed by SF. Change is afoot, though, and these 16 restaurants are making their mark on the food world from Sacramento's small Downtown core. They are the city's best of the best.

R Street The name says it all: B&B is the tops in town for burgers, and arguably has the best craft beer selection in all of Sacramento (50 beers on tap). If you need a little help narrowing down the long list of options, the bacon jalapeño burger and spicy guacamole cheeseburger are the two most popular with the regulars. More Stuff You Will Like
Recommended Video
Tuna Eyeball with Timothy DeLaGhetto and Ben Sinclair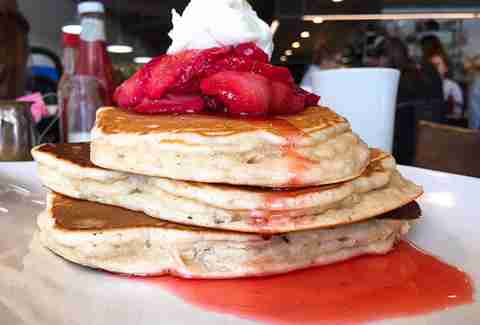 Tahoe Park Hands down, B&B has the best morning meal in the city. Chef Billy Zoellin's growing fan base flocks here daily for his heavenly Spring Hash and house-made Bloody Marys, as well as more unusual fare like strawberry & rhubarb flapjacks, or banh mi with eggs. Get there early, because you'll be waiting for a table to open up. Continue Reading
  Midtown Originally founded in the outlying town of Winters (about 50 miles from Sacramento), Buckhorn brought its country stylings to Midtown in 2007. This place just gets BBQ, start to finish, whether it's pork or beef or chicken. Grab a Feast for Two and head home (or to the hotel) to scarf it down -- or if you want to cook a little, order the Two Meat BBQ Combo to add to your spread. Either way, there's really not a bad dish on this meat-centric menu.
Best brunch: Zocalo
  Midtown Zocalo helped kickstart the rebirth of Midtown over a decade ago with its crazy cool vibe and South American culinary traditions. Bring a friend, and share the cochinita pibil (smoked pork shoulder that used to be an off-the-menu item until word got out) and a tacos de cazuela (a chili-like dish, arguably one of the best in Sacramento). Sunday mornings are incredible on the patio here, which is perfect for people watching on warm summer days.
  East Sacramento This 250sqft restaurant is probably the best kept secret in Sacramento -- except maybe not anymore, since we're telling you. The husband & wife team (chef and server) have lunch down to a science, with perfectly tossed salads, exquisite sandwiches, and fresh pastas filling out the menu. Get out of your comfort zone a bit with the smoked trout sandwich, or hunker down with the juicy, classic burger.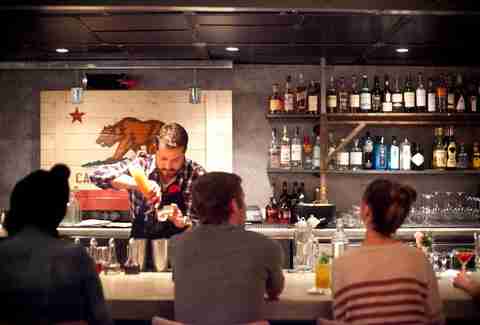 Midtown The late-night food scene leaves little to be desired in Sacramento, but Hook & Ladder is proof that quality needn't be compromised when chasing down some late-night eats -- it's even got an incredible cocktail program, to boot. Suggestion: get three small plates, like the trio of cheeses, the pickles & olives, and the house-made sausages.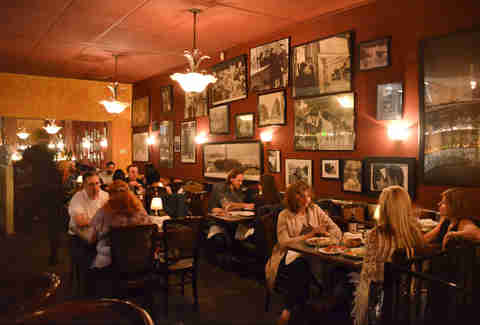 Best date spot: Moxie
  Midtown This dark, candlelit gem of a tiny restaurant (with seating for about 25) has served some of the best comfort food in Downtown for two decades. Don't bother looking at the menu on the table: you'll order off the daily menu that Adam (owner) will stop by the table to share. There are up to five fish entrees on the menu everyday, and sea bass is usually one of them. Get the seabass. Most entrees share the plate with the Moxie mashed potatoes and pickled red cabbage, both of which are spectacular. 
  Midtown Rick moved shop a couple years ago from a tiny hole-in-the-wall location on K Street to a new high profile location on J Street. The desserts have always been spectacular; only now, everyone knows about them. This nostalgic, throwback diner is worth the stop (and return), even if you have to tough out a long line at 10pm: there isn't a bad dessert on the menu, but the cheesecakes and the California Walnut pies are extra special.
Best vegetarian: Mother
  Downtown Meat eaters can be dismissive of Mother because it's strictly a vegetarian restaurant, but they don't know what they're talking about. Once people give it a shot, it's pretty easy to see that the flavors Chef Thiemann is producing are some of the best in the region. Order the chef's sampler: it's a culinary adventure of 10 hand-picked items that changes nightly. 
Best fine dining: Grange
Downtown Chef Oliver Ridgeway may just be the best in Sacramento, and the menu shows his creativity and commitment to local sourcing. Grange is on the ground floor of the Citizen Hotel, in a space that any architect would love. Food-wise, here's a solid approach to dinner: start with the farm lettuce salad, share the steak tartare with your dinner mate, and order the lamb shank with a side of butter ball potatoes as your main entree. Then run five miles in the morning to work it all off.   
Best sushi: Kru
  Midtown Each year a few "where the chefs are eating" lists circulate in Sacramento, and one of the perennial favorites is Kru. The chef-owner, Billy Ngo, is a total rockstar who focuses on technique, presentation, and the freshest ingredients. For sushi purists, the sashimi mix (chef's choice) is outstanding, but don't be afraid to break format and grab an order of the short ribs or pork belly.
  East Sacramento You can get a sandwich on just about any block in the Downtown area, but there's a reason Roxie has such a loyal following: the sandwiches here are big, juicy, meaty, fresh, and full of flavor. Slam that Roxie House down over a quick lunch, or sit on the patio and take your time with one of the five Italian-style sandwiches on the menu. Don't like meat? Go somewhere else. Sorry.
  Land Park The pizza competition has stiffened over the past few years in downtown, but Masullo offers a twist on traditional pizza, topping pies with anything from pestos to farm-fresh veggies, all using a chewy pizza dough that's unmatched. The setting is pretty chill, too, located just on the edge of Downtown in Land Park. 
Best cheap eats: Paesanos
  Midtown Paesanos shares one square block (Handle District) with 14 other restaurants, smack in the heart of the city. Pastas, pizzas, and sandwiches round out the menu, and the pork fusilli has been named the top "people's choice" dish at several local food festivals (don't be a wimp; get it with the habanero pesto).
Land Park This blue-collar joint has the best of both worlds: a great bar serving stiff (and cheap) drinks, and a restaurant that's packed to the gills everyday. The eponymous Jamie has been smoking meats here for as long as anyone can remember, and his renowned brisket and steak sandwiches are world class.
Best outdoor dining: Tower
Broadway Tower's eclectic interior décor sets it apart from nearby restaurants, but the canopy of Japanese maples, ferns, and palms on the patio makes it one of the best outdoor places to dine in all of Sacramento. The French toast here would make anyone's shortlist for best dishes in the city, and the Earth Burger with Thai glaze and pomme frites is a great option for lunch or dinner.
Sign up here for our daily San Francisco email and be the first to get all the food/drink/fun SF has to offer. Seann Rooney is a food and beer freak originally from the Bay Area and now based in Sacramento. He has organized festivals, hosted food events, consulted with restaurants, and written about food and beer for almost two decades. Follow him @RooneySeann.