Try These Local SF Meal Delivery Apps
There's a $5 billion industry dedicated to helping you decide what to eat for dinner by delivering meals and meal kits to your door. The booming market primarily serves up three kinds of services: those that deliver meals from restaurants; those that deliver already-prepared meals; and those that deliver ingredients and simple-to-follow directions so you can have the glory of whipping something up yourself.
Blue Apron and Plated are dominating the meal kit space, with competitors Chef'd and vegan Purple Carrot on their heels. In the Bay Area, Munchery is the go-to app for pre-cooked meals, which are prepared by local chefs with a varied weekly menu. But with the massive industry growth, it's no coincidence that some of the biggest names in the business have come under scrutiny for health and safety violations. Fortunately, there are enough local alternative operations to keep you fed throughout the week. Even Steph Curry's wife, Ayesha, is getting into the business with her soon-to-launch Gather.
Price: $9.95-$15.95/meal + $2.75 delivery fee
Sprig may be the biggest of the smaller-name services. The nearly three-year-old company allows you to order healthy and organic pre-made meals, which are delivered very quickly (about 30 minutes) within San Francisco. All the meals are made fresh and prepared in the company's kitchen, and include dishes like chipotle pulled pork burritos or braised beef with polenta. You can also add juices or desserts to your order. The packaging is marketed as compostable, if you're concerned your eating habits are contributing to landfills. Ordering can be done online, but the process is fastest and easiest via the app.
Price: $8-10/meal + tip + $5 delivery fee
Bento delivers what it sounds like: a sort of customized bento box, with your pick of a main dish and four sides. The food is Asian-inspired and prepared daily by chef Mattin Noblia — yes, from Top Chef Season 6. The company has made more than a few changes recently, though, adding compostable materials to its plentiful packaging earlier this year, then shutting down its on-demand app in the spring. But you can still order and have Bento delivered via Postmates within San Francisco and in certain parts of the East Bay.
Price: Varies, with free delivery over $60
Originally a delivery service for small farmers -- think bringing the farmers market to your door -- Good Eggs expanded rapidly in the last few years and got into the meal delivery business with Square. But Square's chef merged with Munchery and Good Eggs had to scale way (way) back at the end of last year. That doesn't mean you can't still order lots of local food, including ready-to-make and nearly ready-to-make meals. Instead of a bounty of farm-fresh groceries, think packaged lunches, soups, salads, wraps, curries, pastas, and brioche.
Price: $20-49/meal, depending on serving size + $70 minimum for free delivery
One of the few services based in Marin County, Jessie et Laurent is truly a small operation. That means it isn't necessarily cheap, nor does it utilize fancy technology -- you order via their website or just call their office. But the food is good, and isn't that what really counts? The husband-and-wife team makes main dishes and sides from local ingredients, and delivers four days a week. Expect classics like eggplant Parmigiana, Niman Ranch pot roast, and cranberry-apple pie. Order as many family-sized or single meals as you want for the week, at least two days in advance, then either heat the dishes or freeze them until you're ready to dig in.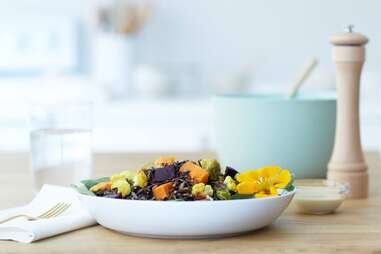 Price: $79-84/day
Sakara started out in New York and Los Angeles, but has finally moved to the Bay Area. Yes, it can feel a bit trendy (Gwyneth Paltrow and Chrissy Teigen are prominent fans), but that doesn't mean the plant-based organic meals aren't good for you. The only problem is you might not have as much money as Paltrow or Teigen. Each week includes breakfast, lunch, dinner, detox teas, and special water Monday through Friday. Expect to eat things like a protein bagel with cashew spread for breakfast, or turmeric-spiced eggplant with dressing for dinner.
Price: $8-20/item + $1.50 deposit/glass jar + $20 delivery fee
This worker-owned co-op is based in Berkeley, making it a nice change of pace from all the San Francisco- and Silicon Valley-centric companies. As expected, the food is all about sustainability and health. Each week features menu staples and some items that rotate. Adding to the cute/sustainable factor is that all soups, casseroles, chicken confits, stews, sauerkrauts, cheeses, and desserts come in Mason jars. Items note if they're vegetarian, vegan, or gluten-free. You can pick-up your orders weekly (or join a group pickup, which rotates pickup responsibility), but meals can also be delivered via a third party to the East Bay, San Francisco, and Marin for a fee. Return the glass jars for your deposit refund.
Price: $15/meal, with $60/week minimum + $4.99-$8.99 delivery fee, based on location and time
A high-end take on meal-kit delivery, Din drops off the ingredients and recipes you'll need for restaurant-quality meals at home. Then, it's only supposed to take 20 minutes for you to look like a brilliant cook when you serve up pumpkin risotto or coconut tilapia. Backed by chefs from high-end restaurants like Quince and with local restaurant partners, Din says its ingredients are sourced locally and recipes are tested to fine-tune the best quality. That means you'll be able to make dishes from Bar Tartine... without having to actually go to Bar Tartine. Your box comes once a week with everything packaged inside (some of which can be recycled or returned). Make the food then or store it for a few days.
Price: $11.50/meal + $5.99 delivery fee
Sun Basket is the meal-kit delivery service for those who want to bring the farm-to-table movement right to their doorstep. Backed by Justine Kelly, the chef at the famous Slanted Door, meals are crafted based on local, all-organic ingredients. Weekly menus include dishes like pan-seared chicken, steak with chimichurri and sweet potatoes, and coconut curry tofu. From that menu, you can choose gluten-free, vegan, vegetarian, or Paleo options. You can even see some of the farmers the companies works with listed on its website. Plus, your package shows up with mostly recyclable materials and some reusable plastic containers.
Sign up here for our daily San Francisco email and be the first to get all the food/drink/fun SF has to offer.
Kelly O'Mara has written about vegan delis, cancer-sniffing dogs, and Olympic athletes. Follow her to learn more about triathlons and food than you ever want to know @kellydomara.