As Charles Dickens once wrote, "It was the best of times, it was the worst of times... but mostly the best of times because a whole bunch of great new bars and restaurants opened in San Francisco this August." Couldn't have said it better ourselves, Chuck; here are the 10 best.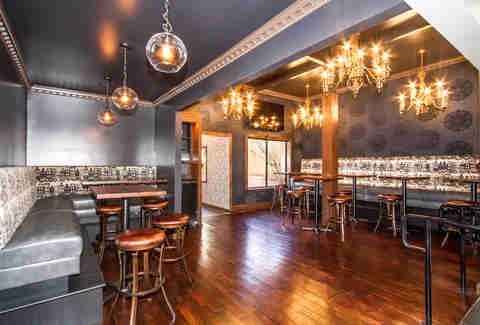 Marina
What you're getting: Charcuterie board
You'll feel like you're in a Victorian novel in this Marina newcomer, but thankfully won't have to eat or sip gross Victorian things. Instead Scotland Yard blends the best of Downton Abbey with contemporary San Francisco fare, local brews, and wines from boutique, low-production wineries. The charcuterie plate, served on a tree trunk that's been turned into a Lazy Susan, is something special (and a chef favorite) with chicken liver mousse and bacon jam on grilled toast, puffed beef tendon, bone marrow aioli, and an assortment of seven different pickles. If you're not into epic butcher shop specials (why are you not into this???), Executive Chef Jason Raffin also churns out fried lemon Brussels sprouts, a kale Caesar, and pan-seared seafood dumplings.

Mid-Market
What you're getting: Pitchers of margs! Steak fajitas! Pitchers of margs again!
Another Twitter building newcomer, this casual Tex-Mex bar and grill offers a nice mid-priced counterpoint to the plaza's higher-end Dirty Water and forthcoming Bon Marche. The menu pretty much nails the Tex-Mex thing with steak and chicken fajitas, quick-fried corn tacos, and $24 margarita pitchers that'll make this the plaza's go-to for casual happy hour/alllll-the-guac lunch.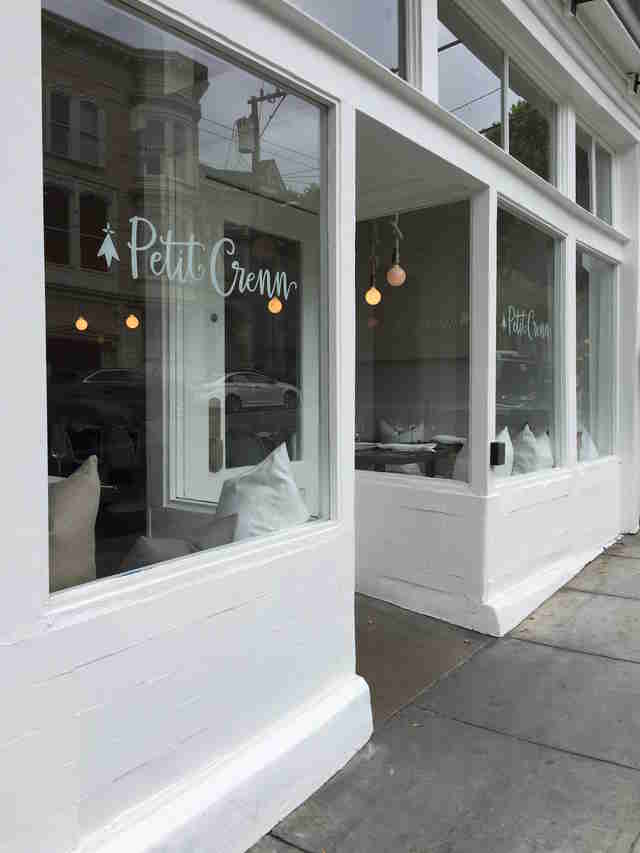 Hayes Valley
What you're getting: The family-style tasting menu
The latest concept from the award-winning chef that brought us the acclaimed Atelier Crenn forgoes poetry and meat for a more casual seafood and vegetarian offshoot in Hayes Valley. The food, inspired by Chef Dominique Crenn's childhood in Brittany, France, depends entirely on the best spoils from the farmers' market and seafood vendors that day, but you can expect items such as a whole fire-roasted trout, cauliflower gratin, Miyagi oysters, and escargot to appear during the five-course tasting menu. At $72 per person, it's a slight splurge that seems all the more worth it considering tip is included and the tiny dining room -- outfitted in pristine white and sea blue -- transports you to seaside France while rare ciders, served chilled in a mug, warm you inside and out.
Presidio
What you're getting: Mediterranean mussels and a Flanders red ale
The city gets another beer-focused barstaurant with this Presidio newcomer where Master Cicerone Nicole Erny has armed the bar with 99 beers (24 on tap, 75 in bottles), which range from lower-alcohol "session beers," to hoppy IPAs, to Belgians. Somehow the menu is still super approachable, organized by style and whether it's "easy," "exciting," or "fun" (O...K...) making it easy to try something new. Food-wise, you'll find dishes that utilize some of those beers like the duck liver mousse with a red ale gelee or mussels in a HenHouse saison broth. Oh, and in case you're allergic to beer (good God man, get that checked out by a doctor stat), there are plenty of non-beer-incorporating things like heirloom tomatoes with summer corn and burrata, 10 wines on tap (plus 30 more by the bottle), spirits, and cocktails.
SOMA
What you're getting: Prosciutto-wrapped prosciutto with sauerkraut, bread crumbs, and strawberry mustard to eat and the porcini Negroni
This tavern complete with copper finishes, pendant lighting, warm mahogany accents, and the requisite Edison bulbs makes for a stylish, lively place to sip creative cocktails (porcini-infused gin, anyone?) and chow down on the likes of grilled chicken breast with farro risotto, grilled green cabbage, and Meyer lemon relish or a seasonal tart with goat cheese, English peas, mushrooms, and quinoa. The money seat here is the chef's counter near the open kitchen, while the large high-top communal table in the center offers the perfect setting to stoke conversation among masculine accents and reclaimed wood.

North Beach
What you're getting: Prairie Bomb!, a barrel-aged stout on draft
You know Noc Noc on Haight? The Tim Burton-esque bar you stop at when you're wiggle bar-crawling? Well it's opened a similarly funky offshoot in North Beach. This time you'll be sipping on rare bottles of beer, sake, and wine while going on a trippy space journey through cosmic galaxies and hieroglyphics thanks to artist Dela (just Dela) who's still putting the finishing touches on the muraled ceiling. Finished space mural or not, though, you're likely going here for the beer -- and the selection is impressive, including brewery-only releases that will be part of beer club flights. Other highlights include an alcoholic root beer, a whiskey barrel-aged sour beer from Kansas City, and a Tundra triple IPA from Fieldwork that's reminiscent of Pliny the Elder. By the end of the month, it'll have small plates as well, like hummus & pita and pretzels from the East Bay's Salt Point Pretzel Company.
Civic Center
What you're getting: Cold-smoked salmon pastrami
This former food truck found a permanent home in Civic Center, where it sits part-market, part-eatery, and promises to be a one-stop shop for "Northern Californian comfort food." Expect sustainable seafood, salads, sandwiches, and wine for lunch and dinner in a fast-casual setting with everything, including the sandwich rolls, made in-house from scratch.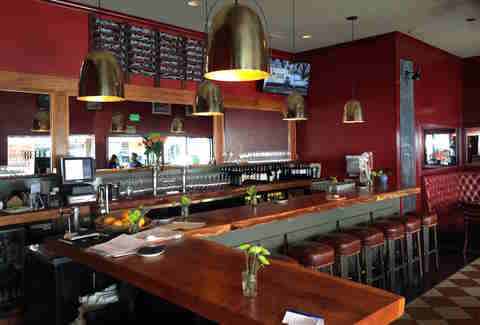 North Beach
What you're getting: The Bavarian pretzel, but only if you dip it into the house-made mac & cheese sauce with abandon
Hello, favorite new casual date spot/neighborhood brunch joint/late-night snack place. This cozy North Beach wine bar is aiming to be your regular hangout and it's off to a good start with well-priced, interesting wines and beer, plus shared plates that make for a relaxed, casual experience. Come back at the end of a Saturday night when the line is out the door at Golden Boy Pizza across the street and grab a pretzel that's fresh off the plane from Munich. Then spend the night on your stool/go home and come back the next morning for bottomless mimosa brunch, French toast bites, and corned beef hash.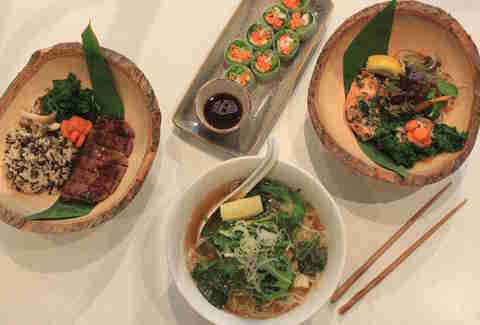 SOMA
What you're getting: Wafu chicken noodle soup
Another super-healthy fast-casual spot hit SOMA last week, giving the Zynga crowd new reason to leave the cafeterias. The name of the game here is simple, wholesome Asian food, which translates to organic salad rolls with four sauce options for dipping, soba noodles and rice bowls, and nourishing Wafu chicken noodle soup -- all gluten free, organic, and easy on the waistline. Definitely layer on the house-made Sriracha to give everything an extra kick.

SOMA
What you're getting: Nautilus hibiscus saison
Yet another place to come get a beer education, this new German-style brewhaus from a group that includes one of the Pac Brew Lab founders (they've got Squid Ink IPA and Nautilus hibiscus saison on tap!) produces barrels of kölsch, Oktoberfest, Sacre Bleu blueberry wit, and Jaded Raver English ale. The tasting room itself is something special, made entirely of 100-year-old lumber from old Pier 39 and reclaimed redwood. The best part might be the outlets at almost every seat that invite you to get some work done (hahahahahahaha... right) over ales and lagers.
Sign up here for our daily San Francisco email and be the first to get all the food/drink/fun SF has to offer.
Amy Copperman is a regular contributor at Thrillist. Find out where she's drinking beer on Twitter.