The great thing about the Ferry Building? So many options!!! The kinda frustrating thing about the Ferry Building? Jesus, so many options. Helping you navigate the three dozen-ish places to get food inside, this list of the 15 best eats, from Scuffins to pork-wrapped pork.
(Oh, and do note that very worthy market sellers 4505 Meats, Namu, and Wise Sons weren't included because they have real brick-and-mortar spots elsewhere in the city with more options and demand for your mealtime attention. Eat there, too, though.)
What you're getting: Olive bread
Acme's bread display is a downright yeasty Wonka factory of fougasse, levain, and -- in our opinion -- our fair city's premier sourdough (though many believe it's not sour ENOUGH). The move, though, is somehow not the sourdough but instead the olive, based off the whole wheat levain with plenty of not-salty green olives. Grab a kids-sized olive roll and you'll waltz away only 95 cents poorer. Not bad for the best bread outside of 18th and Guerrero.
What you're getting: Liège Belgian waffles
The Gibraltar is so amaz.. okay, you don't need us to tell you about the worst-kept secret drink in the Bay Area. And sure, you'll be getting ground coffee beans in some drink form at the kiosk with the most relentless wait in the city, but you should also be getting its Liège Belgian waffles -- brioche dough slicked with caramelized sugar. Dunking: optional.
What you're getting: Salumi Cone
It is as it sounds. A conical takeout container filled with the salumi of your piggy dreams. How is it different than a salumi platter? Because it's in a cone. And eating out of a cone makes everything so, so much better.

What you're getting: Mezze
Literally anything from 1) Amaryll Schwertner's Boulibar menu, 2) her Boulettes Larder brunch (which should be the official version of the city's official meal), and 3) the baked goods from the Boulettes Larder kiosk could make this list. But pull up a chair, order a cocktail, and munch on the mezze with warm, fresh pita. The hummus is slick with olive oil and dusted with the always-alluring za'atar, there's a feta tzatziki spruced up with dill and cucumber slices, and there's a chili-forward pickled carrot relish with a strong dose of roasted sesame seeds. This is how every meal should open.
What you're getting: San Francisco Lox Sandwich
Even better than its URL, Cap'n Mike's Holy Smoke's red king salmon lox is served over cream cheese-smothered Acme sourdough bread, garnished with some cucumber, fennel, dill, capers, and roasted red peppers. Of course you're also taking home some smoked salmon candy for sandwiches of your own at home since Cap'n Mike's only sidles up to the pier on Saturdays.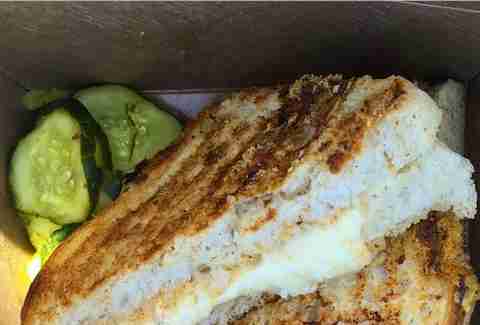 What you're getting: Grilled cheese sandwich
Cowgirl Creamery might be California's most important cheesemaker, which makes its grilled cheese one of California's most important, too. Usually you'll get three cheeses in there (it's on a rotating sandwich menu, which means it isn't always the same), but even if you don't, you can't lose. Because: grilled cheese. Oh, and get a small side tomato soup for dunking. As if we needed to tell you that.
What you're getting: Dulce de leche alfajores
Whether you go savory with chicken, raisins, and green olives, or go the regal sweet route with banana and dulce de leche, just make sure you also go the alfajores route, because on it, you'll encounter a little three-bite biscuit cookie sandwich with dulce de leche that is a powerful combination of sweet-salty-sticky. Oh, and El Porteño isn't the easiest to find, since the kiosk is the size of an alfajor -- just look for Sur La Table, it's right by it.
What you're getting: The Scuffin
There's the whole "farm-to-table" movement in the Bay Area -- which used to be a precious novelty, but now even the likes of Pizza Hut is on the farm wagon band wagon. Then there's really, truly, the "farm-to-its-own-café-table" movement, where you can basically count on one hand the options. Frog Hollow would be one of them. Stock up on jams and fruits and vegetables in season. Linger with avocado toast or pizza for lunch. Finally, and most importantly, the Scuffin. Scone. Muffin. Together. Peach filling at the moment because remember, it's a farm and season place. It doesn't yet have the fame of cruffins, Cronuts, puffins, and whatever, which is totally fine by us.
What you're getting: Oysters Rockefeller
As good as its grilled cheese sandwich with aforementioned Cowgirl Creamery's fromage blanc is (and it's REALLY GOOD), we know why everyone is here: oysters on the half shell. A superb oyster chowder that blows clams out of the water. An oyster po-boy. And the heavy hitter draped in spinach, onions, Pernod, and (lots of) cream -- the grilled oysters Rockefeller. Remember, as the saying goes, the world is your oyster... or is it life is an oyster? We don't know. Just add a spritz of lemon and slurp.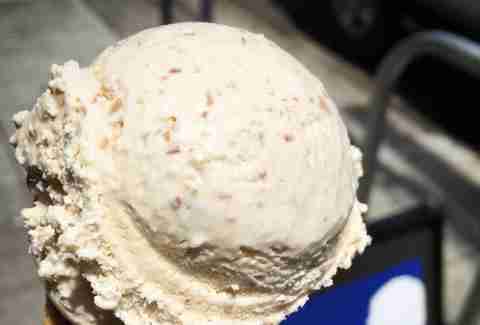 What you're getting: Scoop of Peanut Butter Curry
Not a secret: Secret Breakfast is incredibly Overrated. Capital O. Secret: the ever-creative ice cream mind of Jake Godby rarely lets you down, and the best flavor almost always on the list is Peanut Butter Curry. Peanut butter with a spicy, almost vicious edge. The switch from Ciao Bella Gelato to Humphry Slocombe last year was like Erick Dampier to Andrew Bogut. Major upgrade.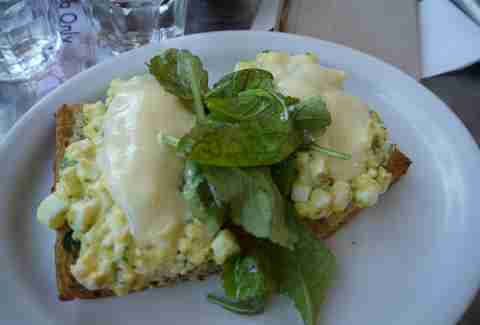 What you're getting: Petaluma Farms Warm Egg Salad Sandwich
Lauren Kiino put those two forlorn items (egg salad and roasted chicken) in the spotlight after opening this stand -- and it remains a standard bearer citywide. The egg salad sandwich is nothing short of ridiculous and a lot of that has to do with anchovy butter. And the aged Provolone. And the Acme focaccia.

What you're getting: Pork tamale
The discussions about the "best" burritos, tacos, and margaritas never end in San Francisco. What about tamales? Well, there's far less to discuss considering the discussion ends rather abruptly here with this longtime Sonoma-based vendor. The only decision really is do you go with the pork filling or equally strong butternut squash? Just a heads up: Primavera's stand only sets up Saturdays on the Bay side of the building.
What you're getting: Porchetta sandwich
The Roli Roti truck's rotisserie spins spears of porchetta on Thursdays and Saturdays along the Embarcadero outside the Ferry Building that make their way into sandwiches that are sort of the symbol of the whole worldwide swine popularity movement. A shimmering splendor of roasted pork tenderloin stuffed with a host of joyous herbs and spices, all wrapped in pork belly -- the ultimate gift wrap. Pork and chicken juices get absorbed by the potatoes below -- the rare potatoes side dish that is a required order.
What you're getting: Slanted Door Spring Rolls
The hard part of The Slanted Door experience isn't getting in (just pay $20 on Table 8 -- it almost always has a free table for four at 7:30pm the day of). The hard part of The Slanted Door experience is actually narrowing down what in the world to order. The extensively hyped Shaking Beef and Crab Cellophane Noodles do grace every table for a reason, but start with the most important item: spring rolls. Wrapped in almost translucent rice paper, they're a refreshing, riveting punch of shrimp, pork, and probably an entire bunch of mint leaves. And they're not fried (NOT fried!). Word to the wise: guard the peanut dipping sauce with your life.
What you're getting: Salty Honey Walnut pie
If you want pie, you'll want to be here Saturday morning, and you'll get the Salty Honey Walnut version that manages to out-sugar typical pecan pie much to your dentist's delight. When the leaves start falling, this is the name to know for pumpkin- and apple-themed pies that are far better than your attempts at lattice crust-topped endeavors.

Sign up here for our daily San Francisco email and be the first to get all the food/drink/fun SF has to offer.

Trevor Felch is a restaurants writer for SF Weekly and contributing editor for Vino 24/7. He has never been on a ferry that departs from the Ferry Building, but has been sea sick on a rough ferry crossing between Finland and Estonia. Follow him on Twitter @TrevorFelch.