SF Restaurant Week -- the annual celebration of our city's prosperous dining community -- is back!
From January 22 through 31, nearly 130 SF restaurants will offer special prix fixe menus as a way to get new diners in, as well as to celebrate loyal patrons. This year, there are four price points: a two-course lunch for either $15 or $25, and a three-course dinner for either $40 or $65. While tax, gratuity, and in many instances, beverages, aren't included in the price, it's still a great way to visit restaurants you may not typically be able to afford, or just haven't thought to go to in a while.
Not sure how to pick which restaurants to visit? No problem. We took a look at almost all of the menus and found 10 participating restaurants (that's one for each day!) where you'll not only enjoy amazing dishes, but also get some of the best bargains in San Francisco.
Now hurry up and make those reservations!
Recommended Video
This Burrito Is Wrapped in a Cheesy Shell
Mission
Hog & Rocks is pulling out all of the stops for Restaurant Week with a five-course "Barrel Bourbon Dinner" that includes cocktail pairings for just $65. There aren't any decisions to make with this menu, but who needs options when there are dishes like oysters on the half shell paired with a Buffalo Nickel, fried chicken paired with a Mission Manhattan, and a Southern pecan pie bar paired with your choice of featured bourbons neat or on the rocks?
Marina
This old school, casual steakhouse is serving a three-course dinner with three options for each course, and it will only cost you $40. This means if you order the most expensive option for each course, you'll save $20. And just so you don't have to do the work on that, those would be the roasted skillet mussels, Izzy's cioppino, and any of the desserts -- though if it were us, we'd go with the New York-style cheesecake. Other dishes include fried oysters, an 8-ounce blackened prime rib with creamed spinach and potatoes, and a lentil shepherd's pie.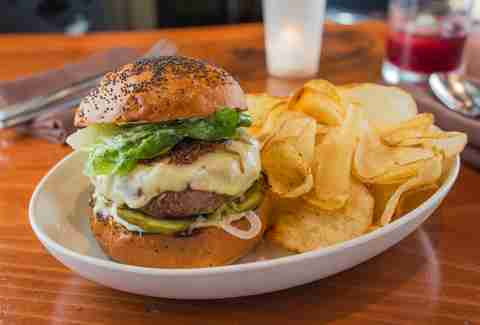 Lower Haight
Maven is a must during Restaurant Week for cocktail lovers because two of the three courses come with cocktail pairings, which would cost $26 on their own. Considering the entire meal is only $40, that's an amazing bargain. Dishes include baby greens with a Corpse Reviver #598 or Chinatown sliders with a 5 Spot, mushroom cavatelli with a Venetian Sour, or Maven's Burger with a Mr. Wiggles, as well as a chocolate mousse or Irish Lullaby. If you're aiming for the maximum savings, opt for the duck and pork belly sliders, the mushroom pasta, and either of the desserts. If you ordered that on a regular night, it would cost $70. That being said, it's hard to resist that $17 burger, which is one of the best in SF.
Hayes Valley
This jazz club that serves food from Hazel Southern Bar & Kitchen is always a great date spot, but it's even better during Restaurant Week because the savings are amazing. Each of the first two courses comes with cocktail pairings, and the food is also easy to share, so you can get one of everything. The food is Southern (obviously), so you'll choose between things like collard green dumplings, chicken and waffles, and key lime pie. The cocktails also have a Southern flare -- think Sazeracs and boulevardiers. Dinner is $40 for three courses with two choices for each course, and considering that includes two $13 cocktails, you'll definitely come out ahead.
Nob Hill
This art deco steakhouse on Nob Hill is worth dining at any time of year just for the skillet-roasted chorizo cheese bread, but it's especially worth dining at during Restaurant Week when $65 will get you a four-course meal that includes a Caesar salad, 8-ounce petite filet mignon, twice-baked potato with bacon, chives, zucchini, and cheese, French vanilla panna cotta, and, of course, some of that chorizo cheese bread for the table. All of that would cost you $80 if you were paying full price.
Financial District
The two-course $25 lunch at this Japanese steak, seafood, and sushi restaurant isn't much of a deal (you'll only save $3), so skip that and go for the $65 four-course dinner instead where you can save up to $50 on your meal. The menu includes a few choices, including a yellowtail sashimi appetizer, chef's sashimi selection (five kinds), and a 6-ounce wagyu sirloin. Dessert is a warm Valrhona chocolate cake with almond caramel and vanilla ice cream. This is one of the best deals of the week, which means reservations will probably fill up fast.
Dogpatch
If you choose to eat dinner at Serpentine during Restaurant Week, your biggest dilemma is going to be choosing each course. That's what happens when the dishes are things like country ham and buttermilk biscuits with pimento cheese and pickled jalapeño, slow-cooked beef shank, and warm brandy brioche bread pudding. Dinner is $45 for three courses, plus a pickles & veggies amuse. Depending on how you order (beef shank is usually $28 while the Southern dumplings are $22), you'll save around $15 on your dinner.
Presidio Heights
If Spruce is good enough for Obama when he comes to town, it's definitely good enough for you. And now, thanks to the $25 three-course lunch during Restaurant Week, you can actually afford to eat there. There are two options each for the appetizer and main, but the cauliflower velouté and the Spruce burger are the way to go. Sure, the crispy duck leg confit is $8 more than the $20 burger, which means you'll be making a dubious financial decision, but that burger is so good, it's hard to pass up any opportunity to eat it. Dessert is a chocolate mousse cake with butterscotch and chicory ice cream, so maybe schedule a nap after this meal.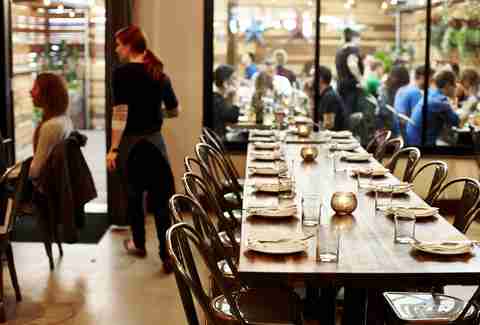 Castro
Starbelly is serving up a three-course $15 (!) lunch Monday through Friday during Restaurant Week. For the starter, you'll choose between chicken liver pâté with buttered bread, the Starbelly salad, or butternut squash soup. There are two options for the main: a fried chicken po-boy or a mixed Mediterranean plate. And for dessert, you'll enjoy a salted caramel pot de crème with a cornmeal-rosemary cookie. Go for the pâté and the Mediterranean plate, and you'll save nearly $20.
SoMa
This is the second spot on the list where Obama has dined, and although nothing he ordered is available on this three-course $40 dinner menu, it's still worth checking out. The first course is a choice of ahi tuna tartare, wild mushroom ravioli, and local caviar and blinis, although before you get too stoked about that caviar situation, you should know there's a $10 supplement. For the main course, the choices are a market vegetable maltagliati, grilled prawns, or a grilled filet mignon -- the latter will cost you $16 extra. Dessert is a choice between lime posset and a salted caramel swirled brownie with mint chocolate chip ice cream, and while we'd normally say get one of each... those brownies sound really, really good. Make the right choices without ordering any of the dishes that require supplements, and you can save $23 on your dinner.
Still haven't' had your fill? Check out our list of the best restaurants in SF right now and feed more than your curiosity.
Sign up here for our daily San Francisco email and be the first to get all the food/drink/fun SF has to offer.