These are the 6 best sandwiches in SF. You should eat them.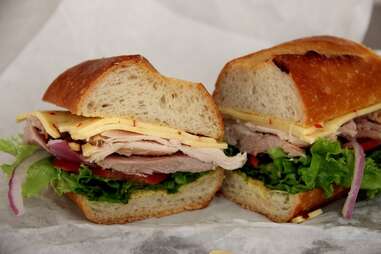 Roast Turkey Sandwich, Arguello Market
Inner Richmond
Probably the sandwich on this list most likely to make you say "Huuuuuuh? Na-nah na-nah (na-nah na-nah)", this turkey sando is made from birds roasted on-site with layers of light and dark meat, lettuce, tomato, and pickles... PLUS added pepper jack and avocado. It's like everything a regular turkey sandwich wishes it could be.
Menage a Trois BBQ, Ike's Place
Castro
If the line out the door or their app designed specifically for ordering sandwiches didn't already tell you, Ike's has some of the best sandos in the city, and the real champion has to be the perfect combo of three cheeses (cheddar, pepper jack, Swiss), chicken, and three sauces (honey mustard, real honey, and dirty)... which is exactly how you feel after a non-sandwich Menage a Trois.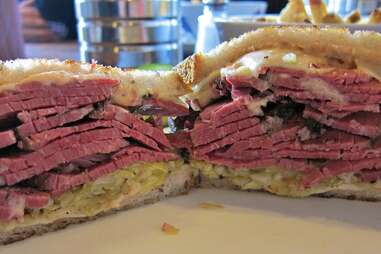 Pastrami Reuben, Wise Sons
The Mission, SOMA
This reuben with homemade pastrami is the best one you will get outside of New York City. And also in parts of New York City (mostly the Chinatown ones).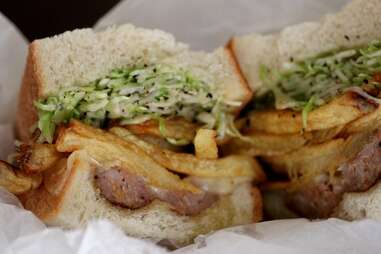 Hot Italian Sausage All-in-One, Giordano Bro's
The Mission, North Beach
Sure, this might not be the most high-end sandwich on the list, but if you're watching a game, you really can't go wrong with basically an entire meal in a sandwich. This guy consists of sausage, olive oil & vinegar slaw, Provolone cheese, and French fries. Yeah, that's right, French fries.
Santa Maria Tri-Tip Steak Sandwich, Memphis Minnie's
Lower Haight
Aside from the fact that they've probably got the nicest cashier in the city, Memphis Minnie's also demonstrates that sometimes you don't need a lot of extras to make something great, as evidenced by the absolutely delicious tri-tip steak sammy, which you can pair with their South Carolina (mustard-based) BBQ sauce... if you must mess with perfect simplicity.
Pastrami, Darwin Cafe
SOMA
This semi-hidden SOMA gem (that we keep writing about and unhiding) has a rotating list of sandwiches, so you might not always be able to grab one. But when you get the chance, don't miss out on this pastrami with German potato salad, house-made pickles, Dijon, and Swiss, because this is seriously something worth waiting in their 30-minute line for.