The 14 best Thai restaurants in the Bay Area
Later this month, Lopburi, Thailand will host the 25th anniversary of one of the world's great events: the Monkey Buffet Festival, wherein monkeys are served a massive buffet in front of an ancient temple. Yup. Based on the way the monkeys stuff their faces, it's clear that they know one thing we've also learned here, half a world away: Thai food is awesome. Lucky for us, it's also plentiful in the Bay Area. Here are the 14 best spots to get it:
Inner Richmond
Most of the spots on this list are either one step up from being gritty or trying to be so night-club cool you expect your khao soi to break dance to a techno beat. Amphawa Thai Noodle House in the Inner Richmond finds that sacred common ground in the middle as just a plain, comfortable restaurant that happens to serve you a superb version of chicken wings called "Angel Wings" and the ultimate noodle stir-fry plate, pad kee-mao. Start with the yum pla muk -- tender marinated squid in a salad/raw seafood concoction that makes ceviche be all like, "bro, why you play me like that?".

Novato
There are "no vatoes in Novato" as radio guy Chuy Gomez likes to say, but there is a destination-worthy Thai stalwart hot enough to be in the FiDi instead of a North Bay business park. Not to be mistaken with Arun's in Chicago, which quite possibly is THE most famous Thai restaurant in all of the US, Arun Thai is well worth the Golden Gate toll.
Spicy roasted duck in a powerful basil sauce is a must and the pad Thai here -- which gets a bad reputation from lesser purveyors -- will show you how the use of real tamarind and palm sugar gives the poor bastardized icon new life. Also a must: their signature drunken noodles -- a dreamy, relentlessly bold carb, spice, and meat marriage. Oh, and Arun used to be a sommelier with the Mandarin Oriental in San Francisco (hint hint, get wine).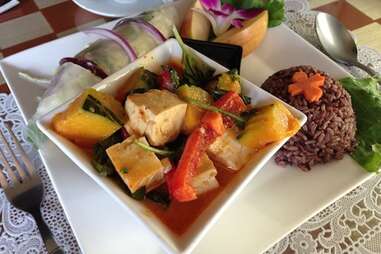 Marina
Thai in the Marina -- doesn't that just scream sake bombs with sugary pad thai? Yes, Benjarong Thai Cuisine is mere steps from the Pilates-meets-frat house zones on Chestnut and Union, but it's really a world away from all of that, though it does have a bar with lychee martinis. It's a calm, almost prim-and-proper tea salon-evoking room, serving the best pumpkin curry in the city (no, it's nothing like a pumpkin spice latte). Take advantage of the lunchtime deal with a range of curry options preceded by refreshing rice paper-wrapped spring rolls bursting with mint, all for under $10. Score.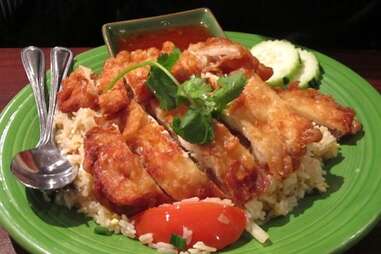 Outer Sunset
Nestled just below Golden Gate Park, the bright green awning-covered Chabaa boasts a regular menu that's traditional and fine, but you want to order from the worst-kept secret menu in the city: a menu they'll hand you that says "secret menu". What Mr. Bean is to secret agents, this is to secret menus. It's a two-page sheet of Isaan Northeastern Thai specialties, one more fiery than the next. Most important is the pork neck, with the fatty juiciness of a belly and full-bodied flavor of a chop, cut into morsels and served nam tok-style -- dressed in spicy lime and brushed with crushed toasted rice, onions, those pesky microscopic-yet-powerful Thai chilies, and enough mint for a dozen Derby juleps. There's also a Union Square outpost with no secret menu. Or is there???
Outer Richmond
Long before the Bay Area knew about mixology or anything about Thai food, Khan Toke Thai House and its next-door Geary neighbor, Tommy's, the holy grail of tequila snobs, were showing those in the know what real gai yang (barbecued chicken with honey sauce) and margaritas with freshly squeezed lime juice are all about. And they're still schooling the younger crowd decades later.
After taking your shoes off upon entry, brace yourself for intense yellow curry and the always-fun-to-construct meing com (basically lettuce wrap tacos filled with dried shrimp, among other ingredients). Serving up classic, the-way-it-was-and-should-be Thai cooking, there's nothing avant-garde about Khan Toke. It's the Tadich Grill of SF's Thai establishments.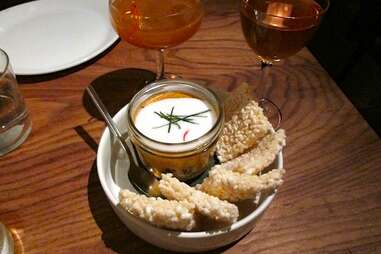 Tenderloin/Union Square
Kin Khao isn't just another Tenderloin Thai spot. In fact, it's the most ambitious Thai opening ever in the Bay Area. Pim Techamuanvivit -- of the incomparable Bi-Rite darling Chez Pim jams -- and Manresa's former chef de cuisine Michael Gaines are behind it. Big expectations. Fulfilled.
The kao mun gai features the single best taste on this list: a profound chicken consommé that will solve your sniffles and brighten your Tenderloin walk home. Kinda. The other two dishes to know: five-alarm spiced chicken wings and green curry with rabbit, which proves that rabbit doesn't taste like chicken (and is also so much better than chicken). Plus, cocktails from the Trick Dog gents (get the Kem Kon).
Livermore
When you think of Livermore, you think of windmills and the hottest temperatures in the Bay Area. And that's it. How very unfair to this not-so-boring 'burb which should also be known as the home to Lanna Thai, an ode to the chef's native Southern Thailand where the dishes are much brighter and lean more towards the sea and spice over Northern Thailand's herbs and forest focus.
Hit up the rare-to-find choices like Southern roti flatbread and turmeric-based Southern curry (turmeric is a super root, you'll be glowing and virtuous after!). Lanna has a fun side too, including Thai poutine (Thai poutine!) and non-alcoholic dumpling shooters (dumpling shooters!). Also: no relation here to Lanna Thai in San Jose or San Francisco. Don't be lazy, make the drive.
Tenderloin, Hayes Valley, The Mission
What SriPraPhai did for New York, Little Serow for DC, and Pok Pok for Portland (and now conquering the world from New York to LA), Tom Silargorn did for our fair city when Lers Ros opened a few years ago in the heart of the Tenderloin. He not only made Thai cuisine relevant but opened our minds to the cuisine's kaleidoscope of spices and proteins. Soon, visions of frog legs and the liver-intestines soup -- tom kreang nai -- danced in our minds. The only thing different today is that the lines are a little shorter, because there are now chic, snazzy outposts in The Mission and Hayes Valley. You surely know about the legendary stir-fried pork belly with basil and crispy rinds if you follow SF food at all, and go ahead and be boring: order the paid Thai. The city's elite plate can be found here.
TenderNob, Mission, FiDi, Embarcadero, SoMa, Cow Hollow, Glen Park
San Franciscans tend to be weary (okay, more than weary) of chains, but Osha Thai isn't really that type of chain -- think of it as the Thai Tacolicious. Osha started in humble surroundings (check out the super-retro chop suey-era sign at the TenderNob original), then sprouted to seven locations all with downright identical-looking West Hollywood-hip sushi bar/nightclub atmospheres.
There are Chinese duck rolls, bacon-wrapped scallops, and the Osha tartare with mango and avocado, and all of them seem more Wolfgang Puck, early-'90s fusion than Bangkok staples. But the food intends to be both traditional and modern Thai. Most vital is that it is always consistent and meals rock when you start with the silver noodle salad and share some papaya salad with kim chee (som tum muah) and equally spicy laht nah, where crispy noodles weave together shiitake mushrooms, broccoli, and bamboo shoots. Oh yeah, $5 mojitos on Wednesdays. Cuba and Thailand are pretty near each other, right?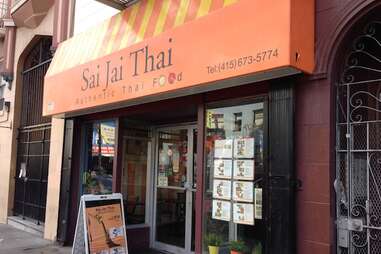 Tenderloin
In the Tenderloin, you can always find happy diners feasting on Sai Jai Thai's grilled pork shoulder. It's really like a sliced up version of a fatty pork chop so juicy and tasting of straight-up meat that you start feeling dizzy from the experience's overwhelming intensity. Start with the no-holding-back, Indiana Jones Jeep thrill ride-spice of the shrimp paste dip nam prik ka pi and contrast the pork's thunder with the graceful, tidy, and crispy fried catfish.
San Jose
At first, San Jose's Siam Fine Thai Cuisine strikes as the normal, generic Thai restaurant found in every city. But when you notice the old lady methodically cutting sweet basil at one table and the delicate texture of sea bass and myriad layers to its green curry, you realize you're onto something here. The most-ordered dish is the decidedly-not-authentic-though-exceedingly-worthwhile "Mango Tango" that sounds like (and is) a Jamba Juice flavor, but really is a slightly sweet, very spicy, not-cloying-at-all plate of prawns, chicken, cashews, mango, and various vegetables. Being sandwiched between the faux Europe of Santana Row and mega-mall dread of Valley Fair, avoid the area at all costs come holiday shopping time.

Berkeley
Sabuy Sabuy II gives each diner free scoops of homemade green tea-wasabi or banana-sesame sorbet at the end of the meal. That's enough reason to BART over, isn't it? But oh no, that's just the beginning. Amidst stiff competition in the Albany-North Berkeley corridor, Sabuy Sabuy II stands out because it is one of the very few (maybe only) Thai restaurants around where you are encouraged to forgo the menu and let the ever-gracious owner Bart create your meal. A "Thai omakase", if you will. The regular menu is no slouch either, including way-better-than-it-sounds sweet fruit salad for a starter. The second Sabuy Sabuy gets the nudge over the University-adjacent original, which's geared more towards take out (though it has a money patio).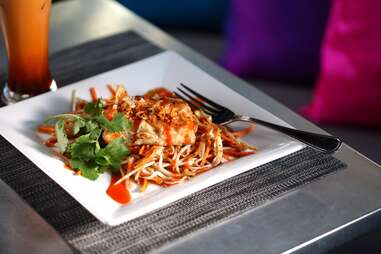 Oakland
Amidst all of these pungent, vibrant, savory flavors, let us not skip dessert. That's where Soi 4 Bangkok Eatery in Oakland arrives. Have you had sticky rice with ripe mango before? Like really had that life-altering version with ripe mango that makes you think California produce at its peak is even overrated? Soi 4's sticky rice and mango could be the best around -- and 99% of Bay Area Thai restaurants serve it.
Now that you've had dessert, don't forget Soi 4's regular menu could hold its own with the best around the Bay Area (and since they have a Soi 4 in Scottsdale, AZ, it has to be the best in the Phoenix area, you'd think). Mustard leaf-wrapped shrimp and coconut called miang kum is the finger food you've dream of at cocktail receptions. Then go crazy for the red curry with pork shoulder and kabocha squash. Across the bridge, the owners also run Basil and Basil Canteen with nearly identical menus. Skip the decidedly non-craft cocktails at all the spots and have another round of Singha with the best bacon-free Brussels sprouts around.
Tenderloin
What can you get for $2.50 in the Tenderloin these days? Okay, we're not going there, but for just 10 quarters you can get a bowl of flat-out awesome off-menu boat noodles with a deeply layered beef broth from beef blood and bones, garnished with pork cracklings at Zen Yai Thai. It's like a Peckenpaugh Western film version of a noodle soup, and buoyant because it's sold from boats back in Thailand. Barbecue is the other signature of Zen Yai -- not usually a strong point at Tenderloin Thai spots, but here it's obligatory. Also worth getting: shrimp spring rolls and the house tom yum soup -- just know though, those cost more than $3.
Sign up here for our daily San Francisco email and be the first to get all the food/drink/fun SF has to offer.
Trevor Felch is a restaurants writer for SF Weekly and contributing editor for Vino 24/7. He is one of a select few who actually lived on the Las Vegas Strip, and has nothing that has to stay in Vegas. He's also a lifelong Red Sox and SF Giants fan, which means he is always a winner. Follow Trevor @TrevorFelch.