The Definitive Guide to Eating the Best Southern Food in SF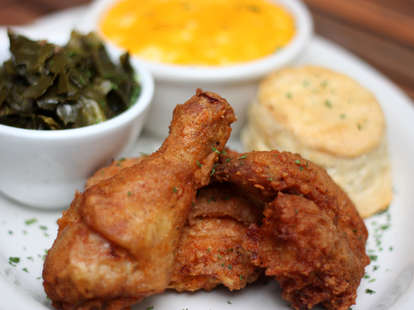 Courtesy of Brenda's Meat and Three
Courtesy of Brenda's Meat and Three
Serving up all of the things you love about the South (Beignets! Muffulettas! Gumbo! Biscuits! Fried pickles! Fried chicken!), minus all of the things you don't (why am I sticky everywhere??????), here are the 17 best spots to get red state eats in the 7x7.
Ferry Building
What you're getting: The muffuletta
Leave it to pig whisperer Chris Cosentino to do the muff' proud in the Ferry Building. No, really, leave it to him.
Hayes Valley
What you're getting: Smoked chicken & andouille gumbo, crawfish étouffée
This should be obvious, but what might not be is that, thanks to its new-ish full liquor license, Boxing Room also now has legit Sazeracs and Hurricanes to wash down that gumbo/étouffée.
Tenderloin
What you're getting: Beignet flight
Why choose between a savory crawfish beignet and one bursting with molten Ghirardelli chocolate ganache when you can have... both (+ one more)?
NoPa
What you're getting: Kickass Meatloaf and Three, fried bologna sandwich
Because you can't eat beignets EVERY day (wait... why can't you do that?), head over to Brenda's new spot focused on the Southern custom of "meat and three" -- an attempt at a balanced meal with vegetables in theory to compensate for the pound of correctly named "Kickass Meatloaf" you're eating. Also worth your ordering attention: the fried bologna sandwich. You don't get three sides with it but it is smothered in pimento cheese. That usually counts as a veggie in Mississippi, right?

Outer Sunset
What you're getting: Sweet potato pecan pie
It's like a regular pecan pie, if a regular pecan pie had smooth, earthy notes of sweet taters puree mingling with the sticky, gooey pecans. So... better.
Lower Pacific Heights
What you're getting: Meetinghouse Biscuits, jambalaya
Whether with a smear of butter or as the base for a brunch eggs Benedict, SF's elite biscuits are, yes, at Elite Café. Our advice: do some Fillmore shopping, have a happy hour Sazerac with some biscuits, then polish off some jambalaya.

Bernal Heights
What you're getting: The Stoner Stack, fried pickles
Basically, combine everything on this list and you've got the Stoner Stack (fried chicken, bacon, cheddar, and sausage gravy on a biscuit). Just make sure you get a side of fried pickles. Talk about addictive.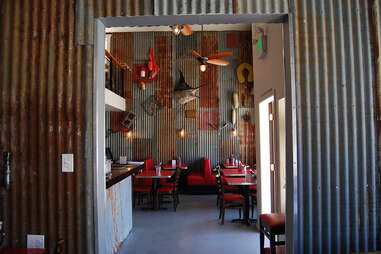 Outer Richmond, Dogpatch
What you're getting: Oxtails, fried pork chops
Get some hearty meats, headlined by oxtails and fried smothered pork chop (and no doubt some of the city's best fried chicken), and sides of collard greens with a dash of vinegar. Welcome to Hard Knox.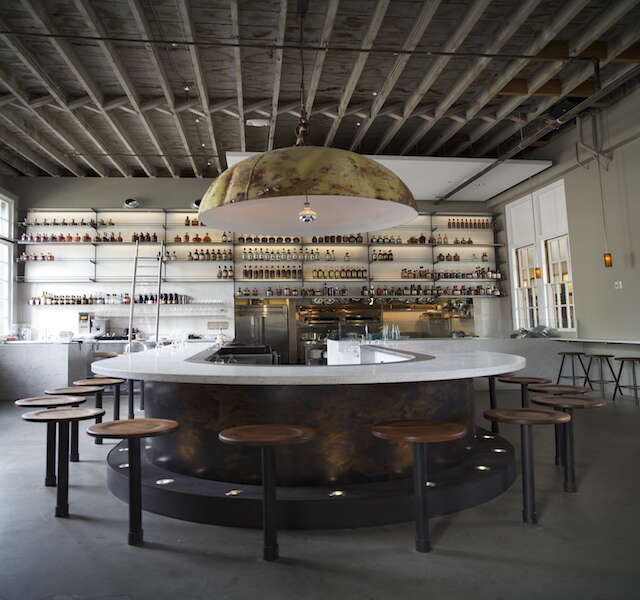 Embarcadero
What you're getting: Spicy Nashville-style fried chicken
There's fried chicken. There's spicy fried chicken. Then there's what the good folks in Nashville like: hot chicken. Lip tingling, sweat-inducing, turn-down-for-what fried chicken. Let's just say you'll need a drink to soften the blow, which should be easy to find because, oh, hey, you're at the city's best bourbon bar.
Union Square/FiDi
What you're getting: Country fried steak
Make a beeline for this perennially underrated spot's country fried steak, known elsewhere as the always awkward sounding "chicken fried" steak. Here, the steak gets a pool of chorizo-laced gravy to sit in as you ponder why this can't just be called steak fried steak. Do also note the burger here should be on your "must-try" list. No, it's not fried but there is a fried egg involved.

Lower Haight/NoPa
What you're getting: Peach cobbler
You'll usually find His Majesty King Kobbler (a converted Enforcer vehicle) in the NoPa-Lower Haight neck of the woods (check @norris_pj on Twitter to be sure), and when you find HMKK, you'll also find this fine cobbler filling a Styrofoam cup, for a ripe old $5.
SOMA
What you're getting: Chicken & waffles (and lots of maple syrup)
This life-changing duo is brought together in an alley in SOMA and. It's. Magical.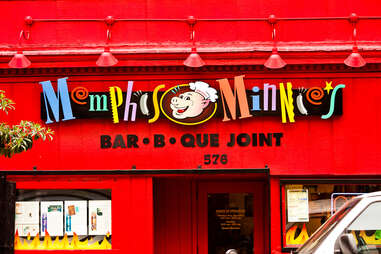 Lower Haight
What you're getting: Memphis sweet smoked pork
Memphis' 'cue is of the unsung, under-loved BBQ genre different from big sauce-slathered Kansas City and Texas, or bitter vinegar-based North Carolina. But oh, what the dry rub does with the Memphis-style pork, served as a sandwich or by the pound.

North Beach
What you're getting: Smoked deviled eggs
Every table gets the fabled Marlowe burger and those incomparable fries. But diners also know to start with one or five of Park Tavern's deviled eggs, given the sexy-smoky-spicy jalapeño and bacon treatment. It's not unheard of for these to become a meal, because, well, we've heard of it. Those in the EXTRA know also occasionally add one of these puppies to the Marlowe burger. Definitely a strong move.
Western Addition
What you're getting: Shrimp & grits
1300 on Fillmore's shrimp aren't quite as alien-sized as you'll find in the actual South, but they explode with the same mega-seafaring notes, nestled on top of the buttery grits that're given a little high note from the Worcestershire sauce.
SOMA/FiDi
What you're getting: Pimento cheese, jalapeño cornbread
Town Hall is easily the most refined quasi-Southern table in town and the only one where you'll find next-level jalapeño cornbread and pimento cheese, which you shouldn't not combine.

FiDi
What you're getting: Organic fried chicken
Surprisingly, the top fried bird in SF is at the buttoned-up domain of celebrity chef Tyler Florence, where his buttermilk brine recipe does absolutely wonderful things to your clucker. Pair this with the burger and whoa. Life is good.
Sign up here for our daily San Francisco email and be the first to get all the food/drink/fun SF has to offer.
Trevor Felch is a restaurants writer for SF Weekly and a contributing editor for Vino 24/7. Follow him on Twitter @TrevorFelch.