In a city obsessed with burritos, it's easy to forget about their smaller, generally more balanced cousin -- the taco. Well, consider this your reminder: our list of San Francisco's 13 best tortilla-cradled flavor bombs, from down-and-dirty taqueria specimens to locally sourced, free-range, fancy-pants iterations (WITH FRIED AVOCADO IN THEM).

Baja fish taco
Cholita Linda (address and info)
Presidio
You won't find better fish tacos in the bay (or on the land masses around it) than the ones at Oakland-based Cholita Linda. The exceptionally fresh fish (usually tilapia) is well-seasoned, firm, and perfectly fried, resulting in a shatter-crisp crust. There's no greasiness, sogginess, or other -esses that immediately render fish tacos subpar and disappointing, and the toppings are on point, too -- the fish is simply dressed with a bright and crisp cabbage slaw, spicy salsa roja, and a little bit of crema for richness. And before you're all "Bro, you said these are the best tacos in San Francisco, not Oakland, don't you know geography? Are you even from here???" -- you can get them in San Francisco too (!) at Off the Grid's Presidio Picnic every Sunday.
Panko avocado taco
Lolo (address and info)
The Mission
We'll get down with some avocado any way you'll give it to us, but it's hard to beat the bombast of a taco filled with panko-crusted, deep-fried wedges of nature's butter. Lolo nails these tacos by letting the crispy-creamy star of the show shine -- the avocado is masterfully accompanied by sweet caramelized onions, the salty tang of Oaxaca cheese, and bracing Anaheim peppers.
Chorizo and potato taco
4505 Burgers & BBQ (address and info)
Western Addition
4505 could serve us some of its delicious meat-stuff on cardboard and we'd happily eat it. Thankfully, though, the weekly Taco Tuesdays come on actual tortillas. Fillings rotate, but our favorite features the top-notch, freshly made chorizo, fat-crisped potatoes, and pimento cheese (yesssssss), all topped with avocado and cilantro (pictured on the right). Did we mention it's filled with 4505's chorizo? Yes? Good.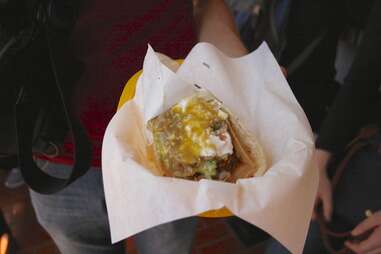 Carne Asada Super Taco Dorado
La Taqueria (address and info)
The Mission
You're going to have to wait in a long-ass line at La Taqueria (thanks a lot, Nate Silver), but the pain and frustration is well worth it when you're diving face-first into the Carne Asada Super Taco Dorado. Burrito-eaters wax poetic on La Taqueria's carnitas (and they are delicious), but for tacos, it's all about the carne -- you'll see the lightning-fast taco maker chopping the gorgeous, well-charred meat into submission right before he slaps a generous handful of the stuff into a waiting tortilla.
But top-notch steak is just the beginning, here. Ordering a Super Taco Dorado means you get a crispy corn tortilla wrapped in a soft one; in addition to holding the dripping pile of meat (and pinto beans!) together admirably, the subtle textural contrast is near-addictive. All of this is topped with a healthy pile of mashed up avocado, pico de gallo, sour cream, and a spritz of wonderfully spicy, yellow-green salsa. Is this going to end up all over your face? Yes. Will you want to immediately get back in the long line to order another? Also yes.
Shot-and-a-Beer chicken taco
Tacolicious (address and info)
Marina, North Beach, The Mission
It's easy to get distracted at Tacolicious, what with things like filet mignon tacos and a Marina Girl salad (!!!!!!!!!!). But we keep coming back to one of the menu staples -- the Shot-and-a-Beer Braised Chicken. It's a slow-cooked, guisado-style handheld bathed in a combination of beer and the hard stuff. In addition to being tender, flavorful, and juicy, it's maybe the one shot-and-a-beer combination that we can have three of and not wake up crying the next day.
Chicharrones tacos de canasta
La Palma Mexicatessen (address and info)
The Mission
Tears of unfathomable happiness may be involved when you first bite into the La Palma taco. But overcome your emotions and you'll be rewarded with the tacos de canasta, a trio of small corn tortillas, tenderly folded over the "chef's choice" filling of the day before being topped with onions, cilantro, and salsa. The best of these are the chicharrones -- pig skin that's slow cooked (along with lingering bits of fat and meat) until it's basically a marvelous, porky, salty mouthful of fat-rendered deliciousness. The secret to La Palma's tacos success, though, are the unbeatable tortillas -- they are made fresh (both by hand and by tortilla press), and supply many of the best taquerias in town.
Lengua taco
La Oaxaqueña (address and info)
The Mission
As soon as you walk into La Oaxaqueña and see the O.G. taco griddle-master posted up by the window, you get that there's not one single bad order here. But, because we like to challenge you and your taco-eating dedication, we're picking the meat that's often a little marginalized -- lengua. Yes, tongue. When done right, it's one of the most delicious taco fillings out there, and by God does La Oaxaqueña do it right. The tongue is cubed and fat-crisped on the griddle, lending each rich, deeply flavored bite a delightful texture contrast. The tortillas have a delicate corn flavor and are given similar TLC on the flat top, resulting in a light, golden toasting and an almost buttery flavor. And, the salsas add just the right amount of brightness and heat, without taking away from that delicious, delicious tongue flavor. Just say yes.
Carnitas
Nopalito (address and info)
Panhandle, Inner Sunset
Nopalito's carnitas are more or less the Platonic ideal of slow-cooked, wonderfully flavored pork shoulder -- served in super-sized, fat-crisped morsels, this meat is delicious plain and eaten with your fingers. But it's even better in a taco, which is why it's served with six pliant, freshly-made corn tortillas, bright and salty tomatillo salsa, a cabbage slaw, and spicy pickled vegetables. Considering the whole thing shakes out to six hearty tacos filled with orange-cinnamon-bay-leaf-beer-braised pork, it's a damn good deal, too. Of course, you could (read: SHOULD) give up all semblance of propriety and make one obscenely massive taco filled with all of the pork at once.
Pollo taco
El Gallo Giro (address and info)
The Mission
This is the taco truck that dreams are made of. Tucked on a quiet corner of 23rd St, we'd marry the El Gallo Giro truck if such a thing were legal. In addition to having Capri Sun on offer (WUT), they've got a next-level chicken taco with meat that's tender, juicy, and liberally spiced. The overall effect is a well-balanced blend of citrus, heat, and roasted chili depth. Definitely say yes to the optional hot sauce; it's super spicy, and will have you sweating in the best kind of taco-induced way. Thank goodness you had the foresight to order at least three Capri Suns.
Pork cheek fry bread taco
El Capitan (address and info)
SOMA
The new kid on our taco block comes from the forthcoming El Capitan, which just opened in the former Radius space in SOMA. It's slinging a Caribbean-inspired menu, and the tacos receive a tropical treatment that may or may not haunt our dreams. Specifically, the pork cheek taco (left) -- the tender meat is given a carnitas-like treatment, resulting in crisp edges and a juicy, rich interior, laced with heady jerk spices, and brightened with a mango vinaigrette. This is all served on fry bread, which, as the name would imply, is fried, making it soft and crisp all at the same time.
Cabeza taco
Belmar-La Gallinita Meat Market (address and info)
The Mission
La Gaillinita is our favorite kind of taco place -- this is a no-frills butcher shop and meat market with a few scattered tables, tall boys of cheap beer, and some of the tastiest tacos in town. The order here is the cabeza, or beef head meat (usually from the cheek) -- the fatty richness is brisket-like in its flavor and texture, and manages to remain fall-apart tender without turning to textureless mush. Gallinita's tortillas are tops, too -- they're tender, pliant, and crisped on the griddle to a just-golden crispness. The bright-red salsa is a great match for the rich meat, too, contrasting the heady beef flavor with a bright, acidic heat.
Suadero taco
Taqueria Vallarta (address and info)
The Mission
You can both look like a serious Mexican food connoisseur and eat a delicious taco when you order the suadero at Taqueria Vallarta on 24th St. In addition to the stand-alone taco man near the restaurant's entrance, Vallarta is notable for its absolutely enormous bottles of Mexican Coca Cola. Oh, and that suadero -- it's a melt-in-your-mouth-tender cut of beef that resides in "the intermediate part of the cow between the belly and the leg," (according to Wikipedia). More importantly, it's incredibly tasty -- Vallarta's is served in large, just-fatty-enough chunks, and is reminiscent of slow-cooked beef stew (beef stew with crisp-fried edges, that is). You also get to add your own chopped onions, cilantro, and salsa -- we like a mixture of the red and green but really, there's no wrong choice in topping this taco.
Al pastor super taco
Taqueria Cancun (address and info)
The Mission
This is one of those tacos that makes you think, "Bro, you're no taco, you're just a slightly smaller, open-faced burrito. Do you even lift???" And it's true -- the super tacos at Cancun are beasts, piled with meat and topped with at least half of a buttery-ripe avocado. But man, is this a good burrito-posing-as-a-taco. The pastor meat is tops: the pork is rich with a bright sweetness thanks to its pineapple-laced preparation, and you get a whole lot of it. The intensity of the meat flavor is well balanced with the aforementioned avocado and a layer of melting cheese lining the tortilla; fresh cilantro and a scattering of pork-fat caramelized onions are welcome additions, too. Our one suggestion: ask for yours to be light on the crema, or get it on the side. It's laid on pretty thick and it can kind of distract from the pork-avocado magic going on underneath.
Sign up here for our daily San Francisco email and be the first to get all the food/drink/fun SF has to offer.
Lauren Sloss is a San Francisco-based food writer who's eaten at least five tacos a day for the past week and isn't sick of them yet. Tell her which ones she definitely still needs to try on Twitter @laurensloss.