The 9 Best Under-the-Radar Burgers in SF Right Now
There are a lot of good burgers in SF, so how come everyone only ever talks about the same six or seven? You know the ones we're talking about: The Nopa burger, the Marlowe burger, the 4505 burger... and don't get us wrong; those burgers are AWESOME. But they're not the only awesome burgers in the city. And that's why we put together this list highlighting SF's nine best under-the-radar burgers, all of which do NOT appear on the most recent "Best Of" burger lists from SFist, Zagat, or The Bold Italic.

Castro's Best Burger
Lookout (address and info)
Castro
You know how you can only get the Wes Burger when he does his pop-up at Mojo Bicycle Cafe on Wednesdays, and how sometimes that makes you very, very sad? Well, wipe those tears away 'cause you can actually get the 1/4lb of ground brisket patty, topped with American cheese, fried onion, pickle, and mustard every single day of the week at the Lookout in the Castro. It's the same recipe; it just goes by a different name.
Americana Burger
Causwells (address and info)
Marina
We mentioned this burger in October, and the Causwells masterpiece remains "part Whopper and part Double-Double, but, like, a bazillion times better than either." That's probably all of the information you need, but in case you're not sold (which, for the record, is weird), just know that there are two patties, both of which are covered in American cheese and then topped with a secret sauce that includes house-made Worcestershire, house-made Thousand Island dressing, and other delicious stuff they won't divulge since, you know: SECRET. This burger is 100% worth the trip to the Marina. Trust.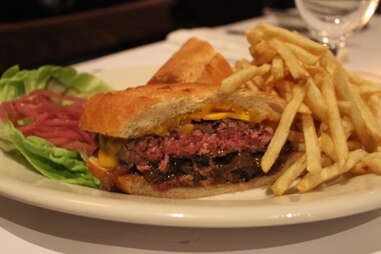 Balboa Burger
Balboa Cafe (address and info)
Cow Hollow
It's honestly kind of shocking that this isn't on any recent "Best Of" lists because it's such an SF staple. If you can't handle the fact that it comes on a baguette, then 100% don't order this burger because: it comes on a baguette. Which is a huge part of its delicious charm. As are the house-made pickles it comes with. And, sure, we don't want to tell you how to order your burger, but probably add cheddar cheese and grilled onions for $1.50 each.
The Maverick Burger
Bartlett Hall (address and info)
Union Square
When Maverick closed due to a fire, all of San Francisco mourned the loss of its infamous Butter Burger... until the chef from Maverick went to Bartlett Hall and brought that delicious butter burger with him. It's served with cheddar, stout rarebit, crispy onions, and Kennebec fries. And yes, the meat is ground with whole CUBES of butter in case somehow that wasn't clear.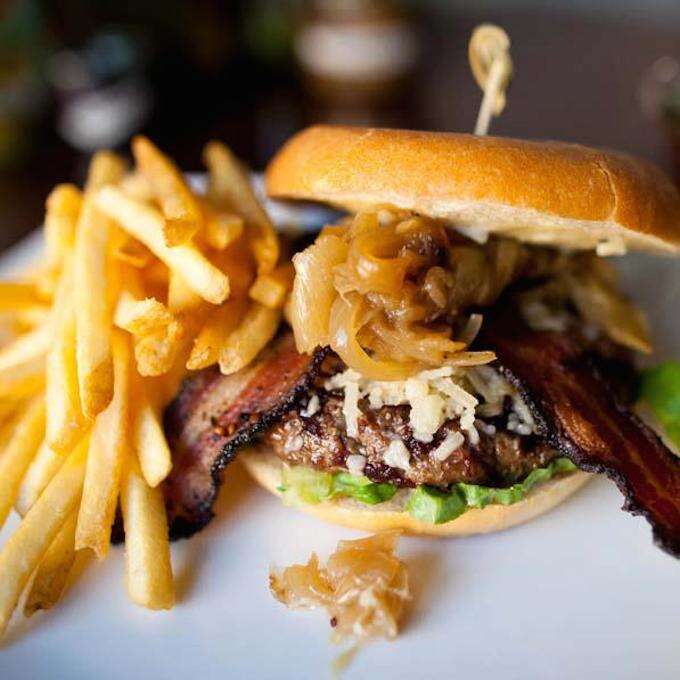 Fresh-ground beef burger
The Monk's Kettle (address and info)
The Mission
Once you add bacon ($3) to this burger (it comes with onion jam and aged cheddar), it's going to run you almost 20 bucks, but trust us, it's worth it. Oh, and pairing it with a pint from one of the city's best beer selections? Double worth it.
H & R Burger
Hog & Rocks (address and info)
The Mission
The Kobe-style chuck in this burger is aged at least a week and then ground twice before being formed into two 4oz patties. Those rest between a challah bun that's been brushed with garlic butter and seared on the griddle. Oh, right, and then there are two slices of American cheese, caramelized onions, house-made fermented dill pickles, and butter lettuce. OH, RIGHT, and then there's also the special sauce -- a Thousand Island-type dressing with hot sauce -- that's spread on both sides of the bun.
The Hangover Burger
Burger Bar (address and info)
Union Square
Though you 100% should devour this burger if you drank whiskey at all aggressively last night, you don't have to have imbibed too much the night prior to enjoy what can only be described as the burger you wish the Big Mac were. The Certified Angus beef patty comes with chopped lettuce (so good), and a toasted sesame bun (also so good), but it's the magical "hangover sauce" that makes this a bread-meat-bread situation you'll want to eat again and again. Fast food style, but with amazing ingredients that won't make you feel gross afterwards. Welcome to burger perfection.
Absinthe Hamburger
Absinthe Brasserie & Bar (address and info)
Hayes Valley
Michael Bauer dissed the Absinthe Hamburger in 2013, but he's not the boss of us. To be fair, it IS just a basic burger, served with aïoli, lettuce, red onion, french fries, and house-made pickles. It's the things you can add that make this one of our favorites, specifically Gruyère, spicy onions, and pickled chilis. Yeah, they're $1.50 each, which makes it kind of a spend-y burger, but sometimes you've gotta be spend-y when under-the-radar burgers are involved.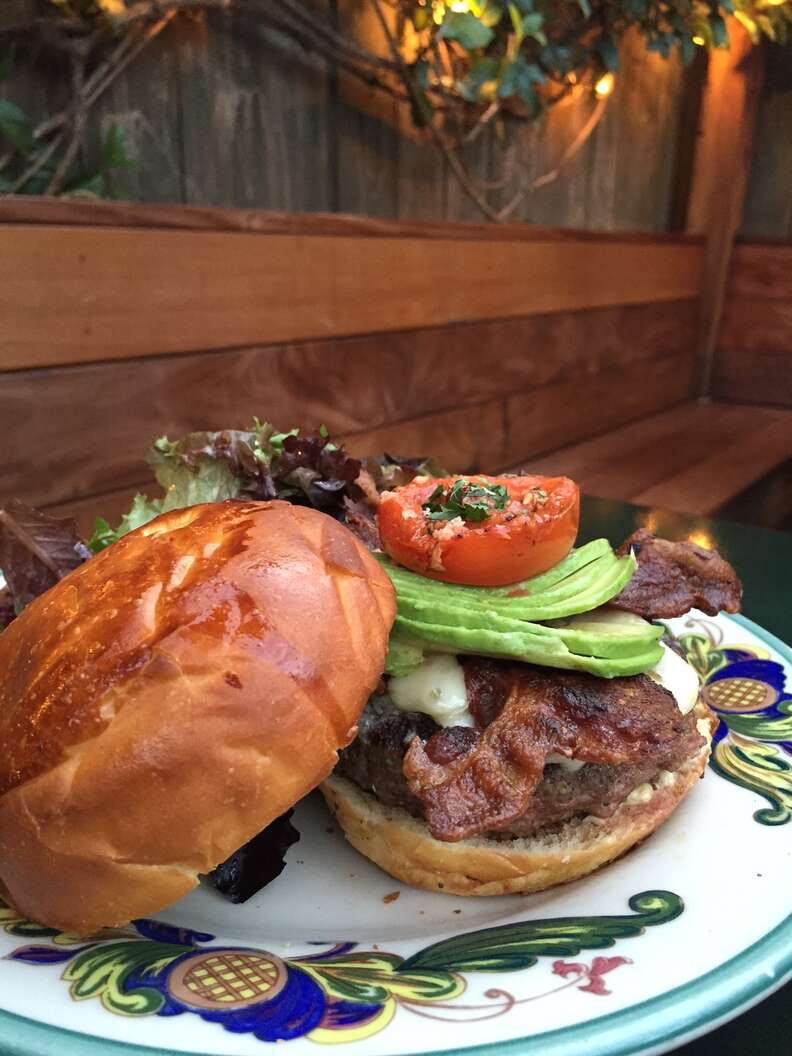 Zazie Niman Ranch Burger
Zazie (address and info)
Cole Valley
The whole menu at Zazie is always so tempting that it's incredibly easy to overlook the burger. Don't do that. The burger is serious. Served on a grilled Pinkie's challah bun, it comes with house-made garlic aioli, Dijon, roasted tomatoes Provençales, and greens. Go ahead and add some white cheddar and, fine, maybe some bacon also for a dollar each.
Sign up here for our daily San Francisco email and be the first to get all the food/drink/fun SF has to offer.
Daisy Barringer is Thrillist's SF Editor and is pretty sure there's no better food on Earth than a hamburger. Except maybe a cheeseburger. Tell her your favorite one in the city on Twitter @daisy.