We've said it before and we'll say it again: SF is not known for its pizza, nor will it ever be known for its pizza. Still: there are some really good, fairly famous pies in the 7x7. These pies are not those pies. These pies are the pies that are really good, but that no one seems to talk about. Under-the-radar pizza, if you will.
And when we say under-the-radar, we mean they're hella under-the-radar, as in none of these spots have appeared on any of the most recent "Best SF Pizza Places" lists from SFist, Eater SF, Zagat, or even us.
The Mission
Go to Beretta with a group so that you can order a bunch of antipasti, the osso buco risotto, and at least one pizza. Okay, two pizzas. Fine, fine, fine, six pizzas. Their pies have a thin crust that's often described as "perfect", and include classically twisted stuff like the Margherita burrata, plus deliciously topped joints like the prosciutto di parma, tomato, arugula, and mozzarella. Go in a group. Or prepare to take home leftovers. Note: they don't take reservations, but call ahead to put your name on the list.
Outer Sunset
Hungry surfers flock to this super low-key pizza place, where you can order entire pies or just a (few) slice(s). Get an order of Buffalo wings and a pitcher of beer to share. And yeah, it's waaaay out there, but what better excuse to see the Pacific Ocean? Or that friend who lives in the Avenues...

Financial District
What are you doing next Monday-Friday between the hours of 4 and 7pm? Perhaps grabbing a seat at Palio d'Asti's bar, ordering two adult beverages from the friendly bartender, and then getting to choose one of six 12" pizzas for ONE DOLLAR? That's right: a buck. For an entire pizza. That's legitimately good. Just remember, you're not going there for the decor, which is early '90s at best, but for the pizza that costs A DOLLAR.
Multiple locations
Nizario's Pizza has been around since the early '80s, which is why, if you ask anyone who's also been here since the early '80s where to grab a slice, they'll direct you to one of the five locations. The California Special (spinach, pesto, feta cheese, chicken) is very, well, California, but it's also super good, so give it a try. Plus, we LIVE in California for a reason, right?
The Mission
All of the pizzas at this Mission spot are cooked in a 5,000lb Stefano Ferrara wood-burning oven. They have all of the classics, as well as a bunch of more imaginative options, like Hosui Pear with pancetta, Brie, roasted garlic, spinach, and balsamic. Oh, and it's run by a deaf couple, which makes it the first deaf-owned restaurant to get pie certification from the Associazione Verace Pizza Napoletana (AVPN). Ordering is easy though, even if you don't know sign language. You just use a good old-fashioned pen and paper.
Dogpatch
Pizza's nothing without a really good crust and an excellent sauce. Long Bridge Pizza Company has both of those -- maybe because ALL they do is pizza. Seriously. No wings, no sandwiches, not even a salad. Just good pizza. Oh, and there're no slices, but whatever. You wanted to eat an entire pie anyway.
Inner Sunset
Right across from Kezar Stadium -- the original home of the San Francisco 49ers -- is a small neighborhood pizza spot that makes really good thin crust pies. They're actually so thin that you'll either want to order two, or take advantage of their appetizer menu. The broccolini is worth ordering -- yes, even though it's part of the broccoli family.
The Fillmore
Pizza Inferno has 24 beers on tap, sports on the TVs, and has good pizza as well. There are tons of options, ranging from The Mimosa (corn, ricotta, Parmigiano, basil, mozzarella) to the Inferno Special (ground beef, basil, mozzarella, tomato sauce). Warning: don't go for the service; go for the pizza. That mantra was helpful when this author frequented the place in high school, and it's still helpful today.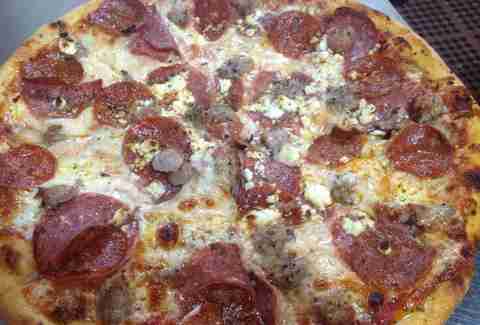 Potrero Hill
Sourdough crust, yo. Since 1975. That's before you were born! (Probably.) You want to go on Monday because that's "Neighborhood Night" -- aka all-you-can-eat pizza night. For $12.95 you can go to town on pizza and salad from 4-10pm. Even better? This isn't some crappy buffet where the pizza is stale and cold. Servers bring the latest pies out of the oven to walk around the restaurant, so you can grab a slice while it's still piping hot. The slices are slimmer than usual, which means you get to try more kinds. It's totally genius.
Castro
Fun fact: while yes, it's funny that this pizza place is called The Sausage Factory, since, duh, it's in the Castro, it's actually named after the real-life sausage factory that held the location until the 1940s. The staff is super friendly, the pizzas are big (a medium is more than enough for two), and it's a cozy spot where you can actually relax while you're shoving pizza pie in your pie hole.
Upper Haight
The Upper Haight gets a bad rap when it comes to pizza, but this is an excellent choice for grabbing a late-night slice, 'cause they're open until 2am on Friday and Saturday. Is it weird to add carbs on top of carbs? WHO CARES. Get the You Say Potato, because sliced and roasted potatoes and roasted garlic cloves over pesto sauce is an amazing combination you would NEVER find in New York.
Sign up here for our daily San Francisco email and be the first to get all the food/drink/fun SF has to offer.
Daisy Barringer is Thrillist's SF Editor and she's never come across any type of sausage factory of which she didn't whole-heartedly approve. Follow her on Twitter @daisy.