The Best Vegetarian Restaurants in San Francisco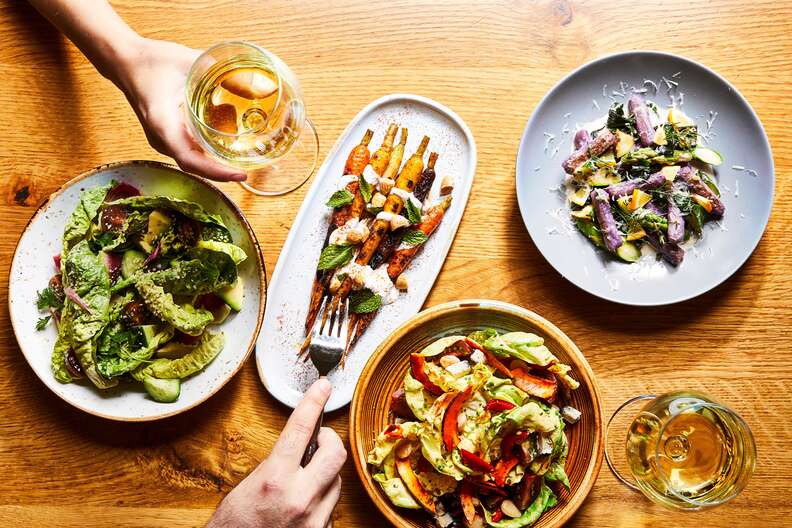 Listen, we love meat as much as the next person. But humankind cannot subside on meat alone. Or, we shouldn't, anyway. Truthfully there are a lot of good reasons to cut back on the carnivore lifestyle... like protecting the environment, being kinder to animals, reducing the risk of cancer and heart disease, lowering blood pressure, and, in a lot of instances, saving money. But, you know, mostly that first one because, despite what some people say, global warming is very real and is one of the biggest threats facing us today, and a simple thing we can do to at least start to slow it down is eating less meat and more plants.
Luckily, it's not all bad news. Embracing the vegetarian lifestyle is actually very accessible in a city like San Francisco, which has some phenomenal restaurants where abstaining from the consumption of meat is not only easy, but delicious. We don't like to go against Kermit the Frog, but maybe being green is easier than he thinks.
Cow Hollow
When it comes to taking care of our bodies and our planet, Wildseed, the hottest vegan restaurant in San Francisco, is doing everything right. Not only does the restaurant work exclusively with local and seasonal produce as a way to support farmers and leave a smaller carbon footprint, but all of the dishes are fresh, flavorful, and satisfying. Plus, what we love most is that even though Wildseed is very much a plant-based restaurant, it doesn't have an over-the-top vegan vibe (precious, earnest, and dogmatic all come to mind in case you are looking for adjectives). Wildseed feels like any other popular restaurant with friendly service, a lively crowd, and welcoming vibe. We think this is key to creating a shift in the way people perceive eating better for themselves and the earth; the restaurant needs to feel welcoming, the food needs to taste good, and ideally there will be lots of excellent cocktails. Wildseed delivers on all three.
Cow Hollow and Hayes Valley
Every ingredient used at Little Gem is thought about carefully. From where it's grown to who grows it, the restaurant only works with farmers and artisans who share its values of making sure everything is free of additives, preservatives, harmful chemicals, and modifications. And while there are a few meat dishes on the menu, there's a huge selection of vegetarian dishes, many of which are also dairy-free. As a bonus, for anyone who cannot tolerate gluten, the entire menu at Little Gem on Grove is gluten-free, which means that the Celiac community can dine there without worrying about contamination.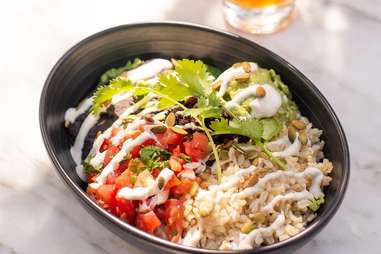 Mission
Gracias Madre's slogan is "Our mission is love." That's awesome because love is cool and stuff, but our mission is to eat tasty, filling food that leaves us feeling good afterward. Luckily, Gracias Madre also provides that in the form of 100% organic, gluten-free, non-GMO, plant-based Mexican dishes in a bustling environment that feels inviting and casual (lots of wood, communal tables, and a somewhat open kitchen towards the back) if not overly special. The menu is totally vegan, so just know that the "nacho cheese" is made using cashew nuts and is not, in fact, nacho cheese at all. It's still really good, just as long as you aren't expecting that heavenly yellow stuff that comes out of the jar.
Inner Richmond and Nob Hill
Nourish Café wants "To help you eat healthier and feel amazing through a natural, plant-based diet." Now, we'll be honest: a lot of times what makes us feel amazing is destroying an awesome hamburger with our mouth, but we can also appreciate balance -- even if that means eating acai bowls and "yam and cheese" sandwiches made with a creamy nut cheese that tastes almost as good as the real thing. It should come as no surprise that the restaurant only uses organic, whole foods and non-GMO ingredients, as well as natural sweeteners and minimal oils. There's also avocado toast that you can order on gluten-free bread. Did you expect anything less?
Mission
Cha-Ya is an affordable Japanese restaurant that serves fresh, flavorful vegan dishes without any of the vegan pretense (that's a compliment, by the way). The curry udon noodle soup with tofu and seasonal vegetables is just as hearty and filling as any beef udon bowl out there, and the vegan sushi roll is so much better than the avocado or cucumber roll vegetarians are forced to order at typical sushi spots. Whatever you order, start with the soba salad -- it's vibrant, colorful, and will basically fill your veggie quota for the entire month.
Mission
What if we told you that one of our favorite sushi restaurants in the city was a sushi restaurant where the sushi has no fish? Would you think we were a little crazy? Well, guess what: we are, because Shizen has become one of our go-tos since it opened a few years ago. It doesn't hurt that the space is stylish, with a minimalist vibe, lots of wood, and air plants hanging on the walls, but the real thing that keeps bringing us back are the gyoza, the spicy tofuna rolls, and the spicy garlic miso ramen. The ramen broth and noodles are made from scratch (the latter is made in-house every day), and comes with so many yummy veggies, you won't even notice that it's lacking meat.
Upper Haight
Now that you can get an Impossible Burger at basically every restaurant (hell, even Burger King has them), VeganBurg isn't quite as much of a shining star as it once was. However, it was the world's first-ever 100% plant-based burger joint, so it definitely deserves a spot on this list. Our favorite is the mustang relish, which has a crispy patty, lots of mustard, and is topped with pickles and red onions all on a wholemeal bun. It goes perfect with a side of seaweed fries. Yup, we just said that (and we totally meant it, too).
Marina
Ah, another vegan restaurant with a lofty mission. This one? "To promote the wellbeing of people and planet, and provide an avenue to support healthy choices and sustainable practices." Sounds good to us. And it doesn't hurt that this is also the only restaurant on the list that has an almost completely vegetarian menu, but offers a few fish and chicken options as well (ethically raised, naturally). But this isn't about meat; this is about delicious veggie options, of which there are plenty, including pretty much all of the salads, the shiitake spring rolls, the Korean BBQ bowl, and a bunch of healthy juices. And if you're vegan or gluten-free, this is a great option because everything on the menu is clearly labeled, so you know what you're getting.
Sign up here for our daily San Francisco email and be the first to get all the food/drink/fun SF has to offer.
Daisy Barringer is an SF-based writer. She became a vegetarian for a year when she was little because she told her mom she didn't eat meat so she wouldn't have to eat her pork chops and she didn't want to be a liar. Follow her on Twitter @daisy.