Listen, we love meat as much as the next guy or gal. But man cannot live on meat alone. Or, he probably shouldn't, anyway. 'Cause truthfully, there are a lot of good reasons to cut back on the carnivore lifestyle... like saving the environment. And money. And, uh… not getting heart disease. Embracing the vegetarian lifestyle is easy in a city like San Francisco, which has some phenomenal veggie restaurants.
Recommended Video
This Pizza Is Covered in Fish Jerky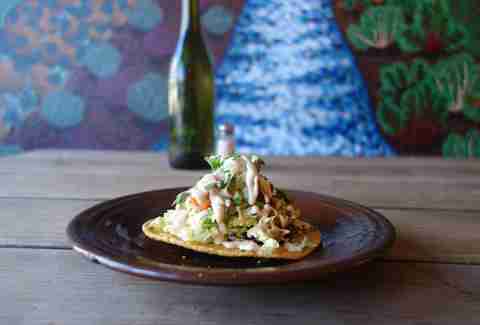 Mission
Gracias Madre's slogan is "Our mission is love" -- which is awesome because love is cool and stuff, but our real mission is to eat tasty, filling food. Luckily, Gracias Madre also provides that in the form of 100% organic, plant-based Mexican dishes in a bustling environment that doesn't take itself too seriously. The menu is totally vegan, so just know that the "nacho cheese" is made using nuts and is not, in fact, nacho cheese at all. It's still really good, just as long as you weren't expecting that heavenly yellow stuff that comes out of the jar.
Marina
Greens is probably the only vegetarian restaurant on this list where you could take your meat-loving uncle from Minnesota -- and he might not even notice that everything on the menu is meat-free. That's partly because of the stunning views of the harbor, the Golden Gate Bridge, and the Marin Headlands, but also because Greens behaves like a normal restaurant that just so happens to serve some of the most inventive vegetarian dishes in town. The menu is constantly changing based on seasonality and availability, but we can promise that even the most die-hard meat enthusiasts will leave saying they just enjoyed one of the best meals they've eaten in a long time... and maybe feeling a tiny bit duped (in a good way, of course).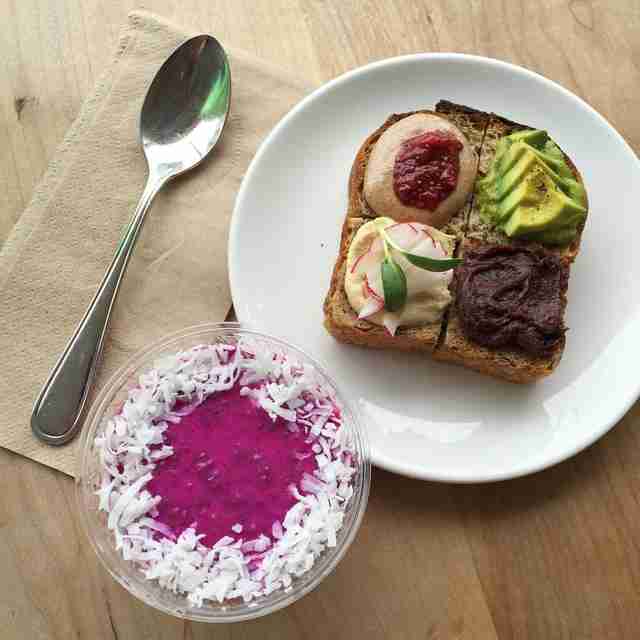 Inner Richmond
Nourish Café wants "To help you eat healthier and feel amazing through a natural, plant-based diet." Now, we'll be honest: a lot of times what makes us feel amazing is destroying an awesome hamburger with our mouth, but we can also appreciate balance -- even if that means eating acai bowls and "yam and cheese" sandwiches made with a creamy nut cheese that tastes almost as good as the real thing. It should come as no surprise that the restaurant only uses organic, whole foods and non-GMO ingredients, as well as natural sweeteners and minimal oils. There's also avocado toast that you can order on gluten-free bread. Did you expect anything less?
Mission
Cha-Ya is a Japanese restaurant that serves fresh, flavorful vegan dishes without any of the vegan pretense. (That's a compliment, by the way.) The curry udon noodle soup with seasonal vegetables is just as hearty and filling as any beef udon bowl out there, and the vegan sushi roll is so much better than the avocado or cucumber roll vegetarians are forced to order at your typical sushi spot. Whatever you order, start with the soba salad -- it's vibrant, colorful, and will basically fill your veggie quota for the entire month.
Marina
"We always listen and stay open."
"We take care of each other."
"We never stop trying to do better."
Those are just a few of Seed + Salt's very earnest "promises" to its customers, and though we're pretty sure we're not supposed to feel like terrible human beings after reading them… we still do. And the promises don't stop there! Seed + Salt also guarantees the food will put a smile on your face and a skip in your step. This vegan food is free of gluten, dairy, refined sugar, trans fats, and GMOs, but not at the expense of flavor. Dishes such as the beet burger, taco salad with walnut chorizo and cashew crema, and the coconut ceviche with baked yam chips are so good you'll want to eat them all the time.
Mission
Herbivore's menu is completely vegan and uses all organic tempeh and tofu, as well as locally sourced produce. While that's pretty par for the course at a plant-based SF restaurant, we love Herbivore so much because it offers the vegan dishes you'd expect (think quinoa salad and a falafel wrap) and dishes you really want, like chili cheese fries, crispy tacos, cheese steak, and meatballs.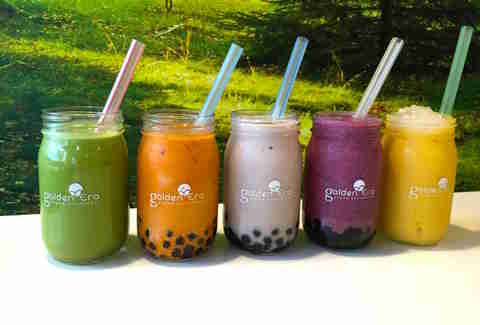 Civic Center
The people who love Golden Era reeeeallllly love Golden Era. And once you walk into the clean, bright space (grab a booth if you can) and start feasting on the vegan Asian fusion dishes, you'll understand why. Yes, even if you're a meat eater. The menu is extensive, but favorite dishes include the golden rolls (fried, but eggless), the papaya salad, the spicy sweet & sour soup, and the spicy Mongolian delight. Oh, and the smoothies are legit also; the avocado one could be a meal on its own.
Mission
What if we told you that one of our favorite sushi restaurants in the city was a sushi restaurant where the sushi has no fish? Would you think we were a little crazy? Well, guess what: we are, because Shizen has become one of our go-tos since it opened in 2015. It doesn't hurt that the actual space is gorgeous, with a minimalist vibe, lots and lots and lots of wood, and air plants hanging on the walls. But the real thing that keeps bringing us back is the nigiri, the sushi, and the ramen. As far as the former goes, the gobo with sweet shoyu and red chili and the inari with pickled carrot and smoked bean curd are both must-orders. And pretty much all of the specialty rolls are worth a try (and an Instagram post). The ramen broth and noodles are made from scratch (the latter is made in-house every day), and comes with so many yummy veggies, you might even forget about meat.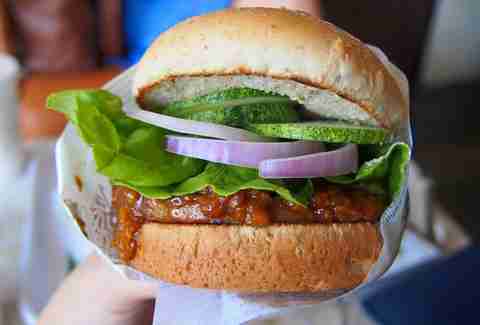 Upper Haight
If you're a meat-eater and you're in the mood for a burger, VeganBurg is probably not the first… or 15th place you're going to go. However, if you're a vegetarian (or just worry about the effect that eating so much meat has on our planet), VeganBurg is a great option for a healthier version of this American staple. Our favorite is the mustang relish, which has a crispy patty, lots of mustard, and is topped with pickles and red onions all on a wholemeal bun. It goes perfect with a side of seaweed fries. Yup, we just said that (and we totally meant it, too).
Marina
Ah, another restaurant with a mission. This one? "To promote the wellbeing of people and planet, and provide an avenue to support healthy choices and sustainable practices." Sounds good to us. And it doesn't hurt that this is also the only restaurant on the list that has an almost completely vegetarian menu, but doesn't mind offering a few fish and chicken options as well. But this isn't about meat; this is about delicious veggie options, of which there are plenty, including pretty much all of the salads, the shiitake spring rolls, and the Korean BBQ bowl. This is also a good spot to pop in for a healthy green juice.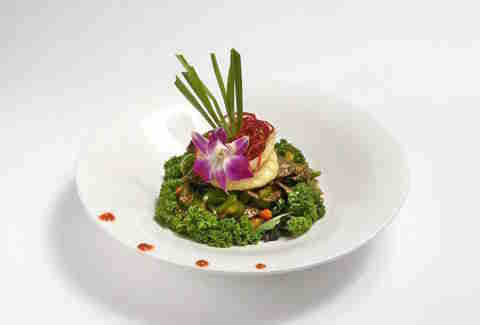 Tenderloin
If you're a vegetarian, then you're well aware of how many Thai dishes that seem like they'd be vegetarian-friendly actually use fish or oyster sauce. And if you're vegan, then you're battling that and the fact that there's often also egg. Alas, there's no need to fret over that anymore, because Thai Idea Vegetarian's got you covered. The space itself is serene and comfortable, with lots of dark wood and pillows. A ton of the gorgeous (get ready to snap and Instagram) dishes come with vegetarian "meats" (there's even a veggie lamb), but if that's not your thing, you can obviously get them with tofu or vegetables. All of the vegan or vegan-optional menus are clearly marked, so the only issue you're going to have is choosing what to order. Just don't skip the pumpkin curry.
Sign up here for our daily San Francisco email and be the first to get all the food/drink/fun SF has to offer.