Where to Find the 11 Best Waffles in the Bay Area
From American diner-style and deep-divot Belgian-style, to yeast-raised cornmeal and Vietnamese pandan & coconut -- there are a lot of types of waffles. Seriously, look how many we just listed! And since there's no SF-specific waffle (someone should really get on this, BTW), we've got fantastic options for basically all of them. Here are the 11 best ones in the entire Bay Area:
 
Alameda
Serving up waffles since 1927, the fine folks at Ole's know their way around an iron, and the line out the front door is more than enough to confirm that you're in for a waffle-y good time. The good news, though: the line goes fast, and the waffles do, too, thanks to multiple irons. The waffles here are of the classic American diner-style variety: thin, light, crispy, circular, and golden brown. Pro tip: stick with the plain waffles, as the overly sweet fruit toppings and whipped cream bring down what is otherwise waffle perfection.
(Oh, and Ole's recently opened a sister restaurant next door, Wine & Waffles, which serves -- you guessed it -- wine and waffles, plus an array of small plates. Zinfandel ice cream on mini waffles? Why, yes, you think you will.)
Andy Murdock
Berkeley
900 Grayson's aptly named "Demon Lover" is either the chicken and waffles you've always been looking for, or the one you wish you had never found. Take note: the Demon Lover comes with your choice of syrup or gravy (or both if you're feeling conflicted). Syrup you can get anywhere; the spicy gravy is what makes this dish a true winner. The waffle is made from a whole-grain buttermilk batter, and cooked a little on the softer side as a counterpoint to the crispy, boneless Fulton Valley chicken that's pounded thin and fried in a spicy buttermilk batter. Even without the chicken, 900 Grayson cuts no corners and serves the waffle with Plugra butter and Vermont maple syrup.
Andy Murdock
West Oakland
If waffles had their own branch of physics (which they should), the waffles at Brown Sugar Kitchen would break every law. Brown Sugar's feather-light, darkly caramelized waffles are made of a yeast-raised cornmeal batter, and are served with sweet and sour apple cider syrup and brown sugar butter. And they're perfect. In most chicken and waffle joints, the waffle is overshadowed by the fried chicken -- here it's unquestionably the star of the show. Brown Sugar is very popular, as are the waffles, so expect a wait, but expect it to be worth it.
 
The Mission
Somehow, the tiny, hat box-sized Linea Caffe manages to squeeze a second business inside: Lt. Waffle. Start with the basic: a picture-perfect Brussels-style yeast-raised waffle served with Mead's maple syrup. Then move on to the not-at-all-basic: churro-style waffles, buckwheat waffles with ricotta and honey, potato waffles with pastrami, or a fried egg sandwich with bacon and marmalade butter on a waffle bun, all washed down with a rather fine cup of coffee from Linea. We salute you, Lt. Waffle.
Andy Murdock
Bernal Heights
You know how you've always wanted a Liège-style waffle studded with bits of crystallized maple bacon, split into a pocket, filled with a poached egg, and sprinkled with smoked sea salt? Well, dude, Suite Foods totally has exactly that. Salty, just a little sweet, and crispy with a runny egg yolk, the Walk-Off Grand Slam waffle sandwich thing is served alongside classic Liège waffles, chocolate waffles, and even sun-dried tomato waffles. If you're a coffee lover (you are), try the Wafflegato, a coffee with waffle bites, vanilla ice cream, and a shot of espresso to pour over the top.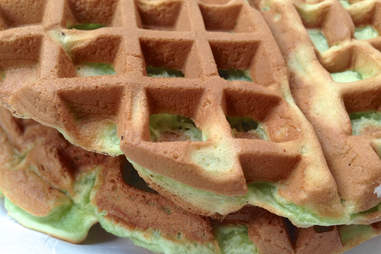 Andy Murdock
Chinatown, Oakland
Made with coconut milk, tapioca flour, and pandan leaf (a plant that -- not kidding -- has the same aromatic compound responsible for the smell of toast), the Vietnamese pandan waffle is one of the great waffles of the world. Who can say no to a bright green waffle that smells like coconut and toast? Pandan waffles can be found at a number of Vietnamese restaurants around the Bay Area, mostly banh mi shops, but very few make them hot to order -- BC Deli in Oakland's Chinatown is one of those very few (and they've got shredded coconut in the batter).
Andy Murdock
SOMA
Tucked down an alley you've probably never noticed, Farmer Brown's Little Skillet serves up some of the crispiest waffles in the city. Order from the little window on Ritch St and eat outside on sunny days -- eating waffles on a SOMA loading dock is worth doing at least once in your life -- or eat 'em next door inside Victory Hall & Parlor. Chicken and waffles are the standby here, but don't miss the "Big Skillet" breakfast sandwich, served open-face on a waffle with eggs, cheese, and a choice of chicken, bacon, sausage, or veggies.
Andy Murdock
Multiple locations
Best known for a passionate coffee following, long lines, and the peculiar habit of putting saffron in snickerdoodles, Blue Bottle also makes a masterful waffle. Perfectly caramelized, delightfully imperfect Liège-style waffles are served up hot at the Ferry Building, and handed to you in an unbleached coffee filter. Precious? Sure. But also seriously good. Grab one at the Ferry Building, Mint Plaza, and Oakland's Broadway locations.
Andy Murdock
The Mission
The Mission is packed with coffee shops, but Blue Fig is the only place to get blue waffles. (This can't be stressed enough: do not Google "blue waffle." Seriously, don't do it.) Fulfilling the promise of its name, Blue Fig crafts waffles made from organic blue corn and served with fig reduction, fresh fruit, and whipped cream. The fig reduction is the star of the show here. It's big, it's sweet, it's rich -- this is the perfect waffle to split with a friend.
 
Berkeley
You'll be forgiven if you can't make it past the bagels and lox, the deli hash, and the challah French toast, but you'll also be happy if you make it all the way to the waffles. Long a source of some of the best Jewish deli food in the Bay Area, Saul's likes to go beyond the typical deli expectations, with locally sourced meats, coffees, bagels, and creative spins on classics. Saul's keeps up that spirit with its waffle, a yeast-raised dough that's cooked to a delicate golden crisp and served with maple syrup -- not your typical Jewish deli fare, but it really doesn't matter when it's this good. Miss the deli classics? Order your waffle with "the works" to get it with an egg and two strips of peppery pastrami.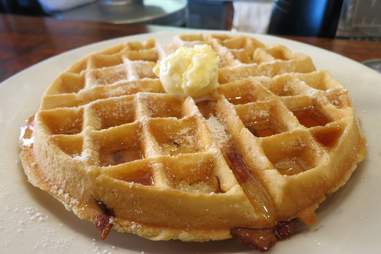 Andy Murdock
Outer Sunset
You will find no sand (repeat: no sand) in your waffles at Beachside. You may be happy, however, to find thin, delightful strips of bacon cooked right into the waffle, if you're the crazy type that enjoys extra-delicious things. A spin-off of local favorite java joint, Java Beach, Beachside has the same focus on producing fantastic house-roasted coffees from around the world. A steaming mug of coffee and a hot waffle? The perfect way to warm yourself up before (or after) a day at the always-chilly Ocean Beach.
Sign up here for our daily San Francisco email and be the first to get all the food/drink/fun SF has to offer.
Andy Murdock is an East Bay native and travel writer. He firmly believes that the churro will be the next cupcake, and is helping to make this come true by planting the word churro in his author bios. Tweet about churros to @andy_murdock to show your support.