The Best Burgers in Sacramento, Ranked by Our National Burger Critic
Sacramento has lots of nicknames. Sactown. City of Trees. The Big Tomato. City of a Surprising Number of Men With Tattoos on Their Calves. But I wanted to know if "America's Farm-to-Fork Capital" had a burger scene. So for my 30th and final installment, I drove a couple of hours north to find out.
Before I went, I talked to as many Sacramento expats as I could, plus Sacramento Bee critic-at-large Chris Macias, and broke down a list of eight of the best burgers in the city, ranging from old-school classics on the outskirts of the city to hip new joints Downtown. Chris graciously even joined me for half of the trip.
In case you're new to my rankings, here are some guidelines: If the restaurant had multiple burgers, I tried to order its signature burger, or if that was too outlandish and stunt-y, the closest to a classic cheeseburger. If it came with options, I always picked American cheese and grilled onions. If you think I missed a place, please go to the Shady Lady and ask the woman who sings there on Wednesdays to shout expletives at me in between songs. But until that magical moment, here are the eight best burgers in Sacramento:
8. The French Ground Steakburger
Nothing about the interior of Nationwide Freezer Meats makes any sense. It was as if you took a much smaller restaurant and moved it into an office space that was definitely never supposed to be a restaurant. Booths sort of float in the middle of the floor. There are random offices along the entire right side of the space. Chairs are strewn about haphazardly, as if a group meeting is about to start. I have to be honest, I loved all of this randomness.

I wanted to love the burger. It looked like the type of simple flat-top grilled burger I love, but it was overcooked. Like, really overcooked, to the point where it had a hard snap when you bit it. And that was a tragedy thanks to all the great elements, like the French roll, which was chewy and sweet like a Portuguese roll, and held up well to the acidic sauce and the tang of the red onion and pickles.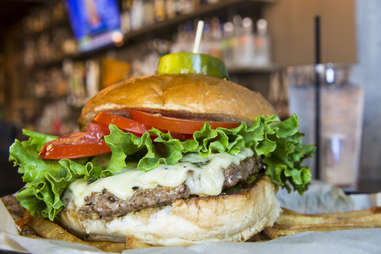 7. Old School Burger
The menu at Broderick Roadhouse made me nervous. I'm not generally a fan of places that have lots and lots of different kinds of burgers, as I believe that volume means you lose focus on executing the one burger well. Whether or not that's fair is another story. My server at BR was really trying to get me to try one of the stunt burgers, but I held fast to my principles and went Old School. There were some positives here: The meat was cooked well and had a good char on both sides and a salty, pure, meaty flavor; the ketchup and mustard and house pickles offered enough acid to balance the meat and cheese. But the thickness of the lettuce kept altering the bites, and the tomato was rigid, so I ended up having to discard both just to really get the flavor. In the end, I feel sort of boringly ambivalent about it -- it was a standardly solid burger.
6. Fatboy Burger with Cheese
I love Scott's old-school vibe. This type of place is the reason I've wanted to travel all over the country. Also, its serves "Chilitos," which are some sort of chili cheese tater tot concoction, and that seems worth pointing out. The burger itself was good -- thicker than I was expecting for a Cali-style burger joint -- and the char and the salt in the meat melded well with the American. The bun was my only major issue -- I'm not sure if Scott's doesn't toast their buns or maybe mine was so lightly toasted as to be negligible, but it flaked and fell apart rather easily. Fix the bun, and this turns into a damn good burger.
5. Squeeze with Cheese, Grilled Onions, and Thousand Island
Before I came to Sacramento, before I even started to consider eating lots and lots of burgers all over the country, I knew about the Squeeze Inn (Squeeze Burger's name before they were forced to change it this year; read Chris Macias' story about it here). The name rings out in California thanks to a little something called the cheese skirt, aka shredded Cheddar crisped on a griddle to form a sexy, protective force field of cheese.

I visited the original location in front of the train tracks on Power Inn Road, next to a sandwich spot called Sandwich Spot and a teriyaki-and-sushi-spot called I Love Teriyaki and Sushi. Inside, there's an orange and red house structure from the original location, along with photos of Marilyn Monroe (why are there pictures of Monroe everywhere in Sacramento? Isn't she from LA? I read her Wikipedia bio, dammit!). Service men sit at a long table and office workers in polo shirts sit along the bar.

But let's talk about the burger. The sesame seed bun is puffy, but squishy and fresh. There is good char on the meat though it was overcooked and not entirely flavorful. The best thing to do is break off pieces of that salty cheese wafer skirt and tuck them back into the burger so the cooked cheese goodness combines with the meat and plays off the acid from the pickles and Thousand Island. Pro tip: Ask for the smaller version of the cheese skirt. No one really needs to eat that much cooked cheese in one sitting.
4. Whiskey Burger
I was one of the last people to sit down at the Formoli's bar on the night I tried their burger. Next to me, a couple of 60 year old ladies discussed the pros and cons of various manmade bodies of water ("So you're telling me you're not a hot tub person? And you don't think that'll change?" one asked).

The burger at Formoli's has a lot of great traits: a spicy aioli, fresh hand-packed burger with pure flavor and a loose grind, and an almost garlic bread-esque roll that was pretty delicious on its own. One of the only real problems here was the burger was cooked on too high heat and not allowed to rest before serving, so the liquid in the meat poured out, and the Cheddar immediately slid right off the patty. Other than that, this is a solid burger for anyone, even if they don't like hot tubs.
3. Pangaea Burger
When I walked into Pangaea, every single table was full of people eating the burger, which I took to be either a great sign, or some sort of huge set-up. And when I got the burger, I realized why everyone was stuffing their faces: This is quite the specimen. My burger was cooked perfectly medium with a nice loosely ground meat and a dusting of peppercorns along the bottom. Though it was super salty because of the bacon (never a great addition in really high-quality burgers, methinks), there was good balance with the red onion and pickles, and the bun was well-toasted. Also, the sour selection was spot-on.
2. LB Burger with American
The area around 20th in Midtown is pretty damn hip, and I know this because I saw at least three people using longboards to get around. LowBrau is a "modern take on the traditional German Bierhalle," which means sausages and solid craft and German beers, but it also means a really, really good burger. It came on a pretzel roll, which normally alarms me, but this was surprisingly light and airy. The meat had a fantastic loose grind and really rich flavor, especially when augmented by the American. That much buttery, salty, meaty flavor can be overwhelming, but it was balanced by the acid in the delicious pickles (which come on the side, so it's vital you tuck them in) and the spicy aioli featuring subtle heat from Calabrian chilis.
1. South Burger
The best burger in The City With a Very Impressive Number of Trees happens to be in a barbecue joint with barely any signage, on a random residential street featuring lots of those trees. Outside, a guy on the phone was tending to a grill and quite possibly cooking my burger. Inside, the place is a spartan counter-service joint with an impressively nuanced menu. Reading through the ingredients (leek shallot jam? Bacon confit? HAVARTI?!?), I thought that perhaps the chef at South had overdone it and decided to get too cute with the burger. I was 100% wrong. The burger had such a loose grind, it felt like it was barely being held together by the surprisingly melty Havarti. The charcoal flavor was apparent, but not too intense. The temperature of the meat was perfect. The tangy mustard sauce slaw and shallot jam mixed together to form the perfect hot/sweet/creamy balance. In fact, I want to bottle that mustard sauce slaw and put it on everything else I eat ever.

This is the best burger in Sacramento. And to be honest, friends. It wasn't even that close.
Sign up here for our daily San Francisco email and be the first to get all the food/drink/fun SF has to offer.
Kevin Alexander is Thrillist's National Writer-at-Large and National Burger Critic. He is coming back to Sacramento in a few months to eat more burgers. Talk to him about Vlade Divac @KAlexander03.