Where to Eat in Chinatown, According to the Experts
There's plenty to see, do, eat, and drink in North America's oldest Chinatown district.
In February of 2020, when there were only a handful of COVID cases in the United States, throngs of people stopped going to San Francisco's Chinatown out of an unfounded fear that the neighborhood was more likely to have people with the virus. Business for bars and restaurants almost immediately dropped 50 to 70%. Unfortunately, despite our Chinatown being the oldest in North America and an important part of Chinese culture in the city since it was established in 1848, tourists stopped going there. And then so did locals outside of the neighborhood. And soon, the bars and restaurants were mostly empty, and the owners were uncertain how they could survive.
Jocelyn Tsaih, an artist who made her way to Oakland by way of Taiwan and Shanghai, saw what was happening to SF's Chinatown and other Chinatowns in the Bay Area and decided she needed to do something about it. In March of 2020, she created Save Our Chinatowns, an initiative to support Chinatown communities in the Bay Area through art, conversation, and shared love of food.
In spring 2021, the women behind Save Our Chinatowns decided they wanted to serve AAPI communities beyond Bay Area Chinatowns, and the organization is now Cut Fruit Collective, a grassroots non-profit that "supports AAPI communities through art, publishing, and a shared love of food." We spoke to Daphne Wu, a freelance web designer and co-founder (Tsiah stayed on as an advisor), to learn more about Cut Fruit Collective, starting with the name.
"We wanted to make sure we had a name that feels inclusive and resonates with people across the AAPI communities," Wu says. "Cut fruit is this funny motif that you see across all of these different AAPI households as a symbol of hospitality, but also care. If you show up at your friend's family's home, there's always going to be a plate of cut fruit ready for you. During the Lunar New Year, you're constantly gifting bags of fruit, and there's so much symbolism behind that. If you grew up in a culture where this practice happens, you really get that, and you really understand the notion behind it being about care and community care, and that's the approach we want to take with our work and our projects."
Cut Fruit Collective uses art as a way to bring people together to uplift AAPI communities and neighborhoods and also does outreach to build relationships with small businesses, especially immigrant-owned and monolingual-speaking businesses, to find out how they can best support them. "In certain instances, it's just finding creative ways to promote their business. We also connect artists and designers with businesses to help support them in other areas, like painting murals or redesigning menus and logos."
If you'd like to get involved, donations are welcome and go towards making the project sustainable. You can also follow Cut Fruit Collective on Instagram to learn about fundraisers and upcoming events. "Ultimately, we just want people to go out and try new things," Wu says. "Check out the AAPI businesses we've recommended and go out and support others."
Along those lines, we asked some of the women behind Cut Fruit Collective about their favorite Chinatown spots and what makes them so special. After all, who better to get recommendations from than people who are using their free time to help our local AAPI communities? Here are their picks.
"This bakery has been open since 1924, serving nostalgic baked goods. They have classics like egg tarts and mooncakes, but their Coffee Crunch Cake is their most beloved menu item," Wu insists.
How to order: Walk in or call 415-433-7973, 415-392-4497, or 415-982-5157, or e-mail easternbakery@gmail.com for takeout orders.
"In addition to serving delicious boba drinks and snacks like egg puff waffles, owner Nancy Law is a bit of a Chinatown history buff and proudly displays some San Francisco Chinatown facts in her window display," Wu shares.
How to order: Walk in or order for pickup or delivery on Uber Eats.
"The spot has been around since 1934, but for the last 20 years, it's been serving cuisine from the Toisan region of southern China," Wu says. "The dishes are very much comfort foods with standard chow funs, rice plates, and clay pot dishes. If you're feeling fancy, order in advance the Tung Lok Glutinous Rice Chicken for a crispy whole chicken stuffed with sticky rice."
How to order: Reserve a table by calling 415-399-0733 or order for takeout here.
"Kam Po Kitchen is an old-school Hong Kong-style eatery that I adore," says Maya Kulkarni, co-founder and creative director at Cut Fruit Collective. "The staff has a no-nonsense attitude and service ethos that is actually kind of endearing and somehow comforting. It's a spot that is beloved by locals as well. The roast duck over rice is my personal go-to, but everything I've had there has been delicious. As an added bonus, the portion sizes are huge!"
How to order: Walk in or call 415-982-3516 for takeout.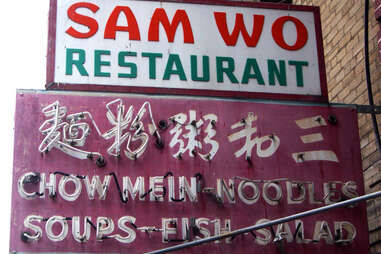 "Sam Wo has been a classic SF staple since it opened in 1907. Its casual, no-frills community has always been my favorite to go to late at night when the lines weren't stupid long," shares Linh-Yen Hoang, a Cut Fruit Collective advisor and Vietnamese-American artist and designer. She adds that, "Nothing beats ending your night out more than orders of BBQ pork rice noodle rolls and waiters forgetting to give you water after asking multiple times. Feels familiar and like home."
How to order: Walk in or UberEats for delivery.
"Lucky Creation is paradise for vegans. Everything is plant-based and affordable, with a wide range of fake meats. The seasoning is subtle but complex, as opposed to in-your-face flavors of more tourist-oriented spots. You can't go wrong ordering anything with bean curd," says Megumi Tanaka, a Cut Fruit Collective advisor and interdisciplinary designer, artist, developer, and expert on obscure information.
How to order: Walk in or call 415-989-0818 for takeout.
"When I think of R&G Lounge, I think of sitting at round tables with family for special occasions. I also think of their signature Salt and Pepper Crab and other Cantonese banquet-style dishes. It's a whole experience we've certainly taken for granted in the past," Wu says of this classic Cantonese spot.
How to order: Walk in or Caviar for delivery.
"You can't go wrong with Lai Hong Lounge if you're looking for dim sum. All my favorite dim sum dishes are great here, and even their egg tarts are the classic dim sum ones that can be hard to find nowadays!" says Joceyln Tsaih, Cut Fruit Collective advisor, creator of Save Our Chinatowns, and artist. "If you're feeling fun, you should order the custard buns because they come in the shape of little pigs."
How to order: Walk in. Delivery via GrubHub, Postmates, or UberEats.
Daisy Barringer is an SF-based writer who was lucky enough to grow up going to the famous Chinese New Year Parade most years. She'll miss it this year. Gung hay fat choy!