Usually, when someone says "traditional, Italian-style rotisserie at Civic Center", your first question is, "The nice green part, or the 'need a shiv' part?" Well, if they're talking about Elmira Rosticceria, it's... the green part!... and it's now open for porchetta-filled breakfast and whole-chicken lunch.
Recommended Video
Escape The Office With This Cook-Your-Own-Lunch Break
From a former Fairmont chef and SF native whose dad is from Italy and mom is from North Beach (so, Italy), the place is decorated with old family photos, including this one, which proves that even early 20th century bros will be early 20th century bros.
Using the aforementioned housemade porchetta, this sando combines crispy porky goodness with salsa verde, and's served on what you said to Antrel that one time he opened a meat counter-cum-sandwich shop (sweet deli roll).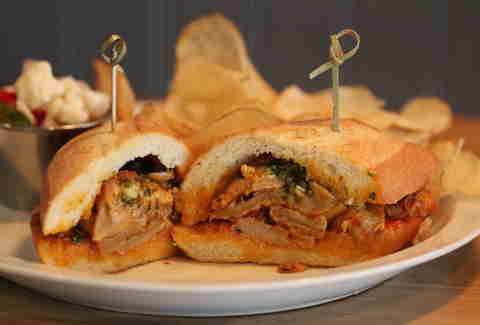 There's also this Florentine specialty (actually inspired by the owner's visit there), a slow-cooked tripe in tomato soup, served on a torpedo roll w/ a side of homemade kettle chips.
And no Italian meal would be complete without a bunch of old men seated out on the sidewalk, drinking limoncello, and discussing the length of their ear hair enjoying an Italian brewski. Or a Miller High Life, which's a shelf above these.
Previous Venue
Next Venue
Venue Description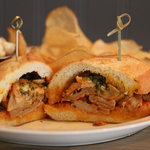 1. Elmira Rosticceria
154 McAllister St, San Francisco, CA 94102
An old-school Italian sandwich shop at Civic Center complete with old-timey pictures of Italian people to prove its authenticity, ER serves up goodness like a porchetta sandwich with salsa verde and a Florentine special sandwich that's got tripe that was slow-cooked in tomato soup.