The 6 best SF butcher shop options to dominate the 4th of July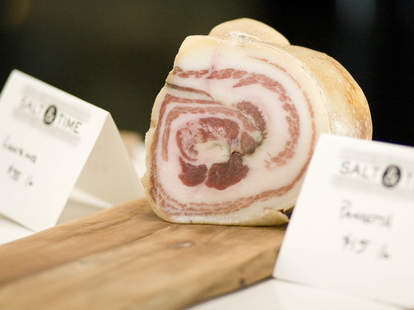 San Francisco Independence Day is TOMORROW, and you're in charge of buying the meat. To ensure you're the best 4th of July BBQ meat-buyer in SF (because it is a contest), here's a quick rundown of the six best butcher shops in the 7x7, and what epic grillables they're doing for the 4th.
Joe Starkey
Belcampo Meat Co.: The just-opened butcher shop on Polk is already getting A LOT of attention for its in-butcher-shop restaurant, but that's not gonna help you with your grilling needs situation. What is? Its specials on pork ribs for $9.99/lb, pork butt for $7.99/lb, hot dogs for $11.99/lb, and 20% off beef hamburger patties, because you can't put a price on freedom! Continue Reading
Prather Rach Meat Company
Prather Ranch Meat Company: Yes, PRMC in the Ferry Building carries 100% organic, all-beef hot dogs, but this is America's Goddamn birthday we're talking about. So celebrate it properly by buying something fitting... like, say, meat cones. Oh, and get all the other stuff you need for the grill, all of which're sourced from independent ranches across the West.


Olivier's Butchery
Olivier's Butchery: So you don't have to marinate your meat in whiskey or tequila yourself, Olivier's has gone ahead and put pre-marinated ones on its 4th menu. Grab some of those along with beer brats, cheddar/jalapeño sausages, and cheddar-stuffed hamburger patties. Yeah, you read that right: cheddar. Stuffed. Hamburgers.
Drewe's Meats
Drewe's Meats: Just go straight to this Noe Valley staple's sausages, and either say, "Broke Black Mountain" (pork sausage with black olives and garlic), or, "Not Just Another Chorizo" (there's tequila in the sausage!!!). They'll take it from there.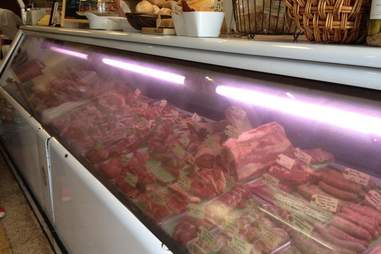 Avedano's Butcher Shop
Avedano's Butcher Shop and Market: Get the "The Griller". Why? Because it's 2lbs of dry-aged, bone-in steak, 1 tri tip, 1.5lbs of flat iron steak, 3lbs of pork ribs, 3lbs of sausage, 3lbs of marinaded half-chickens, 4lbs of ground beef, and house-made spice rub. 20lbs of meat for $185 ain't half-bad. Plus, you can get in on maybe the best butcher shop sandwiches in the city while you wait.


Joe Starkey
4505 Meats: Sure, you can get in on any cut of meat you like, but it'll be hard not to just go straight for the "Burger Box", which'll give you everything you need to make 12 of the best burgers IN AMERICA. Each box contains 3lbs of dry-aged, fresh-ground, grass-fed beef (12 patties weighing in at 1/4lb each), 12 house-made sesame seed buns, 12 slices of tasty Gruyere cheese, crispy lettuce, sliced red onion, and a generous portion of its proprietary secret sauce.