7 awesome new East Bay spots (including an ice cream sandwich shop!)
Tired of hanging out in The Mission and wanna spend some time in one of the actual hipster-est places in America? Well then hop on the BART (if it's not on strike/broken/full of Raiders fans), and hit up one of these seven East Bay openings.
Trabocco Kitchen and Cocktails
Alameda
Alameda's gotten a new, huge waterfront Italian restaurant in the form of TKC with a 90-seat dining room, 30-seat bar, and 56-seat outdoor heated (thankgod) patio, from a former VP of Kitchen Ops at Il Fornaio (who oversaw 21 locations). They'll be bringing attention to localized Italian fare, and will also be heavily using neighboring St. George Spirits' for, well, spirits for their cocktail list.
Cookiebar
Alameda
Basically a shop that lets you make your own Its-It, CB's a combo ice cream and cookie shop where you can choose from 16 different ice cream flavors and six different cookies, and sandwich the hell outta them, because sandwiches are healthy. Right?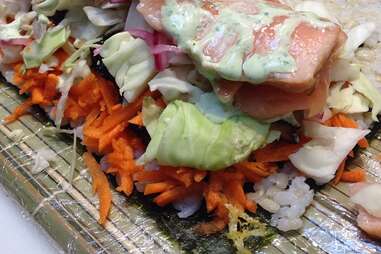 Torpedo Sushi
Uptown Oakland
Oakland's first sustainable sushi restaurant, these guys source almost all of their fish day-of from the boats, and *drumroll* use them to make sushi burritos (very similar to a much-beloved Sushirrito in SF), including the "Holy Trinity" w/ fried oysters, prosciutto, shiitake mushrooms, pickled red cabbage, shallots, cucumber, and Racer 5-anchovy aioli. Praise Jesus.
Penrose
Grand Lake, Oakland
From the guy that brought you Pizzaiolo and a Rich Table chef alum, this sexy restaurant is pairing a 20-seat bar with hearth-focused fare like bone-in ribeye with chimichurri, a raw bar (oysters from both coasts!), and lamb tartare that you need to get... your expense account to get you, because this place is fancy!
Box and Bells
Oakland
From the guy behind Commis and Hawker Fare, Box and Bells is a bistro-type restaurant with a full liquor license and a meat-centric menu with edibles like this Boudin Blanc with parsley sauce and brandied apples, or the Box Burger with aged beef-fat, caramelized onion, and Gruyere on a pretzel roll.
Venga Paella
Oakland
You know that crazy-delicious Spanish dish that's made from a mix of a bunch of shellfish and chorizo? Yeah, this restaurant is devoted entirely to that (with some tapas, too), using huginormous cooking pans to cook up combos like a black squid ink with mussels, clams, and calamari.
Mockingbird
Uptown Oakland
With a kitchen run by a Delfina alum, Mock... yeah... ing... yeah... bird... yeah... yeah... yeah... has a menu that pulls eclectically from a ton of different cuisines to give you deliciousness like Moroccan roast half-chicken, house-ground cheeseburgers, or this pork terrine.