Because we're so focused on all the openings in The City by the Bay, we sometimes forget about the Cities Just Across the Bay. So here are the 10 best East Bay openings from the first half of Summer, from a ridiculous new beer garden to the Mikkeller Bar team's new BBQ joint.
 
Berkeley
From the team behind Mikkeller Bar (and the secret room underneath Mikkeller Bar!) comes this new, epic, back patio-equipped BBQ and beer joint in Berkeley. The Mikkeller chef is overseeing a menu of on-point 'cue (black angus brisket, Duroc pork shoulder, and roasted serrano pepper hot links), and a Mikkeller beer-chooser has curated a list of 40+ approachable American brews on draft, including Clown Shoes, North Peak, and a selection of Cervecería de MateVeza brewed just for them.
Berkeley
If you're tired of all the waiting at Biergarten in SF but still want to get your German drinking on, you're probably still gonna have to do some waiting at Berkeley's newest Biergarten... because it's also pretty damn awesome. With a ton of outdoor seating and TVs, you can watch Cal lose by 50 while downing a stein from one of eight local brews (mostly German styles). Oh, and the food: chorizo or tri-tip from the permanent anchor kitchen from Brazil Cafe, along with guest food truck stopper-by-ers. Prost!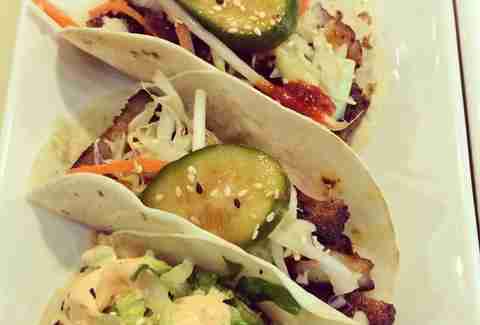 Oakland
From a couple with Nobu experience in San Diego comes a cozy, 25-seat restaurant dedicated to a San Diego staple that's not easy to find in the Bay: fusion tacos. Handhelds include spicy honey-roasted pork belly, sesame slaw, and pickled cucumbers, or the namesake "Belly" with house-marinated steak, rice, Korean slaw, and kimchi aioli. Oh, and did we mention they have a burger with tempura red onion? Because they totally do.
Oakland
Despite the very healthy-sounding name, this casual Fruitvale eatery is actually devoted to delicious hot sandwiches, like this double burger with Marin Sun Farms' grass-fed beef, or a house-made sausage sandwich with Niman Ranch pork & bacon, topped with house sauce and kimchi. Oh, and they do a basket of beer-battered fried cheese curds, too. So... there's that.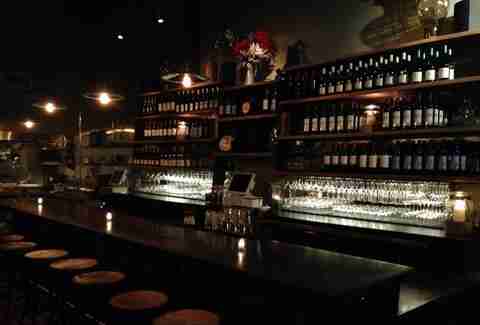 Oakland
C & C is a very "Oakland" endeavor that's owned by a couple of guys behind Ike's, and chefed by a former exec kitchen-minder at Pican who's doing everything from coffee-braised lamb tacos (w/ peanut tamarind mojo, charred tomatillo relish, and coriander) to a spicy bacon & trofie mushroom pasta. They have a beer and wine menu, with full cocktails coming -- pending a liquor license (which thankfully is slightly easier to get in Oakland than in SF).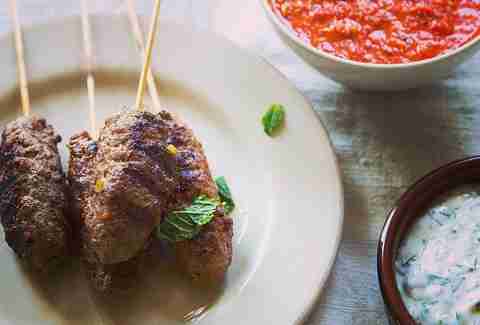 Oakland
Designed by the Bon Vivants' team (which means custom wooden chairs, a Spanish/Moorish tiled back bar, and reclaimed Douglas fir columns), this spot from two Top Chef alums is sliding the French Riviera into your mouth via deviled quail egg with pimentón & serrano ham, grilled lamb kefta with yogurt cucumber sauce, and chili-chocolate braised short ribs. It's washing it out with a full cocktail menu that has both classics and originals, like the El Matador (bourbon, Cocchi di Torino, Alvear Sherry, SW mole bitters, and dark chocolate).
Oakland
Galeto has a selection of pastas and cheeses that you're going to care less about when you find out this place is one of those fixed-price, all-you-can-eat, Brazilian grilled meat spots. If you don't leave this place with the meat-sweats, you're a quitter.
Berkeley
From the guy behind Fivetenburger truck comes this non-handle bar that offers people already familiar with his awesome food truck the casual atmosphere in which to enjoy a cocktail or beer, along with some of his popular burgs. He's also doing other meat-centric items like chorizo tacos, a pig in a blanket with maple butter (for brunch), and mac 'n cheese with a truffle-fried egg (which we get is not meat, but are you really questioning its inclusion?).
Berkeley
Reclaiming the derogatory term college students use for natives of the town they're in, Townie is a 75-seater with 16 local beers on tap (Linden St FTW!), cocktails that focus on simplicity over mixology, and food from a chef with experience at State Bird and Gather... which means a pork belly banh mi, garlic cheese toast, and fries with hot sauce aioli.
 
Oakland
Just a couple blocks from Fox Theater comes this neighborhood bar from one of the partners behind Vintage 415. The metal-heavy industrial space is doing cocktails (mostly classics plus a couple newbies -- get The Rum Collins with maraschino liqueur & Schöfferhofer grapefruit beer), plus beer and wine on tap, and skee-ball and Pac-Man... so you know it won't be a ghost (!) town.
This list -- and all the rest -- look even sexier in our iPhone app. Get it now! 
Joe Starkey is Thrillist's San Francisco Editor and would like to sincerely apologize for ever calling anyone a "townie". Except Bryan. He knows why. Follow Joe (not Bryan) on Twitter.