Two important facts you probably weren't aware of: 1) A gozzard is what you call someone who owns geese, and 2) December 21st is the longest night of the year (we're talking 15hrs of straight darkness), which also makes it the perfect chance to celebrate what should be the "Best Night of Your Life", assuming you spend it hitting the city's best Thrillist-approved happy hour spots, cocktail bars, and dives, 'til the sun pops back up. Check out our picks for SF's best party dinner spots below, and make sure to fully map out a perfect evening with our itinerary builder.
Chambers
Tenderloin
This glamorous restaurant and bar in the TL is perfect for private parties, as you can rent out both the back room (with a second bar!!) or the covered and heated patio next to the Phoenix Hotel's pool.
Park Tavern (if it's a really nice party)
North Beach
Not only is this already one of San Francisco's best restaurants (and cocktail bars!), it's also able to accommodate huge parties (especially if they're [read in a British accent] fancy parties). Plus, depending on the size of the gathering/your gatherers, you could take the whole thing upstairs to the Eden Lounge, their 20- to 30-person second floor hideout.
Tacolicious
The Mission
Though this spot may always be packed, you can call ahead and reserve one of the giant tables in their back cantina where they'll do a pre-set menu and let you pay a base-rate, so you don't get stuck paying extra because Dave didn't bring cash. Effing Dave.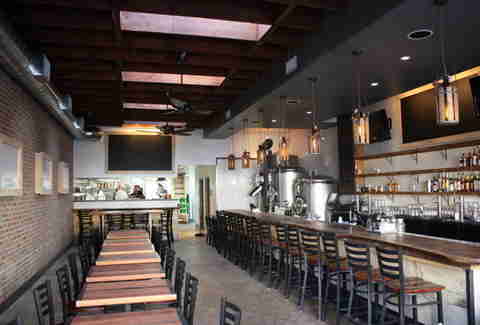 Southpaw BBQ
The Mission
This Mish-town BBQery has a great party people-accommodating communal table up front, and -- aside from their great Que -- you can also sign everyone up for their free-to-join whiskey club where, once you've tried 40, you get a free bottle of your boozing. Er, choosing.
Beretta
The Mission
Depending on the size of your party, you can actually rent out the intimate downstairs room underneath Beretta, which's normally reserved for awesome exclusive events like their cocktail classes.
Starbelly
Castro
Call ahead and they'll hook you up with a table(s) out on the covered & heated patio, which luckily stays warm year-round, unlike, well, SF.
Dosa
Fillmore
If you were ever planning to introduce a bunch of people to Indian food, this is the place to do it, especially after expanding their willingness to be introduced with a few cocktails that're made using local alcohols specifically distilled to go with Indian spices.
Foreign Cinema
The Mission
Good for a romantic date, great for a party, FC's covered outdoor patio projects old-school foreign films onto the alley wall. Nothing says "party dinner" quite like... René Clément's noirish 1960 Purple Noon.