Even though "technically" summer in SF is just starting, it's actually technically for reals ending. Which means it's time to put down the hot dogs and corn on the cob and start eating foods that will at least help your stomach feel like it's autumn. Enter: our very serious and not-to-be-taken-lightly "Fall Eating Challenge", wherein we give you a must-eat for each of the next 14 weekends and you, well, eat it. All of it. We know. Life is hard.
Recommended Video
Ghost Kitchen: How This NYC Restaurant Is Responding to Coronavirus
September 19-21: Oysters
When the waters cool down, the oysters get a lot tastier. Take advantage of the Indian summer weather and head to Tomales Bay for the day or, if you're one of those weirdos who refuses to leave the city, get 'em for cheap at one of these 36 oyster happy hours.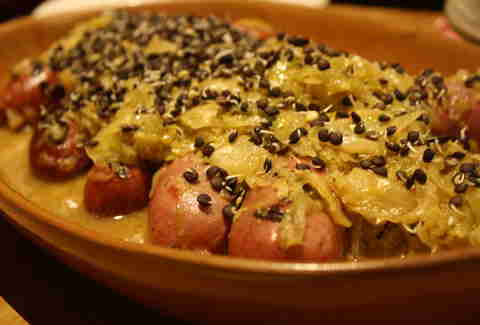 September 26-28: Sausage and sauerkraut
Oktoberfest is basically a hall pass to eat unlimited sausages and sauerkraut, so do exactly that at Suppenküche, Schmidt's, or Leopold's, then do it some more at Schroeder's, where you can order them by the platter. They're meant to be shared, but that's really a personal decision that we leave wholly up to you.
October 3-5: Lobster
California's spiny lobster season opens September 27th, but this Pacific treasure is always limited in supply, so get it while you can find it. If you're feeling fancy, last year, Coi had spiny lobster salad and Ristobar in the Marina served big bites of it with a handmade pasta. Your best bet, though, is to find this tasty crustacean at a local fish market, baste it with butter, and grill it. 
October 10-12: Clam chowder in a sourdough bread bowl
It's Fleet Week, so suck it up and head down to Fisherman's Wharf (just do it) to watch the return of the Blue Angels. While you're there, find a reason not to hate your life by eating clam chowder and the delicious bread bowl in which it's served. Almost every restaurant on Pier 39 advertises this SF classic, which weirdly isn't available all over the rest of the city, but stick with ones that do it in a Boudin bowl, or, if you only like red clam chowder (who ARE you?), head over to Chowders.
October 17-19: Apple pie
There's nothing more American, or fall, than apple pie. Grab a slice topped with whipped cream and a drizzle of warm caramel at Chow or Park Chow, or head over to Three Babes Bakeshop, where, if one slice isn't enough, you can order a subscription. Yes, a pie SUBSCRIPTION. You read it right the first time.
October 31-November 2: Chili
Daylight savings officially ends this weekend, which means it's going to be dark when you leave work on Monday. Comfort yourself after that horrible thought with a bowl of hearty chili. Tommy's Joynt is famous for their buffalo chili, or you can make your way to the Ferry Building for a classic house-made beef and bean chili from Gott's Roadside.
November 7-9: Pumpkin pizza and ice cream
You're going to be using pumpkin pie as a vehicle for whipped cream soon enough, so find other ways to partake in this fall harvest staple, like with the Benassi pizza at Hot Italian, a limited-edition pizza topped with pumpkin puree and pancetta. For dessert, you'll want Smitten's pumpkin ice cream (made to order with liquid nitrogen, like all ice cream should be).
November 14-16: Dungeness crab
Crab season finally arrives on the second Tuesday of November. Order a whole crab and savor it in its purest form (none of that cake crap). Swan Oyster Depot, Bar Crudo, Woodhouse Fish Co., and just about every restaurant in Fisherman's Wharf (sorry but it's true) all serve it up the way God (Poseidon?) intended: steamed, and with a little butter and lemon.
November 21-23: Steak
The holidays are all about ham and turkey, so get your steak fix in while you can. Even better: get your all-you-can-eat steak fix in at Espetus Churrascaria, a Brazilian steakhouse that serves "a parade of skewered meats" tableside. Who doesn't love a parade? Best of all, you're basically multitasking, since you're eating delicious meat while simultaneously stretching out your stomach in preparation for Thanksgiving. Such a go-getter, you.
November 28-30: Mall food
You just ate turkey and stuffing until you literally couldn't, and now you're working off your gluttonous behavior by... shopping? Only you know why you got yourself into this Black Friday mess, but you might as well reward your insanity with some tasty bites from the food court, especially if it's the one at Westfield Centre. It's got one of the best food courts in (probably) the state, so you can get Asian barbecue at Sorabol, delicious meat at Buckhorn Grill, or, if you're trying to eat lighter (although why even bother at this point?), a deconstructed sushi bowl from Kichi Grill.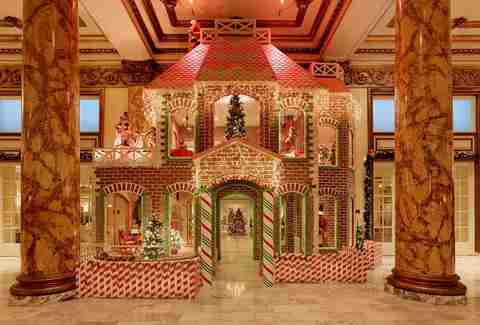 December 5-7: Ginger-something
Unfortunately, you're not allowed to actually eat the giant gingerbread house on display at The Fairmont Hotel (jerks). Still, you can get your spice fix with glazed gingerbread tiles from Tartine, the world's (unofficial) best gingersnaps from Miette, or, if you're in the mood for dessert for breakfast (and when aren't you?), Zazie's gingerbread pancakes.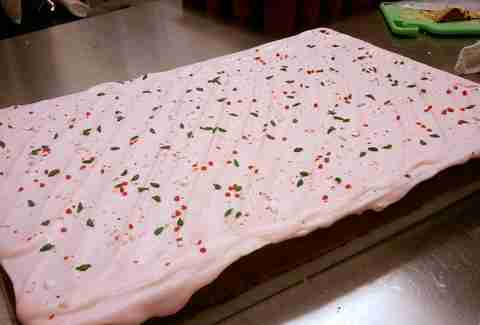 December 12-14: Peppermint
If you want to grab a candy cane to fulfill this final mission, go ahead. But, candy canes suck (yes, terrible pun intended), attract lint while you're eating them, and leave sticky candy cane juice all over your face and hands. Instead, indulge in Rich Table's mint chocolate sable with mint chocolate cream & iced milk. It's like a Peppermint Pattie, only way, way better. Other viable options: DeLise has peppermint fudge brownies and Ice Cream Bar does peppermint bark ice cream.
Sign up here for our daily San Francisco email and be the first to get all the food/drink/fun SF has to offer.
Daisy Barringer is Thrillist's SF Editor and she strongly believes there's a reason candy canes are always free. Find her on Twitter @daisy.