Named after the owner's great-g'ma, Shorty Goldstein's is a Jewish delicatessen with counter seating for a little over 20, and an interior done up with chalkboard walls and exposed brick (for chrissake, brick, put some pants on!).
The walls are filled with family pics, including the aforementioned "Shorty", who clocked in at an Olympic Gymnast-worthy height of 4'10".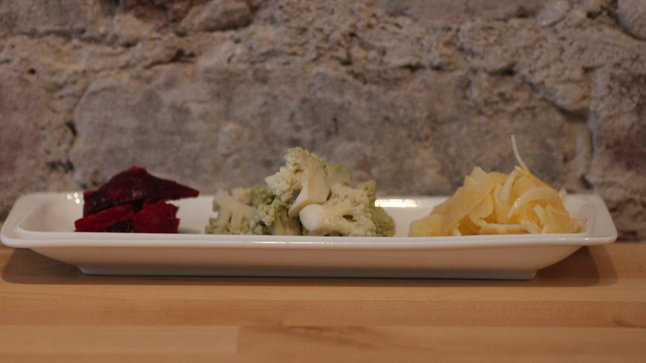 You can start things out with potato knishes, latkes, or this plate of homemade pickled veggies that'll rotate (they, too, can apparently pickle that).
The owner/chef/Shorty's great-grandson is a Betelnut alum and makes everything (save the bread) in-house, including this pastrami, which, *drooling noises*.
Plus, you can grab a variety of nom-worthy desserts (coffee cake pictured above), or, if you're an early-riser (heyo!), they offer breakfast too, with offerings like challah French toast, pastrami benedict, and cheese blintzes.