Not just the Spanish word for where you and your middle school friends were totally gonna change the shape of music, like, forever, Garaje is also the decidedly awesome FiDi venture from the Mission Bay Foods guys behind Dos Piñas Taqueria and Caffé Pazzo, all set in a huge space that looks sorta like a cross between an auto body shop and a Johnny Rockets

This is one of many street signs hung above tables around the place and, wait, what's that cord down there? Oh, it's just a built-in iPhone 5 charger (sorry BlackBerry users... for so many things)

Yes, an entire section of their menu is labeled "goes with beer"

Free $20 bill (yes!)... laminated into the floor (no!)

Order one of eight draft beers poured out of a retro refrigerator they've turned into a tap system, or strongly consider one from their ever-growing bottled list... then still order one of eight draft beers poured out of a retro refrigerator they've turned into a tap system

This is the Como Se Llama: a steak or chicken-, guac-, and pico-filled hard-shell wrapped in a cheesy flour tortilla

Everyone loves fish tacos and not just because they're a euphemism for... uh... something..

And then there's this: Crazy Dave's Double Drive-In Cheeseburger with two 1/3lb Angus patties, griddled onions, double American cheese, pickles, and hickory bacon served in a basket with "pot chips", which're actually just chips made in a pot and not what you ate before making awesome music with your buddies.
Recommended Video
Make This Sushi Burrito at Home, Become a Snack Legend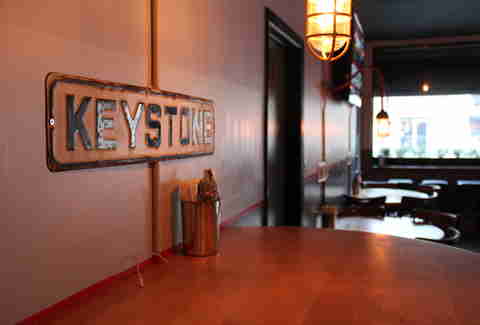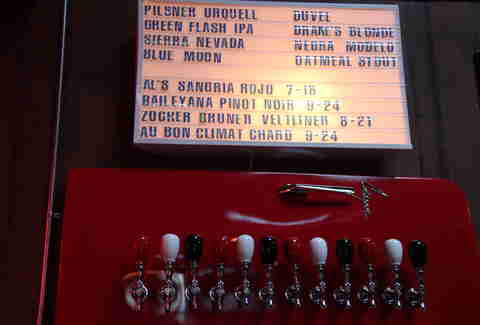 Previous Venue
Next Venue
Venue Description
1. Garaje
475 3rd St, San Francisco, CA 94107
SOMA's Garaje is one-third taqueria, one-third taco joint, and one-third sports bar. And it's cheap. For $3 you can get a street-style taco filled with quality meat and toppings; for $8 you can get the Zapatos burrito, stuffed with meat, cheese, refried beans, and avocado, then pressed like a panini. The most notable thing about Garaje though is the Double Drive-In cheeseburger, which comes with barbecued onions, dill pickles, chopped lettuce, tomatoes, and Thousand Island dressing on a toasted Acme bun.